'Resident Evil' Reboot To Be Directed By '47 Meters Down' Filmmaker Johannes Roberts [Updated]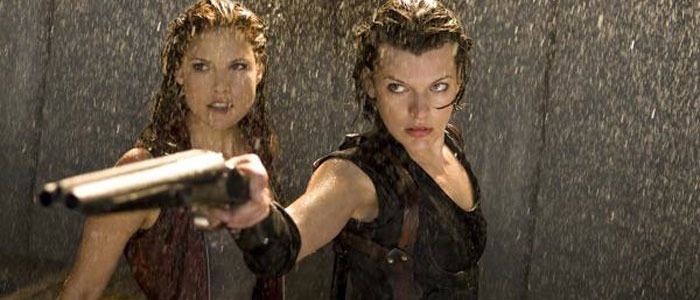 Update: In an interview with Bloody Disgusting, James Wan reveals that he is no longer producing this film. "I'm not doing that anymore. That has been dropped," Wan confirmed. "I hate it when my projects get announced. It makes it seem like I'm attached to a lot of things when in fact I'm not necessarily doing so many things." Our original article follows.
Last year, we wrote about how James Wan (Aquaman, The Conjuring) would be producing a Resident Evil reboot, revamping the popular video game franchise on the big screen after Paul W.S. Anderson's long-running series of films finally came to an end. Now it seems the reboot has found its director: Johannes Roberts, the man who helmed 47 Meters Down.
Variety reports that Roberts has been hired by Constantin Film to direct the Resident Evil reboot. He previously directed The Other Side of the Door and The Strangers: Prey at Night, and has 47 Meters Down: The Next Chapter set to hit theaters in 2019. The earlier movie adaptations of the popular games followed Alice, a former security guard for the Umbrella Corporation, a company that unleashed a virus on the planet that turns people into zombies.
Strangely, there's no mention in Variety's report about James Wan's involvement with the reboot, so it's possible he may have left the project. The last entry in Anderson's Milla Jovovich-led movie franchise, Resident Evil: The Final Chapter, debuted in 2016, and even though the movies never earned great reviews, they all made enough money to give franchise this distinction of being the highest-grossing film franchise based on a video game.
Honestly, this is the type of movie news that nearly puts me to sleep. We're talking about a recognizable franchise, so you'd think that alone should pique my interest, but I've never particularly cared about these games, and the low-budget aesthetic of Anderson's movie adaptations always struck me as ugly and generic. Hiring the director of 47 Meters Down – a serviceable shark movie shot for a small budget which overperformed like crazy – doesn't signal that Constantin Film has a bold new vision for Resident Evil. It indicates that they're looking at this as an investment opportunity instead of a creative opportunity; they want to maximize their investment by getting someone who can do a lot with a little. Obviously there's a business component to making every movie, but I don't think it's unreasonable to hope for a combination of filmmaker and story that's a bit more inspired than this one.
What I'm saying is: hire Nancy Meyers (It's Complicated, The Holiday, Something's Gotta Give) to direct Resident Evil reboot. That would at least mix things up and keep it interesting. Are you listening, Constantin Film? Do it, you cowards!