'Sesame Street' Movie Wants Anne Hathaway To Hang Out With Some Puppets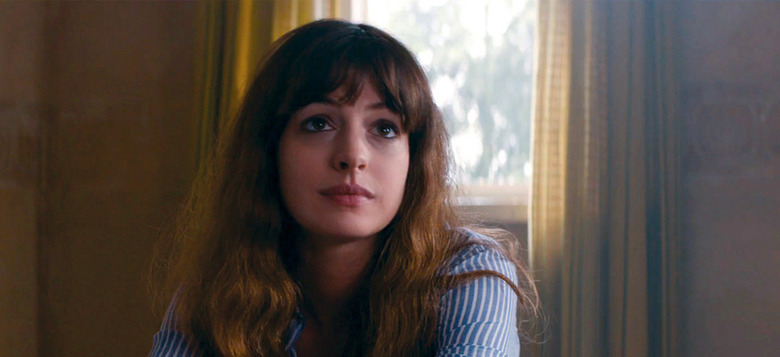 Anne Hathaway might soon be asking, "Can you tell me how to get to Sesame Street?" The actress is being eyed for the lead role in the Sesame Street movie being produced by Warner Bros. Hathaway will be playing a human character, so don't expect to see her running around in puppet-form. Portlandia co-creator Jonathan Krisel is directing the film inspired by the classic educational children's television series that's been on the air since 1969. Collider has the news about Anne Hathaway joining the Sesame Street movie cast. Hathaway is in early talks to play a character named Sally. As Collider points out, Sally was the "name of the girl who appeared on the very first episode of the show, wherein longtime resident Gordon Robinson gives Sally a tour of Sesame Street and introduces her to Muppet characters such as Big Bird and Oscar the Grouch." Perhaps Hathaway is playing the grown-up version of Sally, who returns to Sesame Street for some reason. Hathaway previously appeared on Sesame Street as herself, during the holiday special Elmo's Christmas Countdown.
Elmo's Christmas Countdown
As previously reported, Jonathan Krisel will direct the Sesame Street movie, with Shawn Levy and Michael Aguilar producing a script from Mike Rosolio and Chris Galletta. A Sesame Street movie has been in the works since at least 2012, back when 20th Century Fox had the rights to the material. Now, Warner Bros. owns them.
Sesame Street was created in the 1960s by Joan Ganz Cooney and Lloyd Morrisett, hoping to "master the addictive qualities of television and do something good with them." In other words, use TV as a force of good – not just a as a delivery system for loud noises and empty entertainment. The series has been running ever since.
This won't be Sesame Street's first big screen adventure, either. The series first hit theaters with 1985's Sesame Street Presents: Follow That Bird. Follow that Bird was followed with 1999's The Adventures of Elmo in Grouchland. While specific plot details about this new Sesame Street movie are still underwraps, I'm guessing the movie is going to follow in the footsteps of the 2011 film The Muppets, which was both a loving tribute and gentle send-up of the original Muppets series.
Hathaway, who won an Oscar for Les Miserables, is a splendid actress who experienced a strange backlash a few years ago. The backlash seemed to be centered around the fact that Hathaway worked really hard at her job, which is a silly damn thing to hate someone over. Thankfully, the backlash has seems to have died down.