The 'True Detective' Season 3 Main Character Was Written As White, Until Mahershala Ali Fought For The Part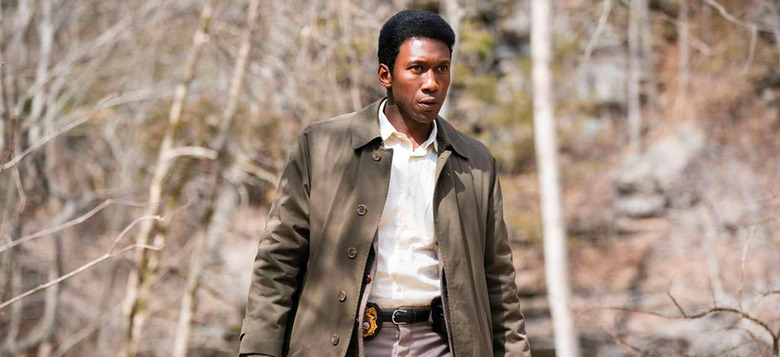 Mahershala Ali won an Academy Award for his amazing work in Moonlight, but he still had to fight to land a lead role recently. The actor is the star of the upcoming True Detective season 3, playing a part that was originally written as a white person. As Ali reveals, he was offered a supporting role on the show instead, but fought hard to convince series creator and showrunner Nic Pizzolatto to cast him as the main character instead.
You'd think everyone would be jumping at the chance to work with Oscar winner Mahershala Ali, but the talented actor had to fight for his role in the upcoming True Detective season 3. While speaking on Variety's Actors on Actors, Ali disclosed that he was originally offered a supporting role in the mystery-thriller series. "I could've played that second lead, that supporting career. But in my mind, I was like, 'I've done this my entire career though. I've never done that,'" Ali said. "At that time, I'm 43 years old. If it don't happen now, it really may not happen."
The character Ali plays, Wayne Hays, a state police detective from Northwest Arkansas, was written by creator Nic Pizzolatto to be white, and Pizzolatto apparently had trouble accepting Ali in the role. To convince the writer and creator he was right for the part, Ali texted Pizzolatto photos of his grandfather, a real-life state police officer.
"I was like, 'See, we existed in this space. In the '60s and the '70s. State police officers,'" Ali said. "I was like, 'I think your story would be served, I think the story would be improved in this case, if this lead character was black.'" Ali also convinced Pizzolatto that by making the lead character black, the story could explore racism in Arkansas:
"You're asking someone questions, and [you're] the lead detective. If [they're] white, they might not look at me. When I ask them a question, they're addressing [the white detective]'...Racism is not experienced as the n-word, all the time. It's more like, 'Yo, you wouldn't even look me in the eye.' Or I said thank you and he just brushed me off."
From this conversation, it definiutely sounds like Ali actually helped make True Detective season 3 more interesting and more compelling overall.
Ali's push to play a character thought of strictly as white in the script stages mirrors an approach similar to that of Michael B. Jordan. During a /Film interview with Jonathan and Josh Baker, directors of the sci-fi film Kin, in which Jordan has a cameo, the filmmakers revealed some insight into Jordan's approach.
"[Michael] just wanted to see more young black characters in sci-fi, and more importantly, in normal movies," said Jonathan Baker. "Not black event films. Not anything themed, specifically. Just a regular film."
"Michael's the guy that goes up for and steals all the white roles," added Josh Baker. "He prides himself on it, as he should."
True Detective season 3 premieres on January 13, 2019.