Marvel Studios Making 'Shang-Chi' Movie, Which Will Feature Their First Asian Protagonist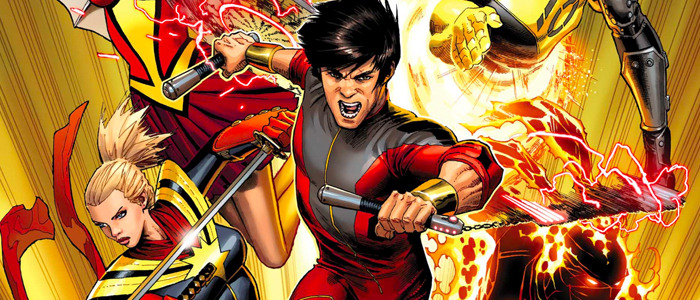 Avengers: Infinity War was a financial smash for Marvel Studios this year, but Black Panther actually made more money in the United States and currently sits at #3 on the all-time box office domestic grosses list. Any studio would love to replicate that kind of success, and it looks like Marvel is taking steps to attempt to catch lightning in a bottle again.Kevin Feige and his team are reportedly developing a Shang-Chi movie, which is centered on the martial arts master first created in the comics in the 1970s. The film will feature the studio's first Asian protagonist. Learn more about Shang-Chi below.
According to Deadline, Marvel Studios has hired Chinese American screenwriter Dave Callaham to write the script for a Shang-Chi movie, which is based on the character of the same name. The character is a "Master of Kung Fu" who is quick enough to dodge bullets, and he eventually gains the power to create an infinite number of duplicates of himself. The early comics envisioned him as the son of Chinese supervillain Fu Manchu, a character Marvel acquired from an outside novelist but have since lost the rights to – it seems unlikely Fu Manchu will factor into this movie, although Shang-Chi's father could still be a primary antagonist.
Jim Starlin and Steve Englehart created Shang-Chi in the early 1970s, around the time when Enter The Dragon took the world by storm, and this movie "will modernize the hero to avoid stereotypes that many comic characters of that era were saddled with." Marvel managed to avoid those stereotypes in Iron Man 3 with Ben Kingsley's interpretation of The Mandarin, but the studio encountered some blowback for hiring Tilda Swinton as The Ancient One in Doctor Strange a few years later. (And the less said about Iron Fist, the better.)
Marvel Studios is searching for an Asian American director (or one of Asian descent) to tackle this movie in the hopes of following in Black Panther's footsteps: to "introduce a new hero who blends Asian and Asian American themes, crafted by Asian and Asian American filmmakers." Callaham has writing credits on The Expendables, Godzilla, and Zombieland 2, but he's also written for cinematic superheroes: he's on Wonder Woman 1984 and he's been hired to write the script for Spider-Man: Into the Spider-Verse 2.
Since DC beat them to the punch by hiring the first female director of a major blockbuster superhero movie, Marvel Studios has made it a priority to include more diverse voices behind the camera. In addition to Ryan Coogler and his work on Black Panther, New Zealand-born director Taika Waititi directed Thor: Ragnarok, Anna Boden and Ryan Fleck are behind Captain Marvel (the studio's first female-led solo movie), Chloé Zhao is directing The Eternals, and Cate Shortland has been hired to direct Scarlett Johansson's solo Black Widow movie.