'Incredibles 2' Leads The 2018 Annie Awards Nominations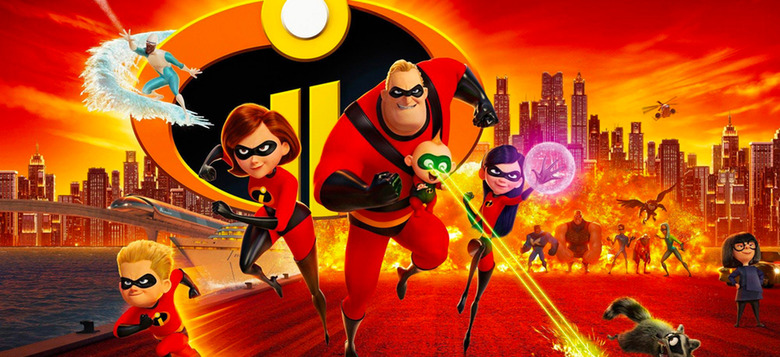 The Annie Awards Nominations are in, and Incredibles 2 is cleaning up. This year's awards, which are presented by the Los Angeles branch of the International Animated Film Association to recognize excellence in animation in film and television, have singled out Incredibles 2 and Ralph Breaks the Internet –  both Disney properties – with the most nominations. But Isle of Dogs and Spider-Man: Into the Spider-Verse are in the race as well. See the full list of nominees below.
Having now seen Spider-Man: Into the Spider-Verse, I can say without question that it's the best animated film of 2018. Which means awards bodies will probably ignore it in favor of other stuff! Case in point: the Annie Awards just blessed Incredibles 2 with 11 nominations, and Ralph Breaks the Internet with 10. I'm not saying those films are bad and don't deserve a nomination or a dozen. I'm just saying that Into the Spider-Verse deserves more. Oh, well.
Incredibles 2 nominations include Best Director for Brad Bird, Best Animated Effects, Character Animation, Character Design, Music, Voice Acting for Holly Hunter, Writing for Bird, editorial and storyboarding. Ralph earned nominations for Directors Rich Moore and Phil Johnston, Animated Effects, character Animation, Character Design, Music, Storyboarding, Voice Acting for Sarah Silverman, and Writing for Johnston and Pamela Ribon. These are both big Disney properties, and I would not be surprised to see either of them win.
As for the small screen, animated TV shows to get a nod include BoJack Horseman, Big Mouth, Bob's Burgers and The Venture Brothers (give BoJack all the awards, please). As far as streaming goes, Netflix landed the most nominations, with 26 total. Amazon earned 8. Better pick up the slack, Amazon.
The 46th annual Annie Awards will be held on Saturday, February 2, 2019. The full list of nominees is below.
Best Animated Feature
Early Man, Aardman AnimationsIncredibles 2, Pixar Animation StudiosIsle of Dogs, Fox Searchlight Pictures/Indian Paintbrush/American Empirical PicturesRalph Breaks the Internet, Walt Disney Animation StudiosSpider-Man: Into the Spider-Verse, Sony Pictures Animation
Best Animated Independent Feature
Ce Magnifique Gâteau!, Beast Animation, Vivement Lundi!, Pedri AnimationMFKZ, Ankama/Studio 4ºCMirai, Studio ChizuRuben Brandt, Collector, Hungarian National Film FundTito and the Birds, Bits Productions, Split Studio
Best Animated Special Production
Back to the Moon, Google Spotlight Stories, Google Doodles, Nexus StudiosMary Poppins Returns, Walt Disney StudiosThe Emperor's Newest Clothes, HBO / Starburns IndustriesThe Highway Rat, Magic Light Pictures
Best Animated Short Subject
Grandpa Walrus, Caïmans ProductionsLost & Found, Wabi Sabi StudiosSOLAR WALK, NørlumUntravel, Production: Film House Baš ?elik, Serbia Coproduction: BFilm, Bratislava / Your Dreams Factory, BratislavaWeekends, past lives productions
Best Virtual Reality Production
Age of Sail, Google Spotlight Stories, Broad Reach PicturesBattleScar, AtlasVCrow: The Legend, Baobab StudiosMind Palace, Filmakademie Baden-Württemberg GmbHMoss, Polyarc
Best Animated Television/Broadcast Commercial
Goldfish at the Fair, Stoopid Buddy StoodiosGreenpeace 'There's a Rang-Tan In My, Bedroom', Passion Animation StudiosGrinch / 40 / Olympics Spot, IlluminationJD.com, 'Joy and Heron', Passion PicturesThe Fearless Are Here, Nexus Studios
Best Animated Television/Broadcast Production For Preschool Children
Ask the StoryBots, JibJab Bros. Studios for NetflixDinotrux: Supercharged, DreamWorks Animation TelevisionHey Duggee, Studio AKAPJ Masks, Frog Box Entertainment OneTumble Leaf, Amazon Studios and Bix Pix Entertainment
Best Animated Television/Broadcast Production For Children
Hilda, Hilda Productions Limited, a Silvergate Media Company, Netflix Inc. and Mercury FilmworksKung Fu Panda: The Paws of Destiny, DreamWorks Animation TelevisionLittle Big Awesome, Amazon StudiosRise of the Teenage Mutant Ninja Turtles, Nickelodeon Animation StudioTales of Arcadia: Trollhunters, DreamWorks Animation Television
Best General Audience Animated Television/Broadcast Production
Big Mouth, NetflixBob's Burgers, 20th Century Fox Television/Bento Box EntertainmentBoJack Horseman, Tornante Productions, LLC for NetflixHuman Kind Of, Cartuna, Facebook WatchThe Venture Bros., Adult Swim / Titmouse, Inc.
Best Student Film
A Blink of An Eye, Kiana NaghshinehBest Friend, Nicholas Olivieri, Yi Shen, Juliana De Lucca, Varun Nair, David FeliuFacing It, Sam GainsboroughHors Piste, Léo Brunel, Loris Cavalier , Camille Jalabert, Oscar MalletSister, Siqi Song
Animated Effects in an Animated Television/Broadcast Production
DreamWorks Theatre Presents Kung Fu Panda, DreamWorks Animation; FX Artist: Zach Glynn, FX Artist: Chyuan Huang, FX Artist: Michael Losure, FX Artist: K.C. Ong, FX Artist: Alex TimchenkoRise of the Teenage Mutant Ninja Turtles, Nickelodeon Animation Studio; FX Animator: Jeffrey LaiSuperMansion, Stoopid Buddy Stoodios; VFX Supervisor: Mike Spitzmiller, VFX Lead Artist: Steve Gallant, VFX Artist: Iain Collins, VFX Artist: Daniel Craven, VFX Artist: Lynda RollinsTales of Arcadia: Trollhunters, DreamWorks Animation Television; Visual Effects Supervisor: David M.V. Jones, Overseas FX Supervisor: Vincent Chou, Overseas Lead FX Artist: Clare YangWatership Down, 42 / Biscuit Entertainment with Netflix; VFX Supervisor: Philip Child, CG Supervisor: Nilesh Sardesai
Animated Effects in an an Animated Feature Production
Early Man, Aardman Animations; VFX Supervisor: Howard Jones, Director of Photography: Dave Alex Riddett, Head of 3D: Grant Hewlett, Crowd Lead: Pat Andrew, 3D Artist: Elena Vitanza ChiaraniHotel Transylvania 3: Summer Vacation, Sony Pictures Animation; FX Supervisor: Patrick Witting, FX Lead: Kiel Gnebba, FX Animator: Spencer Lueders, FX Animator: Joe Pepper, FX Animator: Sam RicklesIncredibles 2, Pixar Animation Studios; Effects Sequence Lead: Greg Gladstone, Effects Artist: Tolga Göktekin, Effects Artist: Jason Johnston, Effects Artist: Eric Lacroix, Effects Sequence Lead: Krzysztof RostNext Gen, Baozou with Alibaba Pictures Inc. in association with Tangent Animation for Netflix; Visual Effects Lead: So Ishigaki, Senior Visual Effects Lead: Graham WiebeRalph Breaks The Internet, Walt Disney Animation Studios; Head of Effects Animation: Cesar Velazquez, Effects Lead: Marie Tollec, Effects Lead: Alexander Moaveni, Effects Lead: Peter DeMund, Foundation Effects Lead: Ian J. Coony
Character Animation in an Animated Television / Broadcast Production
Age of Sail, Google Spotlight Stories, Broad Reach Pictures; Character Animator: Sikand Srinivas, Character: AllBack to the Moon, Google Spotlight Stories, Google Doodles, Nexus Studios; Lead Animator: Lucas Vigroux Character: AllHilda, Hilda Productions Limited, a Silvergate Media Company, Netflix Inc. and Mercury Filmworks; Character Animator: Scott Lewis, Character: The King, Hilda, ArfurRapunzel's Tangled Adventure, Walt Disney Television Animation; Character Animator: Juliane Martin, Character: Eugene, Rapunzel, CassandraTumble Leaf, Amazon Studios and Bix Pix Entertainment; Character Animator: Dan MacKenzie, Character: Multiple
Character Animation in an Animated Feature Production
Early Man, Aardman Animations; Lead Character Animator: Laurie Sitzia, Characters: Goona, Dug, Chief Bobnar, the Tribe, the rabbit and Lord NoothIncredibles 2, Pixar Animation Studio; Animator: Lance Fite Character: All Characters
Isle of Dogs, Fox Searchlight Pictures / Indian Paintbrush / American Empirical Pictures; Lead Animator: Jason Stalman Characters: Chief and Nutmeg
Ralph Breaks the Internet, Walt Disney Animation Studios; Animator: Vitor Vilela Characters: Wreck-It Ralph, Fix-It Felix, Double Dan, Vanellope Von Schweetz, Ralphzilla, Yesss, Root Beer Tapper Patrons, Pancake Bunny, Milkshake Kitty, Baby Mo, Mo's MomSpider-Man: Into the Spider-Verse, Sony Pictures Animation; Animator: David Han Character: Multiple
Character Animation in a Live Action Production
Avengers: Infinity War, Marvel; Animation Supervisor: Paul Story, Animation Supervisor: Sidney Kombo Kintombo, Lead Facial Motion Editor: Eteuati Tema, Facial Motion Editor: Jacob Luamanuvae Su'a, Lead Modeller: Sam SharplinChristopher Robin, Walt Disney Pictures; Animation Supervisor: Arslan Elver, Animation Supervisor: Laurent Laban, Lead Animator: Kayn Garcia, Modeller: Claire Blustin, Rigger: Marc-André CoulombeMary Poppins Returns, Walt Disney Pictures; Chris Sauve, James Baxter, Sandro CleuzoPaddington 2, StudioCanal, Heyday Films, Marmalade Films Ltd; Animation Director: Pablo Grillo, Animation Supervisor: Laurent Laban
Animation Supervisor: Kyle Dunlevy, Lead Animator: Stuart Ellis, Lead Animator: Liam Russell
The Nutcracker and the Four Realms, Walt Disney Studios; Animation Supervisor: Richard Oey, Animation Lead: Adrien Annesley, Animation Lead: Allison Orr, Key Animation Artist: Wei Liang Yap, Key Animation Artist: Shan Hao
Character Animation in a Video Game
God of War, Santa Monica Studio; Lead Animator: Erica Pinto Character: All characters in cinematics, Lead Animator: Mehdi Yssef Character: All characters in gameplay, Lead Animator: Bruno Velazquez Character: All charactersGRIS, Nomada Studio; Lead Animator: Adrian Miguel Character: Gris (Cinematics and In-Game), Lead Animator: Adrian Garcia Character:
Gris (Cinematics), Lead Animator: Adrian Miguel Character: Sombra
Marvel's Spider-Man, Insomniac Games; Lead Animator: Bobby Coddington, Character: Spider-ManMoss, Polyarc; Lead Animator: Richard Lico,  Character: QuillShadow of The Tomb Raider, Square Enix; Lead Animator: David Hubert Character: All cinematic characters, Character Animator: Jacob Gardner, Character: All cinematic characters, Character Animator: Giovanni Spinelli, Character: All cinematic characters, Character Animator:, Marco Foglia Character:, All cinematic characters, Character Animator: Jean-Philippe Chaurette, Character: All gameplay characters
Character Design in an Animated Television / Broadcast Production
Age of Sail, Google Spotlight Stories, Broad Reach Pictures; Character Designer: Bruno Mangyoku, Character: various charactersNiko and the Sword of Light, Amazon Studios; Character Designer: Jim Bryson, Character: Niko, Lyra, Nar Est, Breadtroll, Cutie Pootie,
Combo Plate Vendor, Windcrag
Rapunzel's Tangled Adventure, Walt Disney Television Animation; Character Designer: Amanda Jolly Character: Rapunzel Bird, Cassandra Bird, Father Parrot, Special BirdsThe Adventures of Rocky and Bullwinkle, DreamWorks Animation Television; Art Director: Chris Mitchell Character: Rocky, Bullwinkle, Fearless Leader, Boris, Natasha, Director PeachfuzzThe Adventures of Rocky and Bullwinkle, DreamWorks Animation Television; Character Designer: Keiko Murayama
Character: Baby Natasha, Baby Boris, Grandwinkle, Mayor Grundstrom, Boris' Gang, Gang
Character Design in an Animated Feature Production
Incredibles 2, Pixar Animation Studios; Character Art Director: Matt Nolte Character: All CharactersMary Poppins Returns, Walt Disney Studios; Lead Character Designer: James Woods, Character: Animated CastNext Gen, Baozou with Alibaba Pictures Inc. in association with Tangent Animation for Netflix; Character Designer: Marceline Tanguay, Character: MultipleRalph Breaks The Internet, Walt Disney Animation Studios; Art Director – Characters: Ami Thompson, Character: Wreck-It Ralph, Vanellope Von Schweetz, Yesss, Maybe, Shank, Spamley, Gord, The eboy, ebay Elaine, Netuser, Netizens, Internet Troll, Slaughter Race Crew, Disney Princesses, Ralphzilla, Jimmy, Tiffany, Baby Calhoun, Pancake Bunny, Milkshake Kitty, KnowsMoSpider-Man: Into the Spider-Verse, Sony Pictures Animation; Shiyoon Kim, Characters: Uncle Aaron, Rio, Peter, Miles, King Pin, Gwen, Aunt May, Goblin, Jefferson
Directing in an Animated Television / Broadcast Production
Ask the StoryBots, JibJab Bros. Studios for Netflix; Director: Evan SpiridellisDisney Mickey Mouse, Disney Television Animation; Director: Eddie TriguerosNiko and the Sword of Light, Amazon Studios; Director: Sung Jin AhnSuperMansion, Stoopid Buddy Stoodios; Director: Nick SimotasTales of Arcadia: 3Below, DreamWorks Animation Television; Director: Guillermo del Toro, Director: Rodrigo Blaas
Directing in an Animated Feature Production
Early Man, Aardman Animations; Director: Nick ParkHotel Transylvania 3: Summer Vacation, Sony Pictures Animation; Director: Genndy TartakovskyIncredibles 2, Pixar Animation Studios; Director: Brad BirdRalph Breaks The Internet, Walt Disney Animation Studios; Director: Rich Moore, Director: Phil JohnstonSpider-Man: Into the Spider-Verse, Sony Pictures Animation; Director: Bob Persichetti, Director: Rodney Rothman, Director: Peter Ramsey
Music in an Animated Television / Broadcast Production
Back to the Moon, Google Spotlight Stories, Google Doodles, Nexus Studios; Composer: Mathieu AlvadoDisney Mickey Mouse, Disney Television Animation; Composer: Christopher WillisElena of Avalor, Disney Television Animation; Composer: Tony Morales, Composer/Lyricist: John Kavanaugh, Lyricist: Craig Gerber, Lyricist: Silvia Olivas, Lyricist: Rachel RudermanTangled: The Series, Walt Disney Television Animation; Composer: Alan Menken, Lyricist: Glenn Slater, Composer: Kevin KlieschThe Tom and Jerry Show, Warner Bros. Animation; Composer: Vivek Maddala
Music in an Animated Feature Production
Dr. Seuss' The Grinch, Illumination; Composer: Danny Elfman, Lyricist: Tyler, The Creator
Early Man, Aardman Animations; Composer/Lyricist: Harry Gregson-Williams, Composer/Lyricist: Tom Howe, Composer: Harry Gregson-Williams, Composer: Tom Howe
Incredibles 2, Pixar Animation Studios; Composer: Michael GiacchinoRalph Breaks The Internet, Walt Disney Animation Studios; Composer: Henry Jackman, Composer: Alan Menken, Lyricist: Phil Johnston, Lyricist: Tom MacDougall, Composer/Lyricist: Dan ReynoldsSmallfoot, Warner Bros. Pictures / Warner Animation Group; Composer: Heitor Pereira, Composer/Lyricist: Karey Kirkpatrick, Composer/Lyricist: Wayne Kirkpatrick
Production Design in an Animated Television / Broadcast Production
Age of Sail, Google Spotlight Stories, Broad Reach Pictures; Production Design: Céline Desrumaux; Production Design: Jasmin LaiDisney Mickey Mouse, Disney Television Animation; Production Design: Justin MartinLittle Big Awesome, Amazon Studios; Production Design: Antonio Canobbio, Art Director, Production Design: Howard Chen, Background Layout Production Design: Ivan Louey, Background Layout Supervisor, Production Design: Crystal Yoori Son, Background PaintNiko and the Sword of Light, Amazon Studios; Production Design: Antonio Canobbio, Art Director, Production Design: Bobby Walker, Background Paint, Production Design: Michelle Rhee, Background Layout, Production Design: Richard Chang, Background Paint, Production Design: Joseph Martinez, Background LayoutThe Adventures of Rocky and Bullwinkle, DreamWorks Animation Television; Production Design: Chris Mitchell, Production Design: Chris Turnham, Production Design: Tor Anut, Production Design: DanBob Thompson, Production Design: Aaron Spurgeon
Production Design in an Animated Feature Production
Early Man, Aardman Animations; Production Design: Matt Perry, Production Design: Richard EdmundsHotel Transylvania 3: Summer Vacation, Sony Pictures Animation; Production Design: Scott WillsIsle of Dogs, Fox Searchlight Pictures / Indian Paintbrush / American Empirical Pictures; Production Design: Adam Stockhausen, Production Design: Paul HarrodMary Poppins Returns, Walt Disney Studios; Production Design: Jeff TurleySpider-Man: Into the Spider-Verse, Sony Pictures Animation; Production Design: Justin K. Thompson
Storyboarding in an Animated Television / Broadcast Production
Ben 10, Cartoon Network Studios; Storyboard Artist: Will PatrickBig Hero 6: The Series, Walt Disney Television Animation; Storyboard Artist: Trey BuongiornoDisney Mickey Mouse, Disney Television Animation; Storyboard Artist: Ramirez Ramos AlonsoRise of the Teenage Mutant Ninja Turtles, Nickelodeon Animation Studio; Storyboard Artist: Kevin Molina-OrtizStar vs. The Forces of Evil, Walt Disney Television Animation; Storyboard Artist: Sabrina Cotugno
Storyboarding in an Animated Feature Production
Dr. Seuss' The Grinch, Illumination; Storyboard Artist: Habib LouatiIncredibles 2, Pixar Animation Studios; Storyboard Artist: Dean KellyIncredibles 2, Pixar Animation Studios, Storyboard Artist: Bobby Alcid RubioMary Poppins Returns, Walt Disney Studios; Storyboard Artist: Ovi NedelcuRalph Breaks The Internet, Walt Disney Animation Studios; Storyboard Artist: Michael Herrera
Voice Acting in an Animated Television / Broadcast Production
BoJack Horseman, Tornante Productions, LLC for Netflix; Voice Actor: Will Arnett Character: BoJackF Is for Family, Wild West Television in association with Gaumont Television for Netflix; Voice Actor: Debi Derryberry Character: Maureen, Bridget, Phillip, Nurse Beatrice, Scott, KenPete the Cat, Amazon Studios, Alcon Television Group, LLC; Actor: Juliette Donenfeld Character: Sally SquirrelSkylanders Academy, Activision Blizzard Studios; Voice Actor: Patrick Warburton Character: Captain FlynnUnikitty, Warner Bros. Animation; Voice actor: Tara Strong Character: Princess Unikitty
Voice Acting in an Animated Feature Production
Early Man, Aardman Animations; Voice Actor: Eddie Redmayne Character: DugIncredibles 2, Pixar Animation Studios, Voice Actor: Holly Hunter Character: Helen Parr / Elastigirl
Isle of Dogs, Fox Searchlight Pictures / Indian Paintbrush / American Empirical Pictures; Voice Actor: Bryan Cranston Character: Chief
Next Gen, Baozou with Alibaba Pictures Inc. in association with Tangent Animation for Netflix; Voice Actor: Charlyne Yi Character: MaiRalph Breaks The Internet, Walt Disney Animation Studios; Voice Actor: Sarah Silverman Character: Vanellope
Von Schweetz
Writing in an Animated Television / Broadcast Production
Big Mouth, Netflix; Writer: Emily AltmanCraig of the Creek, Cartoon Network Studios; Story By: Matt Burnett, Story By: Ben Levin, Story By: Shauna McGarry, Story By: Jeff Trammell, Story By: Tiffany FordHilda, Hilda Productions Limited, a Silvergate Media Company, Netflix Inc. and Mercury Filmworks; Writer: Stephanie SimpsonStar vs. The Forces of Evil, Walt Disney Television Animation; Writer: Dominic Bisignano, Writer: Aaron Hammersley, Writer: Amy Higgins, Writer: John Infantino, Writer: Daron NefcyWe Bare Bears, Cartoon Network Animation Studios; Writer: Mikey Heller, Story By: Sang Yup Lee, Story By: Louie Zong
Writing in an Animated Feature Production
Incredibles 2, Pixar Animation Studios; Writer: Brad BirdMirai, Studio Chizu; Writer: Mamoru Hosoda, Story By: Mamoru Hosoda, Writer: Stephanie ShehRalph Breaks The Internet, Walt Disney Animation Studios; Writer: Phil Johnston, Writer: Pamela RibonSpider-Man: Into the Spider-Verse, Sony Pictures Animation; Writer: Phil Lord, Writer: Rodney RothmanTeen Titans Go! to the Movies, Warner Bros. Animation; Writer: Michael Jelenic; Writer: Aaron Horvath
Editorial in an Animated Television / Broadcast Production
Big Hero 6: The Series, Walt Disney Television Animation; Nominee: Charles Jones, Nominee: Joe Molinari, Nominee: Dao Le, Nominee: Vartan Nazarian, Nominee: David VazquezPuppy Dog Pals, Wild Canary Animation / Disney Junior; Nominee: Adam RickabusSpongeBob SquarePants, Nickelodeon Animation Studio; Nominee: Estrella Miyakawa Capin, Nominee: Christopher Hink, Nominee: Bob Tomlin, Nominee: Rick DominicusTales of Arcadia: 3Below, DreamWorks Animation Television; Nominee: John Laus, Nominee: Graham FisherThe Epic Tales of Captain Underpants, DreamWorks Animation Television; Nominee: Steve Downs, Nominee: John Wall, Nominee: Adam Smith, Nominee: Collin Erker
Editorial in an Animated Feature Production
Dr. Seuss' The Grinch, Illumination; Nominee: Chris CartagenaIncredibles 2, Pixar Animation Studios; Nominee: Stephen Schaffer, ACE, Nominee: Anthony J. Greenberg, Nominee: Katie Schaefer BishopRalph Breaks The Internet, Walt Disney Animation Studios; Nominee: Jeremy Milton, Nominee: Fabienne Rawley, Nominee: Jesse Averna, Nominee: John Wheeler, Nominee: Pace Paulsen
Ruben Brandt, Collector, Hungarian National Film Fund; Nominee: Milorad Krstic, Nominee: Marcell Laszlo, Nominee: Laszlo Wimmer, Nominee: Danijel Daka Milosevic
Spider-Man: Into the Spider-Verse, Sony Pictures Animation; Nominee: Bob Fisher, Nominee: Andrew Leviton, Nominee: Vivek Sharma