Win A 'Mission: Impossible' Prize Pack Containing The 6-Movie Collection, Vinyl Soundtrack And More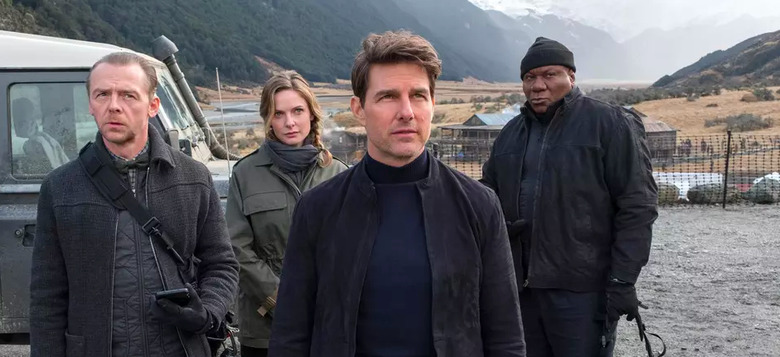 Mission: Impossible – Fallout, one of the year's best action films, arrives on Blu-ray this week. To celebrate, we're going to send you on a deadly mission to retrieve plutonium! Just kidding – we're giving away prizes! You can score a whole bunch of Mission: Impossible swag, including the 6-film 4K Blu-ray collection, and the Mondo vinyl soundtrack of the first Mission: Impossible. Details on the Mission Impossible contest are below.
If you have a pulse, there's a good chance you had a blast watching Mission: Impossible – Fallout this summer. Against all odds, the Mission franchise just keeps getting better and better, and has become the best running action franchise. Time and time again, Tom Cruise and company defy the odds, cheat death, and run like hell across various continents.
In honor of the Fallout Blu-ray release, we want to hook you up with some prizes, dear reader.

One grand prize winner will score the 4K 6-movie collection, the Mission: Impossible soundtrack by Danny Elfman on vinyl from Mondo, a hoodie, a gym bag, and various other items. Feel free to put all your prizes in the gym bag, and then run around town, pretending you're Tom Cruise.
Two other winners will land the 4K 6-movie collection.
How do you win such illustrious prizes? Simple: jump down into the comments and tell us your favorite Mission: Impossible stunt. Winners will be chosen at random. Good luck!
On a dangerous assignment to recover stolen plutonium, Ethan Hunt (Tom Cruise) chooses to save his friends over the mission, allowing it to fall into the hands of a deadly network of highly skilled operatives intent on destroying civilization. Now, with the world at risk, Ethan and his IMF team (Simon Pegg, Ving Rhames, Rebecca Ferguson) are forced to work with a hard-hitting CIA agent (Henry Cavill) as they race against time to stop the nuclear threat.  Written and directed by Christopher McQuarrie, MISSION: IMPOSSIBLE—FALLOUT also stars Sean Harris, Angela Bassett, Michelle Monaghan and Alec Baldwin.
BONUS FEATURES ON 4K ULTRA HD COMBO, BLU-RAY COMBO & DIGITAL*
Behind the Fallout
Light the Fuse
Top of the World
The Big Swing: Deleted Scene Breakdown
Rendezvous in Paris
The Fall
The Hunt is On
Cliffside Clash
Deleted Scenes Montage with Optional Commentary by director Christopher McQuarrie and editor Eddie Hamilton
Foot Chase Musical Breakdown
The Ultimate Mission
Storyboards
Theatrical Trailer
Commentary by director Christopher McQuarrie and Tom Cruise
Commentary by director Christopher McQuarrie and editor Eddie Hamilton
Commentary by composer Lorne Balfe
Isolated Score Track