'Kingsman' Prequel Casts Charles Dance, Daniel Brühl, Rhys Ifans, And More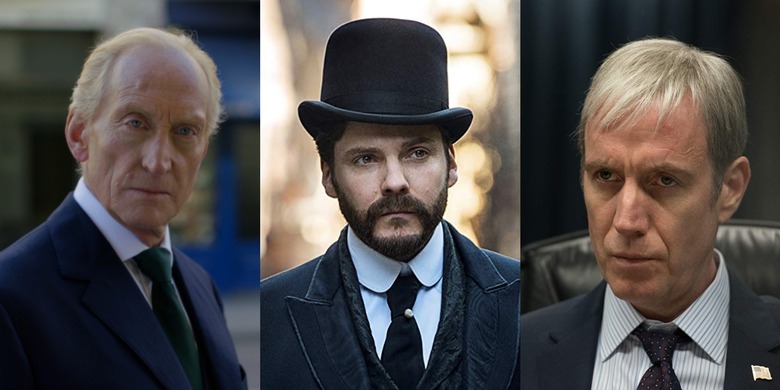 Four more actors are suiting up for the upcoming Kingsman prequel.
According to a new report, The Amazing Spider-Man's Rhys Ifans is in talks to join the Ralph Fiennes and Harris Dickinson-led Kingsman prequel as the potential villain. Joining alongside him are several other genre vets: Game of Thrones' Charles Dance and Captain America: Civil War's Daniel Brühl, while Watchmen's Matthew Goode is reportedly being eyed for a role.
Collider reports that Rhys Ifans, best known recently for playing the Lizard in The Amazing Spider-Man, is circling a role as a "dangerous and manipulative Russian mystic" in the Kingsman prequel set during World War I.
Also joining the cast are Dance and Brühl in undisclosed roles, though it's notable that all three of these actors are known for playing villains — Dance as Tywin in Game of Thrones, and Brühl as Zemo in Captain America: Civil War plus as literally every Nazi in the past decade. The outlet also reports that Goode may be in talks for another undisclosed role.
All four would join the already-cast Fiennes and Dickinson, who will play the two leads in a dynamic echoing the original pairing of Colin Firth and Taron Egerton. But according to Collider, the prequel is "more of a period drama than a spy thriller," and centers around "the man who would be Kingsman." That confirms reports that film will be titled The Great Game and depict the formation of the clandestine spy organization. Dickinson is playing Conrad, described as a "cocky yet charming young hero who's eager to serve his country and fight in World War I." He and Fiennes are set to start filming in London this January.
Director Matthew Vaughn is keeping busy with his Kingsman universe, developing the third Kingsman film concurrently with the prequel that would supposedly conclude the Harry Hart-Eggsy saga. Vaughn is also planning several spin-offs, including a film focusing on the Statesmen introduced in Kingsman: The Golden Circle and an eight-hour Kingsman TV show.