'The Predator' Almost Had Predator-Monkey Hybrids, But Some Things Aren't Meant To Be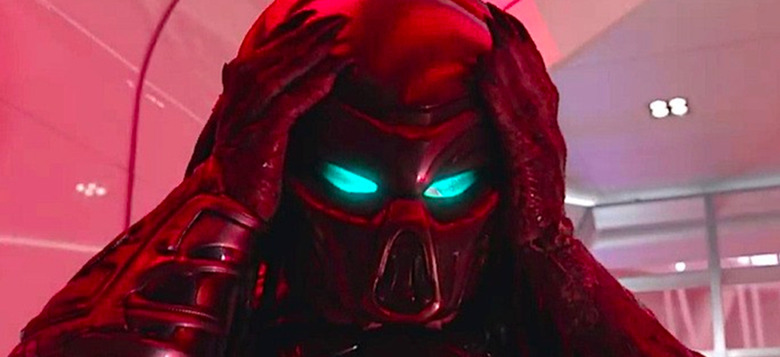 Remember The Predator? Shane Black's sequel/reboot hit theaters this year, but it seems like everyone already forgot about it already. Maybe we'd all still be talking about The Predator right now if it had kept one of the script's early ideas intact: Predator-monkey hybrids. That's right – at one point, The Predator was going to feature Predator DNA mixed with monkeys and other animals. But it never came to pass. Instead we got Thomas Jane telling terrible jokes! See The Predator concept art below.
I thought The Predator was entertaining, but also very stupid. The film was not exactly a box office hit, and as 2018 draws to a close, almost no one is talking about it. Except Constantine Sekeris, The Predator's concept artist. Sekeris sat down with AvP Galaxy to share some concept art, and reveal a concept that never made it into the final film.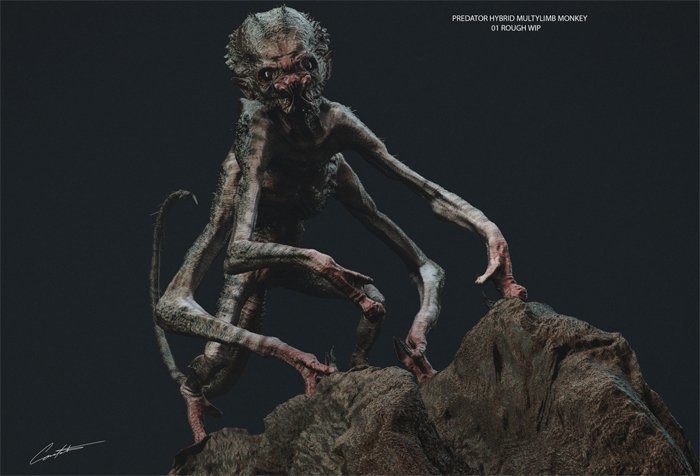 Check out that bad boy above – it's a Predator-monkey hybrid. Sekeris says an early script was much different than the final film, and included scientist Predators experimenting with animals and mixing DNA. The end result would be something like what you see above, a multi-limbed monster that's part predator, part primate and probably very deadly.
Now, I'm not saying The Predator would've been a better movie if it had Predator-monkey hybrids running around willy nilly, but I'm not not saying that, either. The upcoming The Predator Blu-ray includes deleted scenes, but don't expect to see these creatures featured there – they never made it beyond the concept art stage. It's just one of several things that were changed before the film found its way to theaters. Another big change was the movie's ending, which was completely reshot. Don't expect to see that, either. Shane Black said so himself, telling Collider: "It never got finished, so the effects aren't in. So you'd have to pay to finish the effects to put it on the Blu-ray."
The Predator, starring  Boyd Holbrook, Trevante Rhodes, Jacob Tremblay, Keegan-Michael Key, Olivia Munn, Thomas Jane, Alfie Allen, and Sterling K. Brown is now available on Digital and Movies Anywhere, and arrives on 4K Ultra HD, Blu-ray and DVD December 18, 2018.
The hunt has evolved – and so has the explosive action – in the next chapter of thePredator series, from director Shane Black (Iron Man 3). Now, the most lethal hunters in the universe are stronger, smarter and deadlier than ever before....and only a ragtag crew of ex-soldiers and an evolutionary biology professor can prevent the end of the human race.