One More 'Aquaman' Trailer Pushes The Comic Book Action Spectacle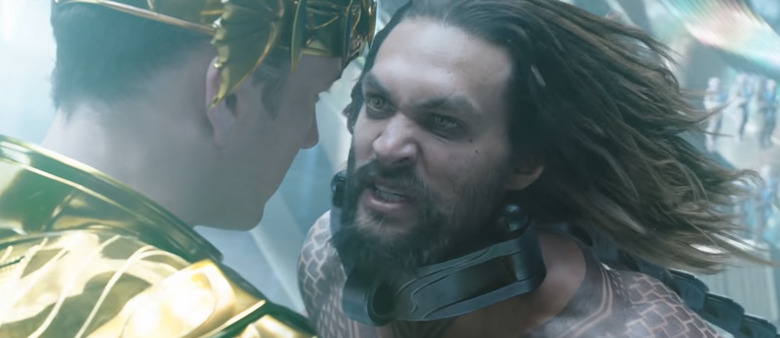 All right, the last Aquaman trailer we featured was said to be the "final" one, but that's only here in the United States. Our friends over in China recently got a new trailer, and it has plenty of new footage from the upcoming DC Comics superhero movie starring Jason Momoa. Most of the new stuff is all of the underwater action spectacle that will help Aquaman stand out from the rest of the comic book fare. Check out the new international Aquaman trailer below if you're hungry for more footage.
International Aquaman Trailer
As you can see, there are plenty of new action shots here, including some new moments from the battle between Arthur Curry and his half-brother Orm, the Ocean Master (Patrick Wilson). Plus, there are plenty more shots of the underwater chases, which feel reminiscent of the space battles from Star Wars.
However, the underwater sequences featuring the Atlanteans continue to look terrible. There's something completely artificial about how these characters appear under the sea, especially in close-ups when their hair must be manipulated with visual effects to look like it's floating in the water.
Even so, there's a lot of bright and colorful visual spectacle here. It's vastly different from what we've seen in the DC Extended Universe so far. It remains to be seen if fans of what Zack Snyder brought to the table will buy into this change in tone and style, but the early buzz seems to be mostly good so far, so maybe there's some hope that this shift will work for everyone.
For good measure, here's a Chinese poster for Aquaman looking like your average photoshopped marketing: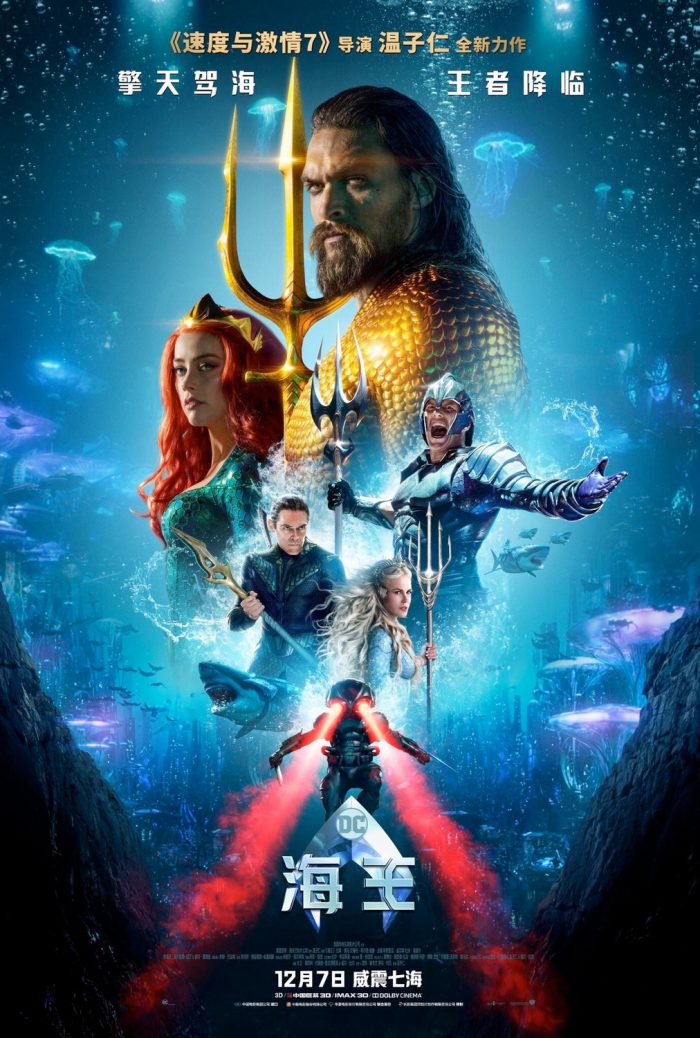 Aquaman is directed by James Wan and also stars Amber Heard, Willem Dafoe, Dolph Lundgren, Temuera Morrison, Nicole Kidman and Yahya Abdul-Mateen II. Here is the official synopsis for the movie:
From Warner Bros. Pictures and director James Wan comes an action-packed adventure that spans the vast, visually breathtaking underwater world of the seven seas, "Aquaman," starring Jason Momoa in the title role. The film reveals the origin story of half-human, half-Atlantean Arthur Curry and takes him on the journey of his lifetime—one that will not only force him to face who he really is, but to discover if he is worthy of who he was born to be...a king.
Aquaman hits theaters on December 21, 2018.