Hidden Streams: A Hitchcock Great, An Animated Classic, And Other Older Movies Streaming Right Now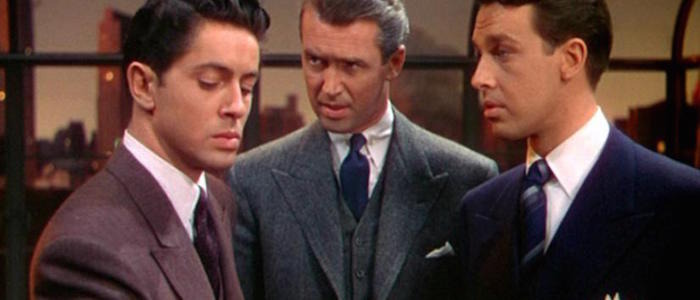 (Welcome to Hidden Streams, a column focused on the best older movies available to stream on your favorite services, including Netflix, Amazon, Hulu, and more.)FilmStruck is dead, which might make it harder for cinephiles to dig those older hidden gems out of the overwhelming piles of streaming titles. But that won't stop us from trying. From lesser-known classics to cult favorites, we've put together a handy guide to some of the best older films you can stream on the various platforms. In this edition of Hidden Streams, you'll find plenty of golden (and not-so-golden) oldies to check out or revisit, including a deeply upsetting animated film, a melancholy musical, the master of suspense, and more – and nothing that was released after 1985.
Now Streaming on Hulu
Release date: 1982Director: Don BluthCast: Elizabeth Hartman, Dom DeLuise, and John CarradineThere was a period there in the '80s when movies for children were sometimes darker and more challenging. The Secret of NIMH, based on Robert C. O'Brien's 1971 novel Mrs. Frisby and the Rats of NIMH, is one such film. The feature debut of acclaimed animation director Don Bluth follows Mrs. Brisby (her name was changed due to potential copyright issues with Frisbee), a widowed field mouse on a harrowing quest to save her son, Timmy, who has fallen deathly ill. In order to do so, she'll need to enlist the help of a colony of rats and their wise old leader – from whom she learns a live-changing secret.For fans of: Watership Down, The Last Unicorn, Return to Oz, and other dark movies for kids.
The Umbrellas of Cherbourg
Now Streaming on Kanopy
Release date: 1964Director: Jacques DemyCast: Catherine Deneuve, Anne Vernon, and Nino CastelnuovoThe second title in Demy's informal trilogy of romance films centers on Catherine Deneuve's Genevieve, a young French woman faced with a heart-wrenching decision when her true love, Guy, is sent off to fight in the Algerian War. Divided into three parts, The Umbrellas of Cherbourg is a tragic musical in which all of the dialogue – including casual conversations – is sung rather than spoken. Demy's film picked up five Academy Award nominations, including Best Foreign Language Film, Best Song, and Best Original Score. Although it failed to take home an Oscar in any of its categories, The Umbrellas of Cherbourg won three awards at the Cannes Film Festival, including the prestigious Palme d'Or.For fans of: La La Land, Dancer in the Dark, and The Red Shoes.
Now Streaming on Shudder
Release date: 1948Director: Alfred HitchcockCast: James Stewart, John Dall, and Farley GrangerBased on Patrick Hamilton's 1929 play of the same name, Rope follows two young intellectuals who strangle their former Harvard classmate as a sort of cerebral exercise to validate their superiority. To further challenge themselves and prove they've committed the perfect crime, the pair invite the dead classmate's friends and family to a dinner party where – unbeknownst to the guests – the meal is served upon a chest containing the body of the deceased. Easily Hitchcock's most experimental film, Rope is famously comprised of several long takes and takes place almost entirely in one location.For fans of: Compulsion, Murder by Numbers, and The Secret History by Donna Tartt.
Now Streaming on Vudu
Release date: 1985Director: Martin ScorseseCast: Griffin Dunne, Rosanna Arquette, and John HeardScorsese's clever dark comedy unfolds over the course of one evening in which an unremarkable word processor named Paul (Dunne) experiences a series of spectacular mishaps on his quest to visit the apartment of a woman he met at a coffee shop earlier in the night. What should have been a straightforward meetup with an interesting woman soon proves unreasonably difficult, underlining the absurdity of Paul's banal pursuit (and that of most men, really). After Hours is an idiosyncratic title in Scorsese's filmography; it only exists because Paramount bowed out of producing The Last Temptation of the Christ, leading Scorsese's lawyer to introduce him Griffin Dunne.For fans of: Into the Night, Bringing Out the Dead, and Nick and Norah's Infinite Playlist.
Now Streaming on Amazon
Release date: 1972Director: Robert AltmanCast: Susannah York, Rene Auberjonois, and Marcel BozzuffiAltman's startling and surreal psychological thriller follows Cathryn, a children's book author and schizophrenic who joins her husband for a trip to their secluded vacation home. There, Cathryn increasingly struggles with her mental illness, and is unable to discern the terrifying apparitions that surround her from schizophrenic hallucinations. Filmed by acclaimed cinematographer Vilmos Zsigmond (Blow Out, Close Encounters of the Third Kind), Images wasn't beloved upon release and, despite numerous awards nominations, remains one of Altman's lesser-known titles. Five years later, Altman released another psychological film, 1977's 3 Women, which many compared to Persona – but of the two films, Images was more directly inspired by Ingmar Bergman's film, as Altman himself was quick to note.For fans of: Repulsion, Antichrist, and Safe.
Now Streaming on Shudder
Release date: 1981Director: Abel FerraraCast: Zoe Tamerlis LundFerrara took the typical exploitation schlock to new heights with his 1981 revenge flick starring Zoe Lund as a mute seamstress who loses her grip on sanity after being violently sexually assaulted twice in a single day. Armed with a .45 caliber gun, Thana hits the sleazy streets of New York City to take matters into her own hands. Mostly detested upon its initial release, Ms .45 features an ethereal performance from Lund and surreal visual flourishes that undercut the otherwise grimy surroundings. Though it's become something of a cult classic, Ms .45 is still lesser-seen in comparison to other Ferrara films, like King of New York.For fans of: Revenge, The Love Witch, and Bad Lieutenant.
Now Streaming on Kanopy
Release date: 1977Director: David LynchCast: Jack Nance, Charlotte Stewart, and Allen JosephThe directorial debut of the master of uncanny waking nightmares stars Jack Nance (Twin Peaks) as a man struggling to care for his deformed and demanding newborn child in a harsh industrial environment. Eraserhead is one of Lynch's more accessible works, both thematically and narratively speaking – for all its eccentricities and grotesque curiosities, it is, at its heart, a story of a man unsure of his abilities as a father, coming to terms with the irrefutable reality that he is one.For fans of: All things Lynch, Tetsuo: The Iron Man, and My Son, My Son, What Have Ye Done.
Now Streaming on Kanopy
Release date: 1973Director: Nicolas RoegCast: Donald Sutherland, Julie Christie, and Hilary MasonBased on the Daphne du Maurier short story of the same name, Roeg's dizzying psychological thriller stars Donald Sutherland and Julie Christie as a married couple grieving the horrible recent death of their daughter. On a trip to Venice, they encounter two older sisters – one of whom claims to be a psychic with a message from their daughter, warning them of grave danger. This off-kilter piece of psychological horror and fascinating examination of grief includes a famously controversial sex scene that features a rare (for the time) depiction of cunnilingus. Many accused Sutherland and Christie (who was dating Warren Beatty during filming) of having unsimulated sex – a rumor that has persisted in the decades since the film's release, and often overshadows the work of Roeg, who recently passed away at the age of 90.For fans of: The Wicker Man, Hereditary, and We Need to Talk About Kevin.
Now Streaming on Kanopy
Release date: 1972Director: Brian De PalmaCast: Margot Kidder, Jennifer Salt, and William FindleySisters is rarely ever mentioned in discussions about De Palma's filmography, but it should be. Margot Kidder delivers fantastic dueling performances as twin sisters who were conjoined at birth: One a successful model, the other mentally unhinged. When the latter commits a grisly murder, the former – along with her ex-husband – tries to help her cover it up, but a nosy neighboring journalist is determined to uncover the truth. From its eerie opening sequence recounting the sisters' early life to its brazen depiction of mental illness (and Margot Kidder wielding a knife on a bed, next to a birthday cake), Sisters is a must-see – for fans of De Palma and psychological thrillers alike.For fans of: Dead Ringers, Enemy, and Black Swan.
Now Streaming on Amazon
Release date: 1970Director: Teruo IshiiCast: Meiko Kaji, Hoki Tokuda, and Makoto SatoThe head of a violent yakuza gang slashes the eyes of a foe during a fight. A black cat is seen lapping up the blood. Now, a blind woman is stalking the yakuza and his gang, seeking revenge. Blind Woman's Curse would actually pair quite well with Abel Ferrara's Ms .45; this strange revenge thriller is a gory odyssey that blends horror and yakuza action – not quite seamlessly, and often to bizarre effect. That said, it's quite stunning to behold, and features a running bit involving dragon tattoos.For fans of: The Girl With the Dragon Tattoo (how could I not), Lady Vengeance, and Kill Bill Vol. 1.