Chris Evans May Not Be Done With Captain America Yet, Says The Russo Brothers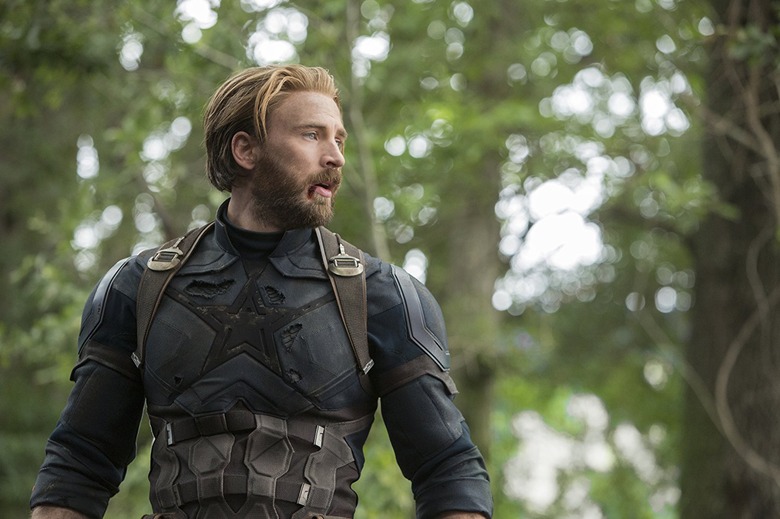 Get this man a shield — Chris Evans may not be totally done with Captain America. Though the Avengers: Infinity War actor had confirmed that he was hanging up the star-spangled suit for good after Avengers 4, directors Joe and Anthony Russo hint that this may not totally be the case.
Chris Evans caused a stir last month when he posted a tweet celebrating the wrapping of Avengers 4, with a message that read suspiciously like a goodbye to Captain America. "It was an emotional day to say the least," Evans wrote. "Playing this role over the last 8 years has been an honor."
Of course, Evans has been talking about retiring from Marvel for months now, and his contract with the company seemed to confirm as much. But Joe Russo suggested to USA Today that this may not be the last time Evans and Captain America will be connected:
"I think it was more emotional for him than it was us because he's not done yet. I won't explain what that means but fans will soon understand what I'm talking about."
No, we don't understand! Evans is not signed up for any films past Avengers 4, and much hoopla has been made about the a new era of the MCU after the events of Avengers: Infinity War and the still-untitled Avengers 4. But perhaps Russo is hinting that while Evans will no longer play the role onscreen, he'll still be involved in the Captain America series in some capacity? Like as a director, perhaps?
Hear me out. Evans has spoken about wanting to retire in front of the camera and shift gears to directing for years, recently making his directorial debut with 2014's Before We Go. He later backtracked from his claims of retiring from acting, but still seems to hold a flame for directing, which he hasn't done since Before We Go. Maybe Marvel wants to keep Evans associated with the company by giving him a big-budget project as his second directorial feature, taking the helm of the next Captain America movie with another actor playing the superhero. Crazier things have happened.