'Mary Poppins Returns' Early Buzz: As Expected, Pretty Much Everyone Loves This Movie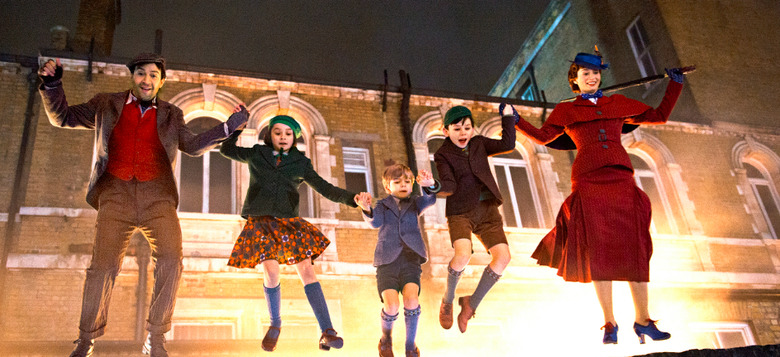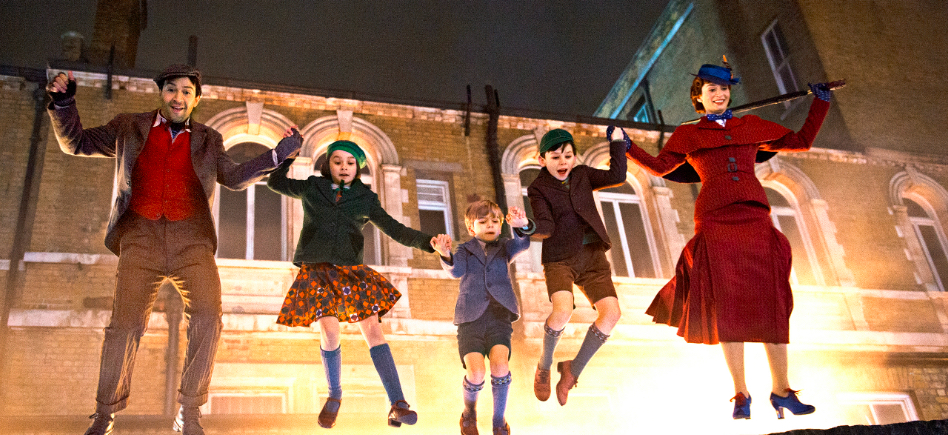 The social media embargo for Mary Poppins Returns has lifted like an otherworldly nanny floating up into the sky, and the early buzz is rolling in. Do critics find the Emily Blunt-starring Mary Poppins sequel magical? Does Lin-Manuel Miranda shine in his first big screen role? Does director Rob Marshall rekindle the spirit of the original? Or is the end result supercalifragilisticexpialistupid? Read the Mary Poppins Returns early buzz below!
As expected, I seemed to be in the (very small) minority of those who didn't care for it.
#MaryPoppinsReturns is...not for me. Emily Blunt is the only person who could have played that role, and she does a commendable job. But the movie just attempts to recreate too much of the original, and totally fails to recapture its magic.

— Ben Pearson (@benpears) November 30, 2018
The most surprising part about tonight, though, is that /Film's Peter Sciretta is one of the only other people online so far who also wasn't a fan of this film:
I know I'm probably going to be in the minority but I didn't love #MaryPoppinsReturns. It's crowdpleasing but paint by numbers. Great production design, good music, Rob Marshall's Stagey musical performances. Has moments of greatness but mostly not for me.

— /Film (@slashfilm) November 30, 2018
It looks like Yolanda Machado is joining us while the rest of the world continues the love fest (and more power to 'em!):
And again, as expected, the overwhelming majority of critics were whisked away by this movie like a kite on the wind:
#MaryPoppinsReturns is absolutely delightful, packed with old school charm and it keeps you smiling the entire time. So much color and warmth and wonder – a film about believing in the ones you love and loving to imagine the possibilities. pic.twitter.com/6WmYErvUWD

— Erik Davis (@ErikDavis) November 30, 2018
#MaryPoppinsReturns ⁠is the warm, cozy comfort weight blanket we need right now – prescribed self-care that swaddles us in heartfelt sentiments. It respectfully balances nostalgia & modern tech, creating a joyful, eye-popping & immersive fantasy world. Emily Blunt is perfect. pic.twitter.com/WkRvfBfNeu

— Courtney Howard (@Lulamaybelle) November 30, 2018
In honesty, I'd been having a rough day before I walked into screen it. Two hours later, I walked out in love with everything again. It's a happy-making movie. And it's easily going to garner a few Oscar nods. #MaryPoppinsReturns

— Alisha Grauso (@AlishaGrauso) November 30, 2018
Much like the Banks family, I didn't realize how much I needed Mary Poppins back in my life until she arrived. Emily Blunt is magical. @Lin_Manuel is a joy. And wonderful to see Navckid Keyd acting again. #MaryPoppinsReturns pic.twitter.com/mO0RSXW6J7

— Stephen "Dirk" Libbey (@childe_dirk) November 30, 2018
#MaryPoppinsReturns has all the nostalgia you'd expect while still feeling modern. Emily Blunt lights up the screen as Mary and you will fall in love with @Lin_Manuel's Jack. And oh the music! It's so good and nearly inspired us to stand & cheer at the end of many songs. (2 of 3) pic.twitter.com/OPwJIF1ZW3

— Hyperion Adventures Podcast (@HyperionPodcast) November 30, 2018
#MaryPoppinsReturns is a delightful journey down memory lane full of uplifting messages and sound advice. The animation pops, the song & dance numbers sing, and Emily Blunt is as great as she could be taking over for the legend that is Julie Andrews. Overall a resounding success! pic.twitter.com/ai18jRun6A

— Feelin' Film 🎙️📽️ 🎞️ (@FeelinFilm) November 30, 2018
The social embargo for #MaryPoppinsReturns has lifted and I have some feelings! The film is a showstopper! Disney pulled every trick out of the bag, and this is Rob Marshall's best musical since Chicago. Check for my full review in Dec on @flickeringmyth pic.twitter.com/bPadjEMy3q

— EJ Moreno (@EJKhryst) November 30, 2018
I can finally say that I loved #MaryPoppinsReturns! Emily Blunt is practically perfect in every way! Also, @Disney needs to make branded tissues for every showing! So lovely! pic.twitter.com/z7LmfJMrde

— Jenna Busch (@JennaBusch) November 30, 2018
So #MaryPoppinsReturns is so much excellence. Emily Blunt will get all the noms, Lin-Manuel win all the hearts, and the music will be in your head and on your playlist for months.

— Joel Meares (@joelmeares) November 30, 2018
#MaryPoppinsReturns is practically perfect in every way. I felt as if I was transported to a world where anything is possible. It has that old Disney Magic that only the classics contain and to have that feeling again was so refreshing.

— Kyle Arango (@Kylemovieguy) November 30, 2018
#MaryPoppinsReturns THE MAGIC IS BACK Emily Blunt is just perfection as Mary Poppins & every time she's on screen I couldn't help but have this big ole smile, the 2-D animation segment is BEAUTIFUL. The film gave me the magical feeling I felt the first time I went to Disneyland pic.twitter.com/bLnamKbPLN

— Zach Pope @ SUNDANCE 2023 (@popetheking) November 30, 2018
I'm genuinely glad people enjoyed this experience – it just wasn't for me. None of the songs were memorable, there was no good reason for this film to exist, and like Disney's Christopher Robin earlier this year, it overtly glorifies nostalgia in an era in which our popular culture is already drowning in it. But audiences are going to lose their minds for this film this, and it's going to be a massive hit. And again, even I have to admit that Emily Blunt was excellent, so it's not all bad.
Mary Poppins Returns opens December 19, 2018.
In Disney's "Mary Poppins Returns," an all new original musical and sequel, Mary Poppins is back to help the next generation of the Banks family find the joy and wonder missing in their lives following a personal loss.

 

Emily Blunt stars as the

 

practically-perfect nanny with unique magical skills who can turn any ordinary task into an unforgettable, fantastic adventure and Lin-Manuel Miranda plays her

 

friend Jack,

 

an optimistic street lamplighter who helps bring light—and life—to the streets of London.