Hugh Jackman Announces 2019 World Tour To Perform Songs From 'The Greatest Showman' & More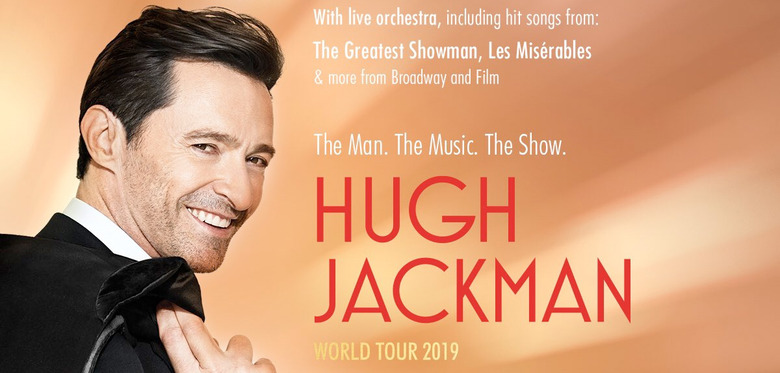 If you like the musical stylings of Hugh Jackman more than you like seeing him brandish claws as Wolverine, then we have some news that will absolutely thrill you.
On The Today Show this morning, Hugh Jackman announced that he will embark on a world tour in 2019 with a new one-man musical show called The Man. The Music. The Show., where fans can see him perform songs from films like The Greatest Showman and Les Miserables, as well as songs from musicals like The Boy from Oz and Oklahoma.
Hugh Jackman World Tour Announcement
Most of the performances will be in international venues, but Jackman is expected to some domestic stops on the tour, including a visit to Los Angeles. Jackman has previously performed his one-man act on Broadway and in Los Angeles, where he raised money for the Motion Picture and Television Fund during a 2013 stint.
Jackman's one-man show is not the only stage production that will could feature music from "The Greatest Showman," last year's hit movie musical about P.T. Barnum. The film's backers, which include Fox and Peter Chernin's Chernin Entertainment, are having preliminary talks with a number of interested parties. A Broadway engagement is unlikely, but the show could include circus performers and music from the movie and is eyeing a debut in Las Vegas, London, or Australia. Benj Pasek and Justin Paul, the songwriting team from the film, are expected to be involved in some capacity, as is director Michael Gracey. It's unclear what Jackman's involvement will be with the stage version of "The Greatest Showman," though he may have a producer role.
Jackman is currently playing former presidential candidate Gary Hart in "The Frontrunner" and will next appear opposite Allison Janney in the drama "Bad Education." His stage credits include his award-winning turn as Peter Allen in "The Boy From Oz," as well as starring roles in the Broadway productions of "A Steady Rain" and "The River."
On Instagram, the actor teased that he will make a big announcement on Thursday. Presumably he plans to reveal that he'll be taking the stage again soon.
–
Tickets will go on sale on Friday, December 7.
Monday, May 13 – Barclaycard Arena – Hamburg
Tuesday, May 14 – Mercedes-Benz Arena – Berlin
Thursday, May 16 – Lanxess Arena – Cologne
Friday, May 17 – Ziggo Dome – Amsterdam
Sunday, May 19 – Hallenstadion – Zurich
Tuesday, May 21 – SAP Arena – Mannheim
Wednesday, May 22 – AccorHotels Arena – Paris
Friday, May 24 – Manchester Arena -Manchester
Monday, May 27 – Birmingham Resorts World Arena – Birmingham
Thursday, May 30 – 3Arena – Dublin
Sunday, June 2 – The O2 Arena – London
Monday, June 3 – The O2 Arena – London
Tuesday, June 18 – Toyota Center – Houston
Wednesday, June 19 – American Airlines Center – Dallas
Friday, June 21 – United Center – Chicago
Saturday, June 22 – Xcel Energy Center – St. Paul
Monday, June 24 – Little Caesars Arena – Detroit
Tuesday, June 25 – Scotiabank Arena – Toronto
Thursday, June 27 – TD Garden – Boston
Friday, June 28 – Madison Square Garden – New York City
Saturday, June 29 – Madison Square Garden – New York City
Sunday, June 30 – Wells Fargo Center – Philadelphia
Monday, July 1 – Capital One Arena – Washington DC
Wednesday, July 3 – State Farm Arena – Atlanta
Friday, July 5 – Amalie Arena – Tampa
Saturday, July 6 – BB&T Center – Sunrise
Wednesday, July 10 – Pepsi Center – Denver
Thursday, July 11 – Vivint Smart Home Arena – Salt Lake City
Saturday, July 13 – MGM Grand Garden Arena – Las Vegas
Sunday, July 14 – Gila River Arena – Glendale
Tuesday, July 16 – Valley View Casino Center – San Diego
Wednesday, July 17- SAP Center at San Jose – San Jose
Friday, July 19 – Hollywood Bowl – Los Angeles
Saturday, July 20 – Hollywood Bowl – Los Angeles
Hugh Jackman called the world tour a dream come true when he made the announcement on The Today Show this morning, which you can watch in full above. This is something that Jackman has done in his homeland of Australia before, but he's never done an arena tour across the globe like this.
It's not often that you get to see a big Hollywood star who isn't a stand-up comedian going out on a tour to perform in front of fans, so this should be quite the experience, especially if he's doing it in some of the biggest arenas across the world.
Jackman says he'll be singing, dancing and telling stories on the tour, and he'll be bringing a 26-piece orchestra and around 30 other singers and dancers along with him. Plus, Jackman says that he'll have some special guests popping up too, including The Greatest Showman showstopper Kaela Settle. So it's not quite a one-man show, but he's certainly the star of the production.
If you'd like a taste of the Hugh Jackman world tour, you can tune in to The Today Show next Tuesday, where the man himself will be performing two songs, one from The Greatest Showman and one from Les Miserables.
Tickets for the Hugh Jackman world tour will go on sale December 7, and here's where you can catch him:
Monday, May 13 – Barclaycard Arena – Hamburg
Tuesday, May 14 – Mercedes-Benz Arena – Berlin
Thursday, May 16 – Lanxess Arena – Cologne
Friday, May 17 – Ziggo Dome – Amsterdam
Sunday, May 19 – Hallenstadion – Zurich
Tuesday, May 21 – SAP Arena – Mannheim
Wednesday, May 22 – AccorHotels Arena – Paris
Friday, May 24 – Manchester Arena -Manchester
Monday, May 27 – Birmingham Resorts World Arena – Birmingham
Thursday, May 30 – 3Arena – Dublin
Sunday, June 2 – The O2 Arena – London
Monday, June 3 – The O2 Arena – London
Tuesday, June 18 – Toyota Center – Houston
Wednesday, June 19 – American Airlines Center – Dallas
Friday, June 21 – United Center – Chicago
Saturday, June 22 – Xcel Energy Center – St. Paul
Monday, June 24 – Little Caesars Arena – Detroit
Tuesday, June 25 – Scotiabank Arena – Toronto
Thursday, June 27 – TD Garden – Boston
Friday, June 28 – Madison Square Garden – New York City
Saturday, June 29 – Madison Square Garden – New York City
Sunday, June 30 – Wells Fargo Center – Philadelphia
Monday, July 1 – Capital One Arena – Washington DC
Wednesday, July 3 – State Farm Arena – Atlanta
Friday, July 5 – Amalie Arena – Tampa
Saturday, July 6 – BB&T Center – Sunrise
Wednesday, July 10 – Pepsi Center – Denver
Thursday, July 11 – Vivint Smart Home Arena – Salt Lake City
Saturday, July 13 – MGM Grand Garden Arena – Las Vegas
Sunday, July 14 – Gila River Arena – Glendale
Tuesday, July 16 – Valley View Casino Center – San Diego
Wednesday, July 17- SAP Center at San Jose – San Jose
Friday, July 19 – Hollywood Bowl – Los Angeles
Saturday, July 20 – Hollywood Bowl – Los Angeles