Pop Culture Imports: 'My Brilliant Friend,' 'Hero,' Alfonso Cuaron's Directorial Debut, And More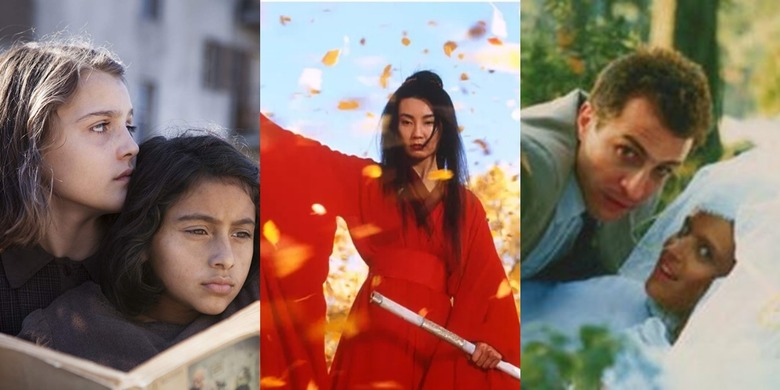 (Welcome to Pop Culture Imports, a column that compiles the best foreign movies and TV streaming right now.)
As we near the end of the year, everyone is scrambling to catch all the movies and TV shows that they missed. But when making your way through year-end lists starts to feel like a chore, why not catch yourself up on their subtitled compatriots, both new and classic?
This week we have the buzzy HBO adaptation of Elena Ferrante's beloved Neopolitan novels, My Brilliant Friend; Zhang Yimou's masterpiece of visual cinema Hero; Alfonso Cuaron's directorial debut to get you hyped for his upcoming magnum opus Roma; An Education's Lone Scherfig's Danish breakout Italian for Beginners; and a juicy Thai revenge thriller series from Netflix.
Fire up those subtitles, and let's get count down the best foreign movies and TV streaming now.
The Best Foreign Movies and TV Streaming
My Brilliant Friend – HBO
Country: ItalyGenre: Drama miniseriesCreator: Saverio CostanzoCast: Margherita Mazzucco, Elisa del Genio, Gaia Girace, Ludovica Nasti.
When Elena Ferrante published "My Brilliant Friend," the first in her four-part series of novels chronicling the intense and fraught friendship of two girls growing up in post-World War II Naples, in 2012, it became a worldwide literary phenomenon, attracting the kind of fan fervor usually reserved for the likes of George R.R. Martin's A Song of Ice and Fire series. So HBO had a big job on its hands in adapting the sprawling series into an eight-episode miniseries. But it seems that Ferrante fans have nothing to fear. My Brilliant Friend is a lush portrayal of a decades-spanning friendship between two wildly different, yet fiercely loyal girls coming of age in 1950s Naples. Both highly intelligent, the reserved Elena (Elisa Del Genio as a young girl, and Margherita Mazzucco as a teenager) and the unruly Raffaella (Ludovica Nasti and Gaia Girace, respectively) struggle to break out of the cycle of poverty in their oppressive and violent neighborhood — one run by crime bosses and housewives' gossip (and also murder). It's a stunning portrait of a complicated female friendship and a coming-of-age epic in the truest fashion, taking place over generations but — thanks to the powerful performances of its young stars — feeling nothing less than intimate.
Watch This If You Like: The Kite Runner, Beaches, Frances Ha, celebrating complex relationships between girls onscreen!
Hero ("Ying Xiong") (2002) – Hulu
Country: ChinaGenre: Wuxia martial artsDirector: Zhang YimouCast: Jet Li, Tony Leung, Maggie Cheung, Chen Daoming, Zhang Ziyi, Donnie Yen.
The debate rages on over whether renowned wuxia director Zhang Yimou is more style than substance, but there's no denying that his sensory masterpiece Hero is one of the most beautiful movies of all time. Based on the real-life assassination attempt on the King of Qin in 227 BC, Hero is otherwise totally rootless from reality. The dreamlike wuxia sequences alone defy belief (and gravity), and the entire story is a classic case of an unreliable narrator. The movie opens upon Jet Li's nameless assassin requesting an audience with the King, who has locked himself in isolation from visitors following an attempt on his life by the assassins Sky (Donnie Yen), Flying Snow (Maggie Cheung), and Broken Sword (Tony Leung). But Nameless wins an audience when he claims he has killed the legendary assassins, earning a spot 10 feet closer with every story that he recounts of their deaths. Each telling of the story is given a striking color palette — black, white, red, green, blue — and a slight twist on the version of the deaths that we have come to know. Hero is a dazzling historical epic comprised of balletic martial arts sequences and vibrant color schemes, all of which will be burned in your mind long after the credits roll.
Watch This If You Like: Crouching Tiger Hidden Dragon, House of Flying Daggers, The Fall, wondering where all the wuxia movies have gone.
Sólo con Tu Pareja (Love in the Time of Hysteria) – Netflix
Country: MexicoGenre: Romantic-comedyDirector: Alfonso CuarónCast: Daniel Giménez Cacho, Claudia Ramírez, Luis de Icaza, Dobrina Liubomirova.
It's fascinating to see how far Alfonso Cuaron has come in the 27 years since his directorial debut. The Mexican auteur broke into feature filmmaking — making his way over from TV — with a sex comedy of all things. That's not to disparage raunchy comedies, it's just funny to learn that the director who has become synonymous with sweeping humanist epics like Children of Men and the upcoming Roma got his start with an irreverent rom-com like Sólo con Tu Pareja, which to be fair is an unabashedly entertaining comedy of errors. The 1991 film stars Daniel Giménez Cacho as a cocky womanizer named Tomás Tomás (one of many tongue-in-cheek names in this film) whose careless affairs finally catch up with him — he incurs the wrath of a nurse that he begins an affair with when she discovers that he was sleeping with his boss in the same night. Bitter at his betrayal, the nurse (Dobrina Liubomirova) tampers with his test results and falsely diagnoses him with AIDS. This sends Tomás Tomás spiraling into a deep depression just as he begins to fall for the woman who lives next door (Claudia Ramirez). This is a silly, oddball film that bounces around with the energy of a small, hyperactive dog, and whose shades of melodrama more than recall Pedro Almodovar's frenetic comedies. It's also nothing like Cuaron has done, or likely will do again.
Watch This If You Like: Hitch, Silver Linings Playbook, Women on the Verge of a Nervous Breakdown, seeing Cuaron do his best Pedro Almodovar.
Italian for Beginners (2000) – Hulu
Country: DenmarkGenre: Romantic-comedyDirector: Lone ScherfigCast: Anders W. Berthelsen, Lars Kaalund and Peter Gantzler, Ann Eleonora Jørgensen, Anette Støvelbæk, Sara Indrio Jensen.
One of Danish director Lone Scherfig's earliest films, Italian for Beginners is a low-budget rom-com whose characters feel as real as the handheld cameras and natural lighting used to capture them. The 2000 rom-com penned by Scherfig actually ascribes to the principles of Dogme 95, the austere, naturalistic movement championed Lars von Trier and Thomas Vinterberg, but bucks the harsh trends of that movement in favor of portraying a lighthearted character-driven comedy. The ensemble movie follows a group of residents in a Danish suburb, and a new widowed pastor arrived to temporarily replace the previous one. United by only their shared beginners Italian class, the group of characters — including a clumsy baker, a mild-mannered hotel employee, a beautiful hairdresser, and a hotheaded waiter — become involved in various romantic entanglements and misunderstandings with each other. Sweet, slow, and humane, Italian for Beginners is a commendable indie rom-com for those who want their romance with a dose of realism.
Watch This If You Like: Drinking Buddies, Sleeping With Other People, 
Girl From Nowhere – Netflix
Country: ThailandGenre: Thriller seriesCreator: Tinnapat Banyatpiyapoj, Kongdej Jaturanrasamee, Aticha TanthanawigraiCast: Chicha Amatayakul, Thanawetch Siriwattanakul, Pajaree Nantarat.
A revenge thriller anthology of sorts, Girl From Nowhere is a Thai Netflix series following the schemes of the mysterious Nanno (Shisha Amatayakul), the titular Girl From Nowhere with one goal in mind: to use her feminine wiles to expose people who abuse girls in various high schools. Sporting a razor-sharp blunt haircut and dead, bottomless eyes, Nanno is an enigma that the viewer can barely be sure to trust — and Girl From Nowhere isn't interested in making you do so. Each episode takes place at a different high school and tackles a different "monster of the week" so to speak — the first episode focuses on a middle-aged teacher who blackmails young students into having sex with him, for example. Nanno is at first positioned as one of his would-be victims, until the tables are turned in the most satisfying manner. Equal turns titillating and triumphant, Girl From Nowhere is the stylish high school revenge series you didn't know you needed.
Watch This If You Like: Hard Candy, The Girl With the Dragon Tattoo, 13 Reasons Why, revenge served hot.