'Ultraman' Trailer: Netflix Adapts The Japanese Pop Culture Icon Into An Anime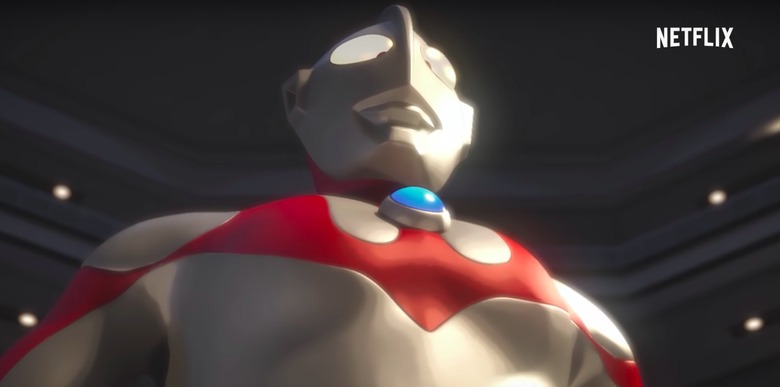 Remember those cheesy 1960s Japanese action TV shows that feature metal-armored superheroes who bleed sparks or giant robots made of cardboard? Shows like Kamen Rider, Super Sentai that usually made their way to the States on late-night cable? Well, Ultraman is the one that started it all.
The progenitor of the tokusatsu TV genre, Ultraman began as a 1966 live-action TV series about a special anti-monster defense agent who can transform into a giant alien called Ultraman to defeat huge creatures. The show became a phenomenon, birthing the tokusatsu genre that later gave us Power Rangers and spawning dozens of sequels, spin-offs, rip-offs, imitators, parodies and tributes. Ultraman himself is still a Japanese pop culture icon today who has appeared in movies, video games, and manga. And now thanks to Netflix, he'll finally become an anime.
Ultraman Trailer
Netflix takes the mythology surrounding Ultraman and runs with it, adapting the legendary Japanese franchise into a CG-animated series that acts as a spiritual sequel to the original tokusatsu series. The main character is the son of Hayata, the original Ultraman, who must take up the mantle of his an aging father to fight an evil force impersonating the superhero. The series is based off a recent Ultraman manga by Eiichi Shimizu and Tomohiro Shimoguchi that was published in 2015.
I've never seen an episode of Ultraman, though I am aware of its influence, having grown up watching Power Rangers and a weird amount of Kamen Rider. It's fascinating that the first time this legendary character is being depicted in anime form is in this CG-animated style, which isn't a style I'm fond of. It usually looks cheap and too shiny — but maybe that's a throwback to the low-budget TV series of the '60s. I'm going to think of it that way, intentional or not.
Ultraman is one of several anime series that Netflix has announced as part of their 2019 line-up, including the lauded streaming debut of Neon Genesis Evangelion.
Here is Netflix's synopsis for Ultraman:
An action drama centered around a man possessing the spirit and DNA of the legendary hero "Ultraman" as he wears a metallic ultra suit and fights against evil.
Ultraman will be available to stream on Netflix, starting April 1, 2019.