Netflix Series 'Criminal' Will Be Set Entirely In A Police Interrogation Room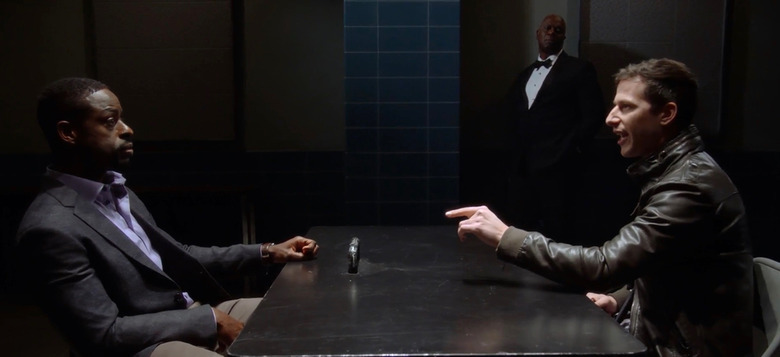 Almost every police procedural show features scenes set in a dark and atmospheric interrogation room, where we watch a furious cop question a sweaty suspect. But Netflix plans to take things to the next level with Criminal, a new series set entirely in interrogation rooms. The show will tell 12 individual stories set in 4 different countries. One can only assume there will be a scene where a cop acts like a loose cannon while a perp yells about wanting a lawyer, because that's how these things go.
All-consuming media behemoth Netflix has announced another original series: Criminal, from showrunners George Kay (Killing Eve, The Hour) and Jim Field Smith (Endeavour, The Wrong Mans). The series is being billed as groundbreaking for its unique approach to the police procedural set-up. Unlike other cop shows, which go from crime scenes to court rooms and beyond, Criminal "takes place exclusively within the confines of a police interview suite. This stripped down, cat-and-mouse drama will focus on the intense mental conflict between the police officer and the suspect in question."
The series will feature 12 45-minute-long episodes set in 4 different countries: France, Spain, Germany and the UK. On top of that, the episodes will be in local language of their setting, written and directed by talent from their respective countries. Here's a breakdown of who is handling what:
UKGeorge Kay (Writer, Co-Creator & Executive Producer) and Jim Field Smith (Director, Co-Creator & Executive Producer)France
Frederic Mermoud (Writer, Director & Co Executive Producer) (Spiral, The Returned), Antonin Martin-Hilbert (Writer) (Nina, Black Spot) & Mathieu Missoffe (writer) (Black Spot, Profilage)
Germany
Oliver Hirschbiegel (Director & Co Executive Producer) (Four Blocks, Downfall), Bernd Lange (Writer) (Das Verschwinden) & Sebastian Heeg (Co-Writer) (Blaumacher)
Spain
Mariano Barroso (Director & Co Executive Producer) (El día de mañana, Todas las mujeres, Éxtasis), Alejandro Hernández (Writer) (El autor, El día de mañana) and Manuel Martín Cuenca (Writer) (El autor, Caníbal).
This has a lot of potential, and mixing in the multiple countries (and languages) adds a unique twist on the whole thing while also keeping the one-room-setting premise from growing stale. It will also help differentiate Criminal from CBS All Access' choose-your-own-adventure style series Interrogation, which is "based on a true story that spanned more than 30 years, in which a young man was charged and convicted of brutally murdering his mother. Each episode is structured around an interrogation taken directly from the real police case files."