How Viola Davis Went From Soderbergh-Ian Bit Player To Best Of A Generation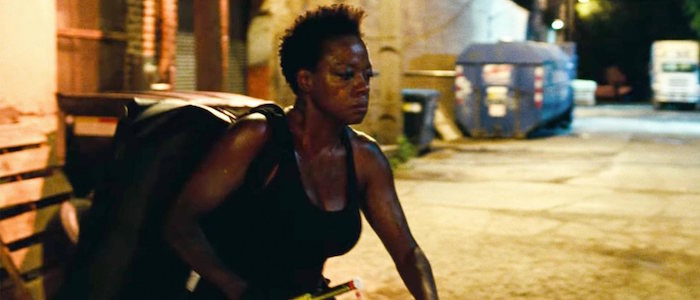 (Welcome to Role Call, where we examine two performances from an actor – their first defining role and their most recent/last – to get a sense of who they are.)
What does it mean to be the best actor of a generation? And is it possible that kind of talent can remain hidden for decades?
Those are the questions we need to consider when contemplating Viola Davis' explosive, peerless ability to embody another person from root to tip, from birth to death, to their very soul.
And if there were any doubt that she was one of the world's best at what she does, consider the oldest rule in the book: game recognizes game. That's why Meryl Streep shouted, "My God, somebody give her a movie!" during her 2009 SAG acceptance speech for Doubt and said, "She is arguably the most immediate, responsive artist I have ever worked with," when presenting Davis with her star on the Hollywood Walk of Fame. Game recognizes game.
It's also fitting that Davis and Streep are such close friends because their careers are reflections of each other that reveal deficits in the way the system works. Both started in theater, both attended prestigious drama schools (Julliard and Yale), both are Oscar winners, but only one was able to seize the opportunity of leading lady status.
By all accounts, Davis is a powerhouse who hasn't had her Sophie's Choice or Silkwood, let alone her Out of Africa, her Postcards From the Edge, her Devil Wears Prada, or her Iron Lady. And talent isn't the missing variable.
In a filmmaking universe where women are only 34% of all speaking characters in major movies, and 74% of female characters are white, Davis has had to navigate a far different system to get to where she is today.
To be blunt, it's a system where black women are expected to play only a narrow range of characters. Where they don't have the freedom to be considered for the same roles as white women. Where they're confined to sexy side character, grieving mother in the hood, forceful business suit-wearer, and that's about it. Characters with titles instead of names. Jobs instead of personal lives.
Davis' current role in Steve McQueen's explosive Widows was originally written for a white actress, and it's a given that, if Davis had turned it down, it would have defaulted to the next in a long line of white actresses up for the part. She is in her fifties and is just now a leading lady.
Stereotyping is real and alive, and it has robbed all of us of at least two decades of searing Viola Davis roles with her face on the poster and name in larger print than the title.
Her Early Role: Mrs. Miller in Doubt
We're stretching the word "early" because of that egregious, systemic limitation. Davis' breakout role was her 17th film credit after a decade of playing side characters and bit parts (most consistently for Steven Soderbergh movies; she's even the voice of the parole board head in Ocean's 11).
Her single scene in Doubt lasts a little less than 8 minutes, and made everyone – except Soderbergh and a theater world where she'd earned a Tony – wake up to her brilliance. She prepared a 50+ page biography on Mrs. Miller to make her work on screen in such a small space, and she scored her first of now-three Oscar nominations.
Watching the sequence now, there's a fragility to her performance that's astounding. It's small and marked by the polite attempt at avoidance, as if Mrs. Miller wants to rage but can't without knocking herself and Streep's Sister Aloysius out of place. There are no options to reach for but to walk away. The anger is there. The force is there. But she doesn't have to show it to us for us to know.
The restraint Davis displays paints Mrs. Miller as a concerned mother dealing with a narrow strait without the luxury of complaining, even acknowledging, the sins of a man in power because of what another man might do to her son. Or that might rob him of his opportunity to get away from the very forces abusing him.
It is a woman living with an impossible weight of consequence that's unimaginable to almost all of us, and we believe every microsecond because of Davis. What's most amazing is that it's a completely different kind of angry vulnerability than what Annalise Keating casts off. Davis is playing a game of emotional millimeters so that no character is like another.
The Persona: "Newcomer at 45"
Through the Oscars that year, Davis was seen as a powerhouse ready to make a leap from stage to screen. She was someone who could stand toe to toe with Streep and match her note for note. Her talent was undeniable.
But there weren't that many roles available because there aren't roles available. There was a risk at the time that Davis would be an anomaly – an Oscar trivia question (8 minutes of screen time!) who continued to thrive in plays and occasionally get side roles in films. It's a testament to Davis' talent and grit that that's not what happened.
Still, it's difficult not to see her as wildly underutilized in the years after that first Oscar nomination. She lined up stints as authority figures in thrillers like State of Play and Law Abiding Citizen as well as the best friend role to Julia Roberts in Eat Pray Love. In 2011, she scored another Best Supporting nomination for The Help and continued a streak of memorable supporting roles through her Oscar win for Fences in 2016.
Good work, but not the kind of Streep-level spotlights Davis deserved. Depending on your view, Davis' persona was either was the most reliable, most talented character actor in the business, or world class talent criminally neglected by a filmmaking system uninterested in hearing her voice for more than a few scenes at a time.
Her Latest Role: Veronica in Widows
Yes. Yup. Even the trailer is a slap across the face. Davis plays a desperate woman leading desperate women. First she grieves for a son wrongfully gunned down by police in a traffice stop gone wrong, then she grieves for a criminal husband gunned down by police in a heist gone wrong, then she goes to work.
Veronica is a hundred things all bundled together and set to ignite when her husband gets killed robbing the wrong guy, and Davis draws on years of playing roles with buried intensity to bring her to life. She's decidedly not Danny Ocean.
There's a dose of Mrs. Miller's shrunken volatility in there, but Veronica is an altogether different kind of woman whose supply of fucks to give is running dangerously low.
The Persona: Force of Nature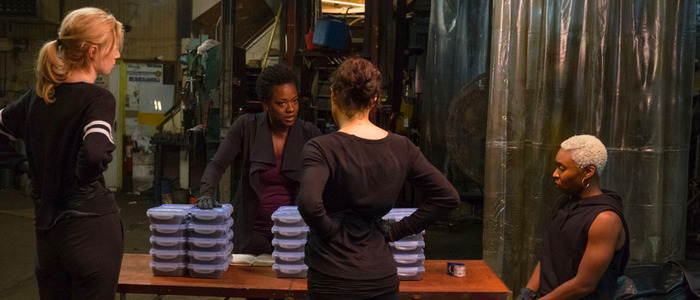 Annalise Keating is such a powerful character on such a popular show that her portrayal has sometimes overshadowed Davis' true range. She's known for bridling raw epinephrine and wielding it in monologues that send people to the ER.
But Davis can do anything. She's proven that with every role – joy, humor, profound grief, righteous anger. Again, she's playing a game of emotional millimeters and is up there with the very best in the world. In other words, it's no accident that she's only one G away from EGOTing and has three Oscar nominations under her belt. Her persona is much the same as ever – not to say that she hasn't gotten better over the last decade; but that she started her film career so close to the top of the talent pool that it's only a matter of her nuance deepening. All that's changed is her journey from newcomer to dominant force.
Now producing with husband Julius Tennon under the JuVee Prouctions banner, Davis is set to produce and star in a biopic of Shirley Chisholm, the first woman and person of color to seek a major party's nomination for President. Davis is making opportunities, but the traditional studio system needs to get its act together to create the kind of leading roles worthy of Davis. The mark and reward of an Oscar-caliber actor. They just need to recognize why she's making those opportunities for herself (with Amazon paying handsomely for the privilege) to be prepared to pay her what she's worth.