Small-Screen Stream: 'She-Ra And The Princesses Of Power,' 'King Of The Hill,' And More TV To Stream This Week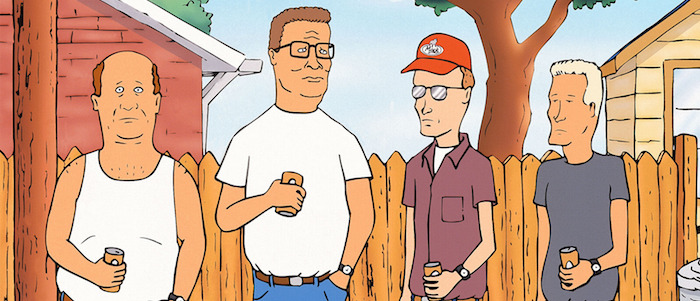 (Welcome to Small-Screen Stream, a feature where we share the best television shows streaming and where you can watch them.)
If you're anything like me, the last month of the year is always dedicated to catching up on everything you missed. That can be a pretty chaotic feeling, considering how many films and shows come out in the age of digital streaming. It's nearly impossible to see it all, despite our best efforts.
For this list, I'm doing some counter-programming to that mentality. These are all things that you needn't feel rushed to finish on time, but that can offer an alternative to all of the hubbub. These are feel-good shows, fun shows, weird shows, shows you can luxuriate in or fall asleep to. Quieter things, and many things you might have missed but don't have the urgency of, say, The Haunting of Hill House or Sharp Objects. (Which, seriously, you cannot miss.)
Don't let the holidays or year-end lists stress you out! Sit back with your clicker and enjoy these breezier series.
She-Ra and the Princesses of Power, Season 1
Where to Watch: Netflix
Created By: Noelle Stevenson
Starring: Aimee Carrero, Karen Fukuhara, AJ Michalka
This re-imagining of the beloved 1980s Filmation cartoon caused a lot of noise on the internet when men complained this new version wasn't "hot enough." Or whatever. The sexualization of young, female cartoon characters is weird enough, and should be far from your mind as you catch up on this delightful series developed by 26-year-old cartoonist Noelle Stevenson. The story follows a teenage Adora, an orphan raised by Hordak, who finds a magical sword that turns her into She-Ra, the Princess of Power. If you're familiar with Stevenson's Lumberjanes comics, you'll find a similar art style and rush of pure joy from She-Ra.
King of the Hill, Seasons 1-13
Where to Watch: Hulu
Created By: Mike Judge, Greg Daniels
Starring: Mike Judge, Kathy Najimy, Pamela Adlon, Brittany Murphy
For a long time, King of the Hill wasn't available on any streaming service. Hulu recently amended this, dropping all 13 current seasons into its lineup this month. The show is pure Southern mumblecore, about the simple lives of a Texan family who speak and live slowly. The series finds delights in the everyday, and feels like a more realistic portrait of an American family than most live-action.
The 100, Seasons 1-5
Where to Watch: Netflix
Created By: Jason Rothenberg
Starring: Eliza Taylor, Paige Furco, Thomas McDonell, Eli Goree
This CW action series is far better than it has any right to be. Set on a post-apocalyptic Earth that has been ravaged by nuclear war, a group of teens descent to their home planet from "The Ark," the space habitat where humanity has lived for almost 100 years. When the Ark's life support systems start failing, 100 teen prisoners are sent to Earth to see if it's habitable. There, they encounter different groups of survivors, who have set up a new social system. Part Hunger Games, part Mad Max, it's a fun, propulsive watch that somehow hasn't waned in its many years on air.
The Bisexual, Season 1
Where to Watch: Hulu
Created By: Desiree Akhavan, Rowan Riley
Starring: Desiree Akhavan, Maxine Peake, Brian Gleeson
This is a gem of a series that's just waiting to be found on Hulu. In the vein of shows like Girls and Broad City, The Bisexual is a modern story about sexuality created by and starring Desiree Akhavan (who actually guest starred on Girls, so she might look familiar if you're a fan of that show). Akhavan identifies as bisexual herself, and so the show explores her association with the label and what it means in the 21st century. It's a quick but rewarding watch; Akhavan is a talent to look out for.
Reign, Seasons 1-4
Where to Watch: Netflix
Created By: Laurie McCarthy, Stephanie SenGupta
Starring: Adelaide Kane, Megan Follows, Torrance Coombs, Toby Regbo
The new Saorise Ronan and Margot Robbie film Mary, Queen of Scots comes out next month, which makes Reign a great precursor as it tells part of the same story. Though the series is highly fictional, it's all about Mary, her rise to power, her marriage, and the politics of 1550s England. I can't really speak to the show's quality, since it's a little messy, but I love a good campy period piece, and Reign has that in spades. It's like a more tame, less sci-fi concept Outlander.
Dynasty, Season 1
Where to Watch: Netflix
Created By: Sallie Patrick, Josh Schwartz, Stephanie Savage
Starring: Elizabeth Gillies, Nathalie Kelley, James Mackay
If you're sensing a theme, yes, I've snuck a bunch of CW junk into this list. I won't apologize! I love this sort of soapy teen fluff, if that's what you can even call Dynasty, a reboot of the seminal 1980s series. It's hard to even describe the plot, as so much is going on in pure soap fashion. Basically, it follows the wealthy Carrington family and their exploits, enemies, and affairs. It's a bunch of dumb fun!
Light As a Feather, Season 1
Where to Watch: Hulu
Created By: R. Lee Fleming, Jr. and Zoe Aarsen
Starring: Liana Liberato, Haley Ramm, Ajiona Alexus, Brianne Tju
It's mandatory for me to check out anything witch-related, though I can't act like I was too hyped for this show. Which is probably exactly why I wound up enjoying the first few episodes, about a group of teen girls who start experiencing supernatural phenomena after playing a game of "Light as a Feather, Stiff as a Board." (Which you'll remember from The Craft.) It's pure teen pulp and feels a lot like an early 2000s CW show. But that's part of its charm. The camaraderie between the main actresses is good enough to carry it through some of the messier elements. I definitely recommend this to fans of Charmed or the CW's ill-fated The Secret Circle (which I also quite enjoyed).
11.22.63, Season 1
Where to Watch: Hulu
Created By: Stephen King and Bridget Carpenter
Starring: James Franco, Sarah Gadon, Cherry Jones, Chris Cooper
This is one of my favorite modern Stephen King books, but it took me a while to catch up on the series. Luckily, it's pretty darn good, and a strong adaptation worthy of its source material. The story follows a man named Jake (James Franco) who is sent back in time to prevent the assassination of JFK. But he winds up creating a new life for himself in the past, which he gets attached to, and which compromises his true mission. It's a great time travel story that's perfectly executed, and at just eight episodes is a swift, breezy watch with a satisfying stamp on the end.
The Romanoffs, Season 1
Where to Watch: Amazon Prime
Created By: Matthew Weiner
Starring: Everyone you've ever loved.
I will fully admit I've only caught a few episodes of this series, but felt inclined to include it because... well, it sure is something. It takes place around the world, in different vignette-type episodes, all involving characters who believe they're descendants of the famed Russian royal family. It's nearly impossible to list everyone in the cast (the two episodes I watched, we saw Isabelle Huppert, Christina Hendricks, Paul Reiser, Jack Huston, Mark Valley, Diane Lane, Andrew Rannells, Cara Buono, and Ron Livingston, to name a few) and I have no idea what the real point of any of it is. But it's damn fascinating to see Mad Men legend Matthew Weiner work through this new stage of his career. Whatever it is.
Red Oaks, Seasons 1-3
Where to Watch: Amazon Prime
Created By: Gregory Jacobs, Joe Gangemi
Starring: Craig Roberts, Jennifer Grey, Richard Kind, Ennis Esmer
This sweet little series plays up the idea of '80s nostalgia in a totally appropriate way. It's a coming-of-age tale for David, a college student working at a New Jersey country club during his summer break. We follow David to work, to his home; we see his family and friend life in full, cringeworthy detail. It's reminiscent of series like Freaks and Geeks, albeit a little zanier. (David Gordon Green directed the pilot, if that helps set the mood.)
The Addams Family, Seasons 1-2
Where to Watch: Amazon Prime
Created By: David Levy
Starring: Carolyn Jones, John Astin, Jackie Coogan, Ted Cassidy, Blossom Rock, Ken Weatherwax, Lisa Loring, and Felix Silla
The first two seasons of this all-time comedy macabre classic are available on Amazon Prime and I cannot recommend them enough, especially if you have passing familiarity with the characters but have never tuned into the show. It's hilarious, ahead-of-its-time, and perfectly appropriate for the mindset of modern day Americana. The Addams speak illy of ghastly concepts like normalcy, live in bold decay, but their family unit is stronger than any other. It's the perfect blast from the past.