'Anna And The Apocalypse' Flash Mob Gives Austin A Hollywood Ending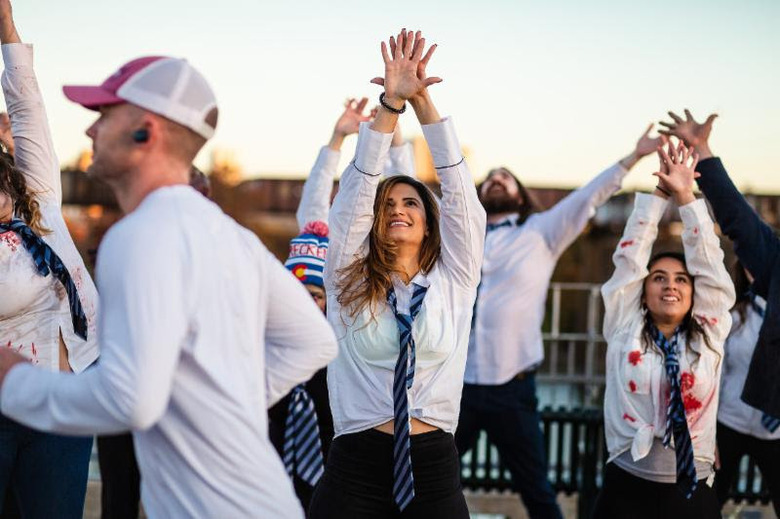 Austin has a little spring in its step after an Anna and the Apocalypse flash mob took over the streets of the Texas city in anticipation of the acclaimed Christmas zombie musical. Or maybe it's a limp, since the zombies have taken over and the end of the world is nigh. Whatever the case, the holidays are looking greater (and bloodier) than ever as we wait for the genre-bending festival favorite to hit theaters this weekend. So why not do a little song and dance to pass the time?
In anticipation of the new Orion Pictures' holiday horror musical, a group of Austinites and a few zombies participated in a flash mob to the movie's original song "Hollywood Ending." Produced and directed by Fons PR, the gleeful flash mob danced like there was no tomorrow (Get it? Because it's the apocalypse) while runners and bikers didn't blink an eye. So it's not too far-fetched that characters in Anna and the Apocalypse break into song without much fanfare.
Anna and the Apocalypse Flash Mob
Directed and produced by Fons PR, the Anna and the Apocalpyse flash mob was choreographed by Melody Afkami, founder of Melody Dancefit. The zombies from Scream Hollow, a local haunted house, joined in on the flash mob as well.
Anna and the Apocalypse is directed by John McPhail and stars Ella Hunt, Malcolm Cumming, Marli Siu, Sarah Swire, Christopher Leveaux, and Ben Wiggins.
Watch the full trailer right here, and read the Fantastic Fest synopsis:
Teenage Anna's life is typical enough. Chafing against the narrow horizons of her small town, she dreams of bigger things. It's not so much that she doesn't love her friends and family — she does — it's just that they're all so... familiar. So typical. So predictable. Her childhood best friend aches for a romance that she has no interest in, no matter how close they might be. The school jock that she had a fling with is proving to be disappointingly predictable in his behavior. And it's becoming progressively harder for Anna to conceal her disappointment with just how satisfied her widower-father is with the blue collar simplicity of his never-changing existence. And then it all goes to shit.
The night of the high school Christmas concert marks the arrival of the undead in Anna's small town. And so begins a struggle to band together and survive. Future dreams are forced aside by the overwhelming need to survive the present in this winning Scottish musical-horror-comedy.
Anna and the Apocalypse hits theaters on November 30, 2018.