YouTube Taps The Brakes On Scripted Shows, Will Make All Original Content Free In 2019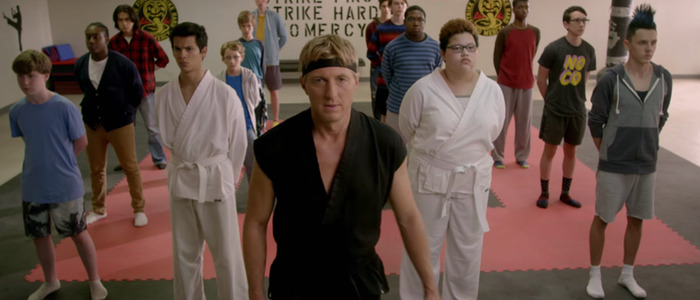 The good news: starting next year, YouTube will pull all of its original content out from behind the Premium paywall, letting users enjoy an ad-supported version of shows like Cobra Kai. The bad news: this move also means that YouTube won't be investing in as many scripted shows, instead focusing on reality-driven projects headlined by celebrities and YouTube stars.
In an official statement (via Variety), YouTube couched all of this in the kind of vague business-speak that includes phrases like "global fanbase" and "the YouTube generation" and so on:
"As we look to 2019, we will continue to invest in scripted programming and shift to make our YouTube Originals ad supported to meet the growing demand of a more global fanbase. This next phase of our originals strategy will expand the audience of our YouTube Original creators, and provide advertisers with incredible content that reaches the YouTube generation."
If one were to read between the lines, you get a pretty clear picture of what happened here – YouTube Premium isn't exactly lighting the world on fire, so everyone involved is rethinking the kind of content they want to create and how they want to serve it to their audience of billions. After all, Cobra Kai was incredibly well-received when it arrived earlier this year, but other YouTube originals have landed with a thud. Is anyone talking about their new science fiction series, Origin? Nah.
Of course, this doesn't mean scripted television is dead at YouTube. Earlier this year, they renewed Impulse, Step Up: High Water, Mind Field, Foursome, Ryan Hansen Solves Crimes on Television, Kevin Hart: What the Fit and Cobra Kai. And with the incredible Bodied debuting on YouTube this week, YouTube has already invested in playing host to one of the best movies of 2018. The YouTube original isn't dead – it's just shifting. It's going back to the basics, even.
Variety's report indicates that YouTube's future programming will focus more on homegrown YouTube stars, building programming around creators who have used the YouTube platform to create original content and build their own audiences. And this may be the right choice – in a streaming market as crowded as the one occupied by powerhouses like Netflix, Hulu, and Amazon Prime, YouTube has something they don't have. They have scrappy, oddball creators catering to all kinds of niche tastes you won't find anywhere else. Cobra Kai, while a good and well-received show, could air anywhere. Some of the more eclectic YouTube content feels unique and specific to its home.
So once again, we're dealing with a "some good, some bad" situation. It's a bummer that YouTube Premium isn't pulling the numbers to support a massive library of scripted content, but at least everyone will be able to check out the original shows, even with some ads. It's a bummer that they're cutting down on their scripted work, but I follow enough terrific creators on YouTube to know that investing in these smaller, scrappier personalities will pay off dividends if they're properly nurtured (I do my best to pretend that "stars" like Logan Paul don't exist). YouTube isn't going anywhere and it's going to be fascinating to see how they coexist in an increasingly busy market where everyone in existence has a streaming service to sell us.