'Zombieland 2' Cast Recruits Zoey Deutch To Join The Zom-Com Action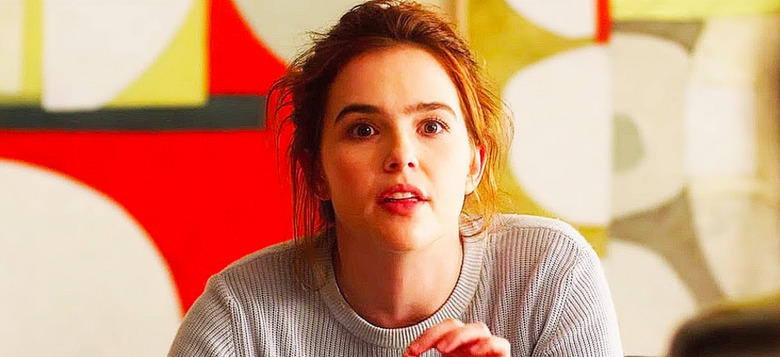 The returning cast of Zombieland is teaming with a new addition for the sequel: Zoey Deutch. The Set It Up actress has joined the Zombieland 2 cast in an unspecified role, but there's a good chance she'll be one of the humans running from zombies. The sequel will arrive ten years after the original zombie comedy hit theaters, with virtually the entire original cast and crew returning.
Variety has the news about Zoey Deutch joining the Zombieland 2 cast, and that's about the extent of the news. No character details are available yet – we just know she'll be starring alongside original cast Jesse Eisenberg, Woody Harrelson, Emma Stone, and Abigail Breslin. Deutch's credits include Everybody Wants Some!!, Before I Fall, Flower, The Disaster Artist, Rebel in the Rye, Set It Up, and of course, the modern masterpiece Dirty Grandpa.Paul Wernick and Rhett Rees, who wrote the original Zombieland and have since seen their career blow up thanks to their work on Deadpool, are coming back to write the Zombieland 2 script. And Zombieland director Ruben Fleischer, coming off the surprise smash hit that was Venom, will return s well. Back in September, Fleischer confirmed production on the long-awaited sequel would begin in January 2019:
"We're already actually starting Zombieland. I've been scouting and storyboarding and getting it going, and to get to work with that cast again is just an absolute dream come true. It's been really exciting starting to think about that movie, and to get to work with Emma, Jesse, Woody and Abigail once again is truly a dream come true. Yeah, we're just at the very early stages, but we have an amazing script, and we're going to start shooting in Georgia in January."
The first Zombieland had a quartet of survivors traveling across a world that had succumbed to a zombie apocalypse. The sequel will find the original characters venturing from "the White House to the American heartland as they face off against new kinds of zombies that have evolved since the first movie, as well as some new human survivors."  The original Zombieland was fun for what it was, but the movie feels almost forgotten by now. It came at a time when interest in zombies was at an all-time-high, but that interest has died down considerably since then. Will audiences be interested in returning to this world 10 years later?
Zombieland 2 won't be the first attempt to resurrect the Zombieland brand. In 2013, Amazon ordered a pilot episode for a Zombieland TV series from Reese and Wernick. The pilot cast new actors as the film's leads, and ultimately failed to win Amazon over – they decided not to pick the pilot up as a series. Perhaps the sequel will have a warmer reception.Zombieland 2 opens October 11, 2019.