'Springsteen On Broadway' Trailer: The Boss Treads The Boards For Netflix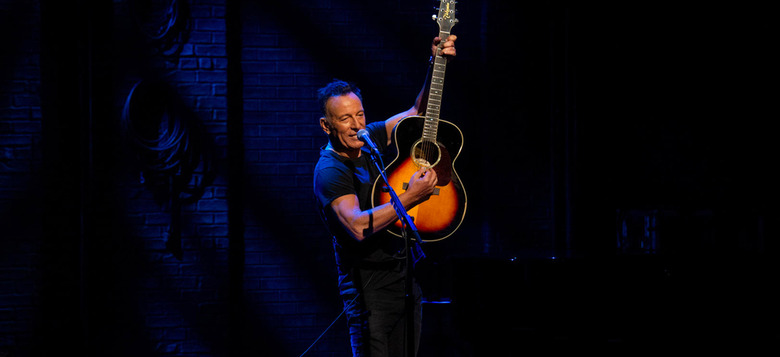 As a big Bruce Springsteen fan, I coveted tickets to the Boss' big Broadway show. Unfortunately, but understandably, the ticket prices were a bit out of my price range, and the show sold out quickly anyway. But since Bruce is a man of the people, he's bringing his show to everyone with Springsteen on Broadway, a filmed performance set to hit Netflix next month. Watch the Springsteen on Broadway trailer below.
Springsteen on Broadway Trailer
This December, you can see Springsteen on Broadway without leaving the comfort of your own home. In October 2017, Springsteen took to the stage to perform a solo show full of songs and storytelling. The show was only supposed to run until November of that year, but the demand was so high that Springsteen kept extending the end date. On March 20, 2018, Springsteen extended the run through December 15, 2018. Now, the day after the show closes on Broadway, it will take center stage on Netflix. The show launches on the streaming service December 16 at 12:01am PT simultaneously in over 190 countries.
"Basically it's a one-man show," Springsteen told the New York Times before the show debuted. "There's no production beyond the stage, some lights and some very high-quality sound. I thought anything beyond the song and the story ended up feeling too rigid and distracting. It happens every time we go to do a tour, you know?"
On the official Springsteen on Broadway site, the Boss writes:
"My vision of these shows is to make them as personal and intimate as possible. I chose Broadway for this project because it has the beautiful old theaters which seemed like the right setting for what I have in mind. In fact, with one or two exceptions, the 960 seats of the Walter Kerr Theatre is probably the smallest venue I've played in the last 40 years. My show is just me, the guitar, the piano and the words and music. Some of the show is spoken, some of it is sung, all of it together is in pursuit of my constant goal—to communicate something of value."
I'm slightly disappointed that I'll never get the chance to see this show live, but beggars can't be choosers. I'm happy I'll be able to see it at all.
SPRINGSTEEN ON BROADWAY is a solo acoustic performance written and performed by Tony Award, Academy Award, and 20-time Grammy Award winner Bruce Springsteen. Based on his worldwide best-selling autobiography Born to Run and nothing short of the theater event of the year, SPRINGSTEEN ON BROADWAY is a unique evening with Bruce, his guitar, a piano, and own stories—including a special appearance by Patti Scialfa. The intimate performance features personal anecdotes and songs including "Born to Run," "Thunder Road" and "Brilliant Disguise."
SPRINGSTEEN ON BROADWAY was filmed live for Netflix at Jujamcyn's Walter Kerr Theatre and directed and produced by Emmy Award-winner Thom Zimny ("Bruce Springsteen and the E Street Band: Live in New York City (2001)"). In addition to Zimny, the Netflix original special is produced by the same team that produced "Springsteen On Broadway," including Springsteen manager Jon Landau, Springsteen tour director George Travis, and Landau Management partner Barbara Carr.