Listen To Two 'Mary Poppins Returns' Songs And Add Some Whimsy Into Your Joyless Life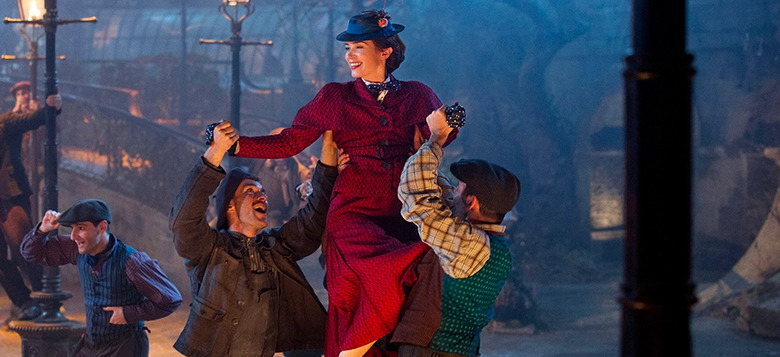 This holiday season, Mary Poppins Returns, and she means business. The sequel the classic Disney musical finds Emily Blunt taking up Mary's magic umbrella, and teaming up with Hamilton's Lin-Manuel Miranda. Like the original Mary Poppins, this follow-up film is a musical, and you owe it to yourself to stop whatever menial task your performing right now and listen to two Mary Poppins Returns songs below. They're supercalifragilisticexpialidocious!
I don't know how Mary Poppins Returns will turn out – early buzz is good, but I have my doubts about Rob Marshall. But based on these two newly released songs, one thing is clear: the soundtrack is going to be pretty damn good. First up, here's Emily Blunt singing the somewhat melancholy ballad "The Place Where Lost Things Go."
Mary Poppins Returns – The Place Where Lost Things Go
The real showstopper, though, is "Trip a Little Light Fantastic", which features Lin-Manuel Miranda using an appropriately dodgy English accent. While "The Place Where Lost Things Go" is a downbeat tune, "Trip a Little Light Fantastic" is big and boisterous.
Mary Poppins Returns – Trip a Little Light Fantastic
Fun, right? Maybe Mary Poppins Returns will be the perfect way to close out the hell-year that was 2018 – a cheerful, uplifting musical full of magic and whimsy. Wouldn't that be nice? Save us, Mary Poppins! Save us from this waking nightmare!
In addition to Blunt as Mary and Miranda as Jack the lamplighter, Mary Poppins Returns features "Ben Whishaw as Michael Banks; Emily Mortimer as Jane Banks; Julie Walters as the Banks' housekeeper Ellen; Pixie Davies, Nathanael Saleh and introducing Joel Dawson as the Banks' children, with Colin Firth as Fidelity Fiduciary Bank's William Weatherall Wilkins; and Meryl Streep as Mary's eccentric cousin, Topsy. Angela Lansbury appears as the Balloon Lady, a treasured character from the PL Travers books and Dick Van Dyke is Mr. Dawes, Jr., the retired chairman of the bank now run by Firth's character."
Mary Poppins Returns gives us a spoon full of sugar to help the medicine go down on December 19, 2018.
In Disney's "Mary Poppins Returns," an all new original musical and sequel, Mary Poppins is back to help the next generation of the Banks family find the joy and wonder missing in their lives following a personal loss. Emily Blunt stars as the practically-perfect nanny with unique magical skills who can turn any ordinary task into an unforgettable, fantastic adventure and Lin-Manuel Miranda plays her friend Jack, an optimistic street lamplighter who helps bring light—and life—to the streets of London.