Legendary Anime 'Neon Genesis Evangelion' Is Coming To Netflix Next Year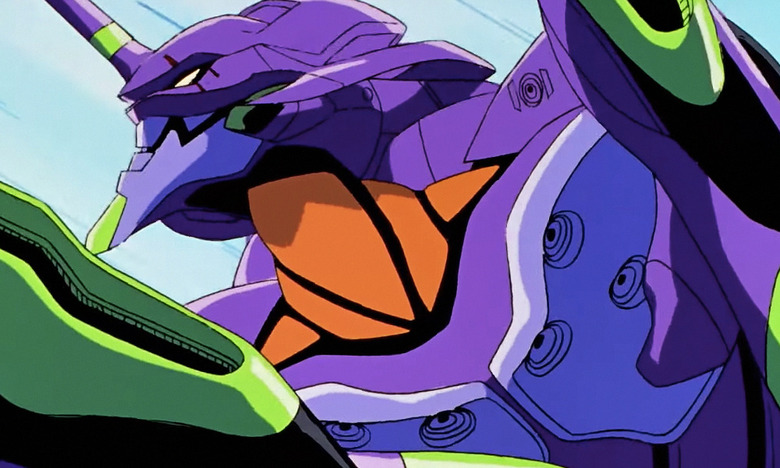 Shinji, get back in the dang robot! You're going to Netflix. The widely acclaimed, hugely influential anime series Neon Genesis Evangelion is finally making its global streaming debut on Netflix next year, as part of the streaming service's 2019 anime line-up, which also includes Rilakkuma and Kaoru, SAINT SEIYA: Knights of the Zodiac, and Ultraman.
Netflix unveiled its highly anticipated 2019 anime line-up, which includes the lauded Neon Genesis Evangelion as well as original series Rilakkuma and Kaoru, SAINT SEIYA: Knights of the Zodiac, and Ultraman.
All 26 episodes of the original Neon Genesis Evangelion will be available to stream, along with the two feature films The End of Evangelion and Evangelion: Death (True)2. The series follows an elite team of teenagers who are hand-selected to pilot "EVAs," giant robot mechs designed to repel invading monsters. That sounds like a typical anime set-up, but the series quickly takes a left turn down dark and unsettling places, exploring the psychology of its young cast and how their "heroic" task tears them apart and destroys their lives. And then it gets really weird.
Until now, the seminal anime has never been available to stream globally while rights issues have kept the DVDs out of print in many territories for years. Its upcoming spring 2019 debut will make it accessible to more fans than ever before.
The streaming service continues to dramatically expand its anime catalogue, supplementing its vast collection of original animes like Devilman Crybaby and Aggretsuko with widely beloved anime like Neon Genesis Evangelion, which is a huge get for the streaming giant. More than globally popular anime like Naruto or Bleach, Neon Genesis Evangelion is considered a pillar of the anime genre, so bold and envelope-pushing that it's a miracle it ever got made.
Meanwhile, it'll be joined by Netflix originals Rilakkuma and Kaoru (April 19, 2019), a stop-motion animation series based on the popular Japanese character about a 30-something woman who begins sharing her apartment with a plush bear; SAINT SEIYA: Knights of the Zodiac (summer 2019), the "modern-day adventures of young warriors who are sworn protectors of the reincarnated Greek goddess Athena; 7SEEDS (April 2019), a dystopian sci-fi series about seven young men and women surviving on a deserted island; and ULTRAMAN (April 1, 2019), the newest series centering on the crime-fighting tokusatsu hero."
See the announcement trailer for Neon Genesis Evangelion below: