'Artemis Fowl' Teaser Trailer: A Boy Genius Breaks Bad In The Long-Awaited Fantasy Adaptation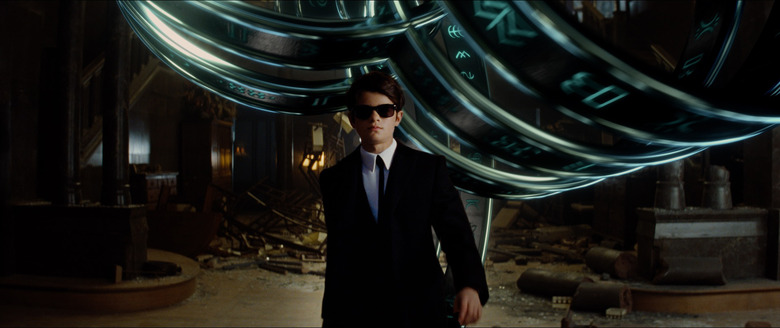 A boy genius is on his way to fill the hole that a certain boy wizard left seven years ago. Though Artemis Fowl, based on the popular series of the same name by Eoin Colfer, has long deserved a big-screen adaptation in its own right.
The newest live-action film from Disney and Murder on the Orient Express director Kenneth Branagh, Artemis Fowl is a magical urban fantasy that follows a 12-year-old Irish boy genius who hatches an impossible scheme: to kidnap a fairy and ransom it for gold. But this is more than just a childish flight of fancy, the titular Artemis has discovered a sprawling world of fairies, leprechauns (or rather, LEPrecons), and tech-savvy centaurs that could aid him in his grand scheme for wealth and family.
Artemis Fowl Teaser Trailer
It's been a long time coming for an Artemis Fowl adaptation. The first book in Eoin Colfer's eight-book series seemed ripe for a big-screen adaptation, especially in the early 2000s when all the rage in Hollywood was about Harry Potter and its subsequent knock-offs. Now, 17 years after the publication of the first Artemis Fowl, fans can finally see the magical, distinctively Irish world that Eoin Colfer crafted.
Artemis Fowl follows the 12-year-old boy genius Artemis Fowl, the latest in a long line of Irish criminal masterminds who hatches his greatest, most fantastical scheme yet in order to find his missing father. Rather than robbing a bank or stealing priceless art, Artemis decides to ransom a fairy for gold, which ends in him getting tangled up in a rich, underground and highly advanced world that he couldn't anticipate.
Newcomer Ferdia Shaw stars as Artemis, beating out thousands of other young actors for the part after a months-long audition process. Also starring are Judi Dench as a gender-bent Commander Root, Josh Gad as Mulch, Nonso Anozie as Butler, Lara McDonnell as an aged down Captain Holly Short, and Hong Chau.
Here is the official synopsis for Artemis Fowl:
Disney's "Artemis Fowl," based on the beloved book by Eoin Colfer, is a fantastical, spellbinding adventure that follows the journey of 12-year-old genius Artemis Fowl, a descendant of a long line of criminal masterminds, as he seeks to find his father who has mysteriously disappeared. With the help of his loyal protector Butler, Artemis sets out to find him, and in doing so uncovers an ancient, underground civilization—the amazingly advanced world of fairies. Deducing that his father's disappearance is somehow connected to the secretive, reclusive fairy world, cunning Artemis concocts a dangerous plan—so dangerous that he ultimately finds himself in a perilous war of wits with the all-powerful fairies.
Artemis Fowl is scheduled to hit theaters on August 9, 2019.