Watch The First Five Minutes Of George R.R. Martin's 'Nightflyers' Series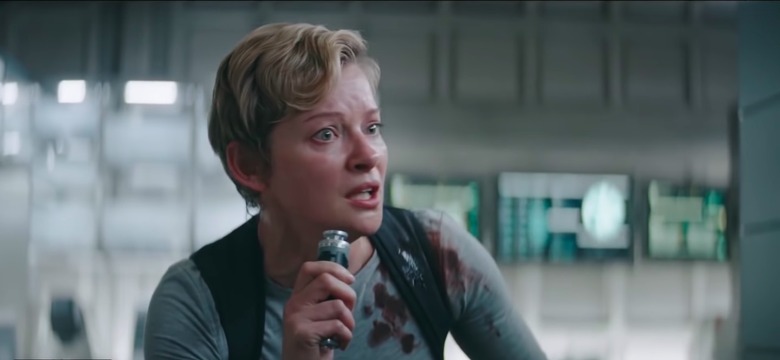 Alien first popularized the tagline "In space, no one can hear you scream," but the upcoming Syfy series Nightflyers takes that mantra to heart within the first 5 minutes of the first episode. The network has released the Nightflyers opening scene that made shockwaves when it was teased at this summer's San Diego Comic-Con. The brutal opening scene sets the tone for the horror-sci-fi series based on the novella of the same name by writer George R.R. Martin.
Nightflyers Opening Scene
When Syfy premiered the first footage from the upcoming series Nightflyers at Comic-Con, the brutal and shocking opening scene elicited praise from the audience, including /Film's Jacob Hall who called it "The Shining, but in outer space." And now you can see those first 5 minutes that wowed the crowd at SDCC.
The footage shows Gretchen Mol's Dr. Agatha Matheson on the run from an axe-wielding crew member (Angus Sampson), driven insane by some mysterious incident that has overtaken the entire crew of the Nightflyer ship. She sends a panicked warning message out into the vast emptiness of space and, her job done, slits her own throat. But perhaps that won't be the last we see of Dr. Agatha Matheson, who appears prominently in the trailers and marketing for the series. Whether it's via flashback or some other supernatural happenings, we don't yet know, but those first 5 minutes are an intriguing tease for a show from the writer of Game of Thrones.
Here is the official synopsis for Nightflyers:
In 2093, in hopes of making contact with a mysterious alien life at the edge of our solar system, a group of maverick scientists and a powerful telepath embark on an expedition aboard The Nightflyer. As they race towards first contact, terrifying and violent events begin to occur, causing the once tight-knit crew to mistrust each other. It's not long before their main mission becomes survival.
Eoin Macken, David Ajala, Gretchen Mol, Jodie Turner-Smith, Angus Sampson, Sam Strike, Maya Eshet, and Brían F. O'Byrne star in Nightflyers, which will premiere all 10 of its episodes on December 2, 2018 across all Syfy platforms. The 1o-episode series will debut internationally on Netflix at a later date.