'Ralph Breaks The Internet' Easter Eggs And Cameos: Exploring The Countless References To Just About Everything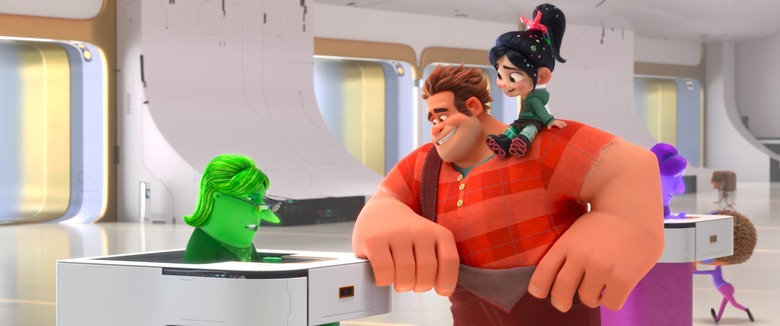 In Ralph Breaks the Internet, Ralph and Vanellope head into the wild and vast realm of the internet for a new and exciting adventure. As you can probably guess, Disney's highly-anticipated sequel to 2012's Wreck-It Ralph is packed with cameos and Easter eggs. With Ralph and Vanellope leaving their tiny arcade for the seemingly boundless internet, those references aren't limited to video games. And since this is a Disney movie, you can expect to see several familiar faces from just about every corner of the wonderful world of Disney.Thanks to the trailers, you already know about the Disney Princesses, but that's just the tip of the iceberg. Read on for guide to the cameos and Easter eggs in Ralph Breaks the Internet. And yes, there will be major spoilers. 
Welcome to the World Wide Web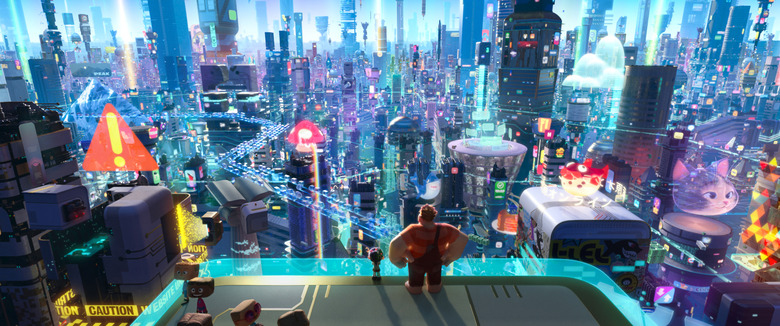 The internet in Ralph Breaks the Internet is basically like Las Vegas: total sensory overload. Most of the wide shots of the digital landscape are filled with little references and easter eggs, like a mushroom from Super Mario Bros. that presumably represents the Nintendo website, and a sign advertising I Can Has Cheezburger? There's also, of course, eBay, where Ralph and Vanellope mistakenly (and hilariously) believe that you can "win" items by shouting the biggest number. Among those items are a seemingly innocuous frying pan, which was actually prominently featured in Tangled. (The trailer showed off Aladdin's lamp in this sequence, but it doesn't appear to have made it into the film.)You'll also spot logos for several familiar corporate overlords, like Spotify, Amazon (there's an additional sign for an Amazon spoof called "Amazin Kindling"), Snapchat, IMDb, Facebook, YouTube, and even MySpace! (Sorry, no Friendster.) Although YouTube does exist in this internet, there's a major side quest involving a site called BuzzzTube – an obvious mashup of YouTube and BuzzFeed. There, Ralph embarks on a mission to recreate numerous viral videos, many of which will seem familiar: Screaming goats, bee puns, makeup tutorials, et al. There is also a Fortnite video, of course.The character of KnowsMore (voiced by Alan Tudyk) isn't necessarily an Easter egg, but his predictive text bit might as well be given how meme-able that whole experience has become. Later in the film, Ralph stumbles upon the Deep Web, a place where all the archaic bits of the internet now reside and gather dust, including articles on surviving Y2K, dial-up internet, and public chatrooms.A few other sites you'll see: Google (of course), National Geographic, Pokemon, and Carvana (which is kind of a weird one).
Oh My Disney!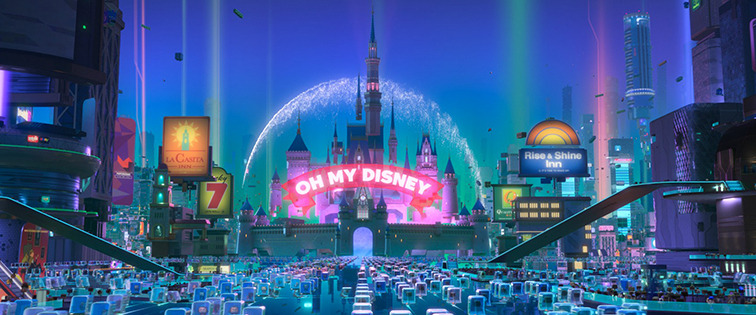 Before we even get to the Princesses (and we will!), there's so much more to explore in this neck of the internet woods. Ralph and Vanellope pop in to Oh My Disney, where they behold a veritable sea of characters from Disney, Pixar, The Muppet Show, Star Wars, the Marvel Cinematic Universe, and much more – including a few deep cuts. As co-writer Phil Johnston and producer Clark Spencer revealed to us in a recent interview, eagle-eyed viewers might spot old school characters like Clarabelle the Cow and Humphrey Bear and Ranger alongside more recent faves like Arlo from The Good Dinosaur and Judy Hopps from Zootopia racing around with Rocket Raccoon. If you spent anytime at Disney World back in the day, you'll probably recognize classic signs for older hotels like Rise & Shine Inn and La Casita Inn.It's going to take some high-def screencapping to spot every cameo and Easter egg in these scenes, but here a few others we found: the house from Up, Sorcerer Mickey from Fantasia, Dumbo, an X-Wing, R2-D2, C-3PO, Grumpy, Eeyore, Iron Man, Hei Hei the chicken (from Moana), Nick Wilde (from Zootopia), Captain Hook's ship and Big Ben (from Peter Pan), and – most importantly – the late, great Stan Lee. It was one of the very last cameos Lee made before his recent death.Vanellope and Ralph walk by an event where users can ask Baby Groot anything they want. His answer to every question is, of course, "I am Groot." (And yes, he's voiced by Vin Diesel.) There's a brief cameo that you might've missed in this scene, unless you're a huge fan of Comedy Bang! Bang! (the podcast, in particular): Jason Mantzoukas, AKA Jeffrey Characterwheaties, steps up to the mic to ask Baby Groot a question. Although his name is never mentioned aloud, Mantzoukas is playing a character named Heynong Man – a reference to a recurring joke on the CBB podcast.Shortly after this, our heroes are chased down by a group of Stormtroopers, including FN-3181 –  voiced by composer Michael Giacchino, reprising his cameo from The Force Awakens. During the chase, Vanellope runs past a room marked A113, which is the number of a real classroom at California Institute of the Arts and a breeding ground for some of the most famous directors in animation, including Tim Burton, Brad Bird, and Ralph co-director Rich Moore.This chase scene leads Vanellope straight into a room marked "Princesses"...
Princess Party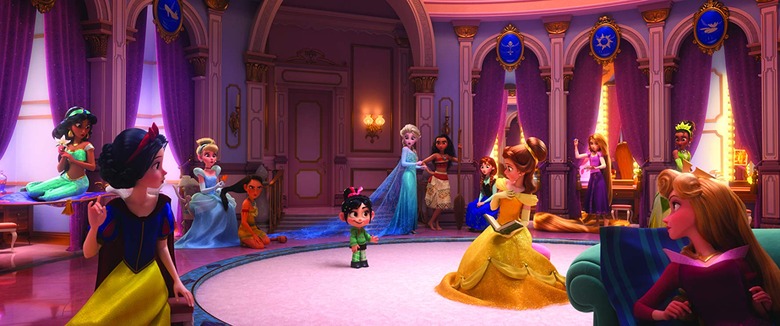 The biggest and most notable cameo sequence is one teased in the trailers: All of the Disney Princesses together in one room, each of them voiced by the original actresses when possible – Ariel (Jodi Benson), Pocahontas (Irene Bedard), Anna (Kristen Bell) and Elsa (Idina Menzel), Mona (Auli'i Cravalho, Cinderella (Jennifer Hale), Aurora (Kate Higgins), Jasmine (Linda Larkin), Merida (Kelly Macdonald), Rapunzel (Mandy Moore), Belle (Paige O'Hara), Mulan (Ming-Na Wen), Tiana (Anika Noni Rose), and Snow White (Ralph co-writer Pamela Ribon).The scene takes place in a dressing room where the Princesses are preparing for their daily participation in one of those "Which Disney Princess..." online quizzes. It's a fantastic and hilarious scene that lovingly deconstructs the trope and duly anoints Vanellope as an official Princess. As explained by the ladies, each Princess gets her very own song, which almost always involves gazing wistfully into some form of water while contemplating their heart's true desire. Later, Vanellope finally manages to accomplish this in a delightful song about Slaughter Race – the Grand Theft Auto-style racing game she wants to join. The music for Vanellope's song was actually written by Disney vet Alan Menken!
Mid and Post-Credits Scenes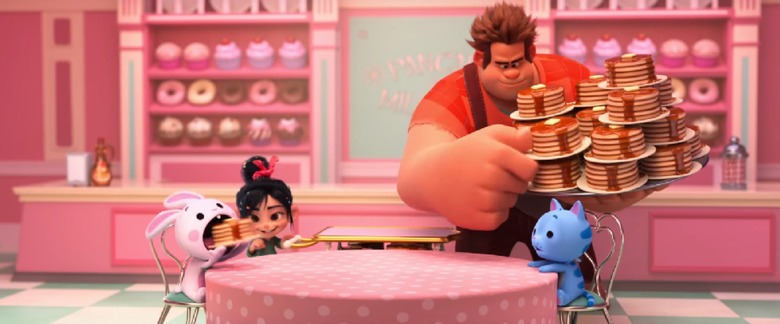 In the mid-credits scene, we see Baby Moana sitting in a carseat in the back of an SUV driven by her mother, Sina. Baby Moana is keeping busy with an iPad and playing a game called Pancake Milkshake, in which users must feed pancakes to a bunny and milkshakes to a kitten. The game is actually real and available to download on your smartphone! Unfortunately, you won't get the thrill of watching Ralph smash into the game and overfeed the bunny until it explodes.Ralph Breaks the Internet ends with a post-credits scene that won't break the internet, but it'll probably break the hearts of at least a few children: A title card teases a special sneak peek at Frozen 2, promptly followed by Ralph delivering the cruelest Rick Roll in cinema history.