Paul Lieberstein On Directing 'Song Of Back And Neck' And Not Being Invited To 'The Office' Reunion On 'SNL' [Interview]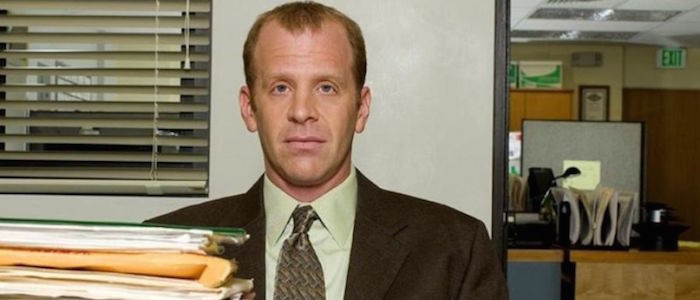 As the unseen prompt for Michael Scott's long "NOOOOOOOO" that has endured to become one of the Internet's favorite reaction GIFs, Paul Lieberstein – best known for playing Toby on The Office – has often done his best work under the radar. In addition to playing Dunder Mifflin's favorite killjoy in front of the camera, Lieberstein was a key creative force behind production of The Office as well, serving as a writer, director and showrunner throughout the series' run.
Since the show came to a close five years ago, Lieberstein has stayed mostly in the television world, lending his talents to both HBO's The Newsroom and Fox's Ghosted. But he's begun to branch out into the world of indie film with his feature writing and directing debut Song of Back and Neck, which premiered at this year's Tribeca Film Festival. Lieberstein also appears in the film as protagonist Fred Trolleycar, a middle-aged office drone who must come to terms with all the complications that stem from his chronic back and neck pain – an experience which came directly from the star's own life.
I caught the film there back in April and reviewed it positively, writing that Lieberstein is adept at "handling some slightly morose material with equal parts sincerity and dry humor." We were able to chat further about the film earlier this month and talked about how he made the leap from TV to movies. Our phone call was shortly after Steve Carell gathered a few former co-stars from The Office in his Saturday Night Live monologue, so naturally our conversation had to start with some discussion about a potential reunion or revival for the show. 
Where were you for The Office reunion on SNL?
[laughs] I was coming back from...
I don't mean that literally!
Yeah, I don't know! They didn't call!
Dang, I'm sorry! That's a bummer.
I get no respect, man. No respect. That's just classic Toby.
Are you as tired of getting asked about a potential revival as Steve Carell seems to be? 
No, I really don't know where it stands! I really don't know where it's all coming from. Nobody's talking to me about it at all. The fact that somebody thinks it's out there – I don't even know where that started. All these other shows are rebooting, so I guess it's just a question in the air about any show that had a strong following.
Steve Carell did say in a recent interview that he didn't think the show would work today given the high level of awareness around workplace misconduct in the #MeToo era. Do you agree with that sentiment? Would it have to be different now?
It would be different anyway. People adjust, and he would be charged even more. It would be fun to do! Could the same show have worked today, launching for the very first time? It would have to be a little bit different, but I'm sure we'd find it.
Did you feel your time as a showrunner and TV director fully prepared you for making a feature film, or were there things you found you had to learn on the set? 
Yeah, no, it was really different, and I was shocked! The Office was such a collaboration. There were so many talented people around to talk to and work together and sometimes negotiate things – but always a discussion. And making an indie movie like this with a super low budget, it was whatever I wanted to do, we did. Which blew me away! There wasn't pushback, there wasn't "are you sure?" It was very freeing and kind of wonderful that way – but also pretty scary.
Yeah, it sounds like it could be either liberating or terrifying based on the problem before you.
[chuckles] Yeah, both – at the same time! 
At what point in your own struggle with back pain did it occur to you that this might make for a good thing to turn into a narrative?
A character in transition makes for a good, contained movie. What I really felt – I had back pain, when it went away, it felt like that's an interesting transition that I feel like nobody's talking about. It also felt like everybody I knew either had back or neck pain themselves or was very close to someone who did. And no one was talking about it all, so I thought, let's go for it.
And how did you make sure it had resonance beyond just your own autobiography? 
Too autobiographical – and too small! I was aware that I needed some themes that resonated for everyone. I do think it's a narrow movie, but at the same time, it asks questions about how we want to act in the world and how we want to live. One of the big things was not the transition from pain to pain-free but the transition of thinking always being in control and not letting your anger show – that's a thought I had, and I think it's a common one – to realize that's just wrong. That's a lousy, unhealthy way to live. That was a big transition for me that I felt sure some people could relate.
Did conceiving or making the film help you gain any closure with your experience of back pain? Or had you already gotten to such a point and that's what allowed you to make the movie?
Yeah, I got some personal closure for sure. Because I think I'd stopped feeling pain in 2010, and it was another five years before I found the movie. But that's something I'll always struggle with, dealing with anger and letting it go, letting it out.
Yeah, back pain is not something that I personally experience, but knowing how to manage anger is something that I can definitely relate to.
Yeah, how to manage anger – I don't think that's something we have the complete playbook on yet.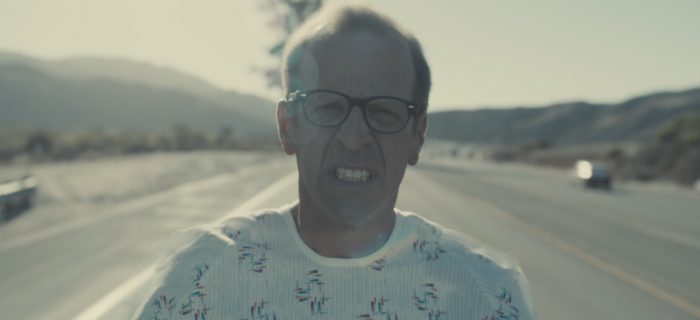 Was there ever a thought that this would be better suited for television? What made you want to make the foray into feature films?
I liked what film can do visually. That tends to be hard on television. But I felt this was a singular transition I wanted to show, one thing he was going through. What makes a good series is a character who's in conflict with himself and the world around him indefinitely. And if I was doing that, it wouldn't let me tackle what I wanted to get at – which is kind of the way through. So it felt more like a self-contained movie.
You've mentioned that you didn't initially write the film for yourself to star in. At the point when you did come to make that decision, did you go back and tweak the character at all to better suit yourself as a performer?
Interesting. Let me try to recall...
I'm not sure. Probably! I probably made some adjustments to keep everything really solidly in my wheelhouse. And I think I've been accused a little bit of the character being too much like Toby, so I think probably I stayed pretty close to what I could do (to a fault).
And what point did you decide you wanted to star in the film?
I wrote it and had no idea what would happen next. But I knew I really wanted to direct it. And in trying to get it made, I learned about the world of indie filmmaking. The more trappings of conventional filmmaking you can shed, the quicker and more realistically you can just make something. And from there, putting myself in the lead and trying to do it for super low-budget, I could just do it. I could get this made, and that was incredibly appealing. 
Where did you come up with Fred's last name? You don't hear "Trolleycar" every day.
No, you don't! I kind of can't believe I kept the last name. I think we had just come back from a family trip to San Francisco, and trolley car was kind of a big thing. But I was also trying to set the tone to clue in the audience that we're maybe not in a completely realist world. Because it is kind of set in magical realism, but that doesn't really kick in for a while. I wanted to put some small little clues out because "Trolleycar," you know, that's definitely not a name! I'm hoping that's just part of a mood that makes it a little easier to accept what comes next. 
On that note, at what point did the subplot about Fred's back making music during acupuncture coming into the story? I'm assuming that is not pulled from real life...
I know I wanted an expression of back pain as something that wasn't going to be just cringing and shouting. You need something else to show that this pain is something else, it's expressing something that's not just negative. But at the same time, the actual inspiration for the needles making music, I have no idea. I can't trace it. It just came. 
How did you come to cast Rosemarie DeWitt? I've been such a fan of hers since Rachel Getting Married came out a decade ago, and I think she has such a unique quality of balancing being funny and charming with a real grounded element.
She elevated the movie so much. I'm so lucky she did it. I was interested in her – Rachel Getting Married was my introduction to her as well, I loved her in that. And then when I started to ask around about her, we had some people in common and I got an introduction. She just liked it! We had coffee and hit it off. But what you said in the question is exactly what she brought. She made it more grounded. She made it light where it needed to be light, more honest, kept me honest. Her scenes are literally wonderful. 
I don't want to get too far into spoiler territory, but the romance that blooms between Fred and Reagan does not exactly have the typical Hollywood ending. Did you always know their relationship would be left this way?
Yes. It's hard to answer without spoilers...
I wanted to bring Fred to this boiling point where everything was falling apart, all aspects of his life – work, family and romance. So it had to go south. It was just part of the structure.
What's next – are you developing more films, back into TV? 
Both, I hope! I'm writing another movie based on a short story I found called The Discipline of Shadows that might end up being kind of a murder mystery. Which is entertaining me, far from anything else I've ever done. And then I've been developing a couple of TV shows, so we'll see what lands. And I'm also doing a radio series with Audible, their first. That's been fun, and I just started writing that.
An audio series being different from a podcast?
Yeah, we'll bring in actors. I don't know if there's another podcast that does that, but it would be scripted dialogue, kind of like an old-time radio play.
It's interesting that at the beginning of the interview, you mentioned going to film to do things that were more visual – and now you're going to do something that has literally no visuals.
[laughs] Yeah, I don't know how it happened! I just had this idea, I wrote a sketch kind of a long time ago – a dozen years ago. It was very silly and fun, and I would go back to it whenever I had to write something else and was kind of frustrated or stuck. So I would write a little bit more of this thing, just to enjoy myself and get back into the swing of writing, and then go back to what I needed to write. And then I looked down and realized, Oh, I've got about 80 pages now! I started to think I wanted to find a home for this somewhere. But it wasn't a movie, and I didn't think it was a TV show either. So I think this is the appropriate venue.
***
Song of Back and Neck opens in limited release on November 30 and will be released on digital/VOD on December 4.