New 'Anna And The Apocalypse' Music Video Makes Being A Soldier In A Zombie War Sound Catchy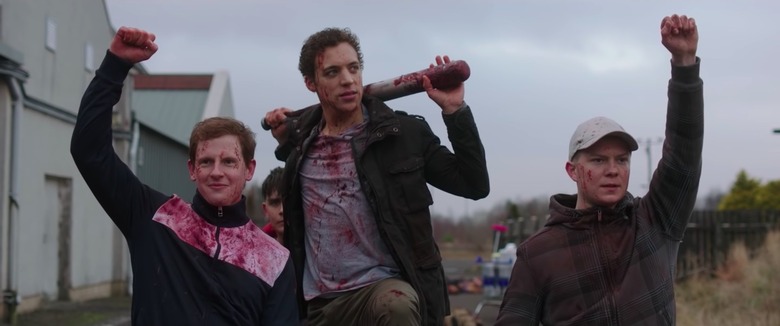 So this is how the zombie apocalypse will go down: in song. Anna and the Apocalypse, the acclaimed horror-musical-comedy that broke everyone's brains at Fantastic Fest (in a good way), has a new music video for the song "Soldier at War," performed by Ben Wiggins. In the new Anna and the Apocalypse music video, we see how the residents of the sleepy town of Little Haven deal with the zombie apocalypse.
Anna and the Apocalypse Music Video
The music video for "Soldier at War" is a gleeful bloodbath, depicting the events of the zombie apocalypse that descends upon the sleepy town of Little Haven — in song! It's the second music video released by MGM, and comes just in time for the holidays, a.k.a. the best time to watch a zombie slaughter.
Based on a BAFTA-winning short film called Zombie Musical, Anna and the Apocalypse is a Scottish zombie Christmas musical comedy that sounds like a punchline to a joke, but earned all kinds of critical raves when it premiered at Fantastic Fest last year.  /Film's own Jacob Hall called it a "fully realized musical horror movie with actual stakes...and the nerve to literally tear its lovable cast to pieces."
The film is directed by John McPhail, written by Alan McDonald and the late Ryan McHenry, and features original music by Roddy Hart and Tommy Reilly.
Watch the full trailer right here, and read the Fantastic Fest synopsis:
Teenage Anna's life is typical enough. Chafing against the narrow horizons of her small town, she dreams of bigger things. It's not so much that she doesn't love her friends and family — she does — it's just that they're all so... familiar. So typical. So predictable. Her childhood best friend aches for a romance that she has no interest in, no matter how close they might be. The school jock that she had a fling with is proving to be disappointingly predictable in his behavior. And it's becoming progressively harder for Anna to conceal her disappointment with just how satisfied her widower-father is with the blue collar simplicity of his never-changing existence. And then it all goes to shit.
The night of the high school Christmas concert marks the arrival of the undead in Anna's small town. And so begins a struggle to band together and survive. Future dreams are forced aside by the overwhelming need to survive the present in this winning Scottish musical-horror-comedy.
Anna and the Apocalypse hits theaters on November 30, 2018.