'The Lion King' Trailer Just Can't Wait To Be King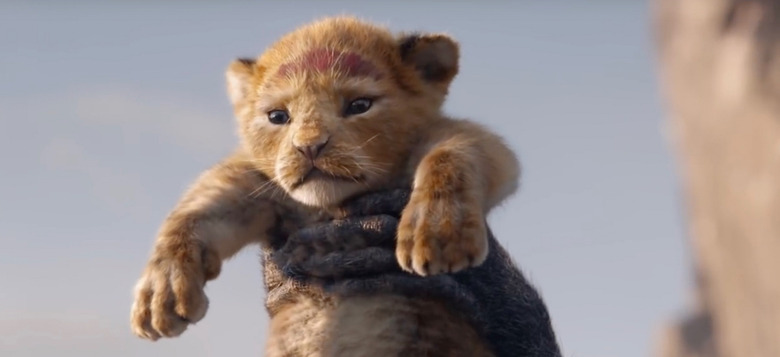 It's the circle of life: Disney will eventually remake all their classics. The Lion King is the latest film to receive the treatment. But unlike recent Disney remakes, the new Lion King can't really be classified as "live action." Instead, it's being billed as a "live-action styled" film, with director Jon Favreau using virtual cinematography technology. The first The Lion King trailer has arrived to give us a glimpse at what Favreau is cooking up, and you can see it below.
The Lion King Trailer
Jon Favreau has some history re-imagining animated Disney movies about animals. He helmed the successful live action/CGI hybrid The Jungle Book, and now he's back with The Lion King. A new adaptation of the 1994 animated film of the same name, The Lion King follows young lion Simba as he fights to reclaim his birthright as the rightful King of the Jungle.
In addition to the stunning visual effects, Favreau has put together one of the most impressive casts in Disney history. Here's the voice talent lineup:
Donald Glover as Simba
Beyoncé as Nala
James Earl Jones as Mufasa (note: Jones played this role in the original film, and rather than even attempt to replace him, Favreau brought him back)
Chiwetel Ejiofor as Scar
Billy Eichner as Timon
Seth Rogen as Pumbaa
John Kani as Rafiki
John Oliver as Zazu
Alfre Woodard as Sarabi
Florence Kasumba as Shenzi
Eric Andre as Azizi
Keegan-Michael Key as Kamari
I don't really know if we need a remake of The Lion King, but of all Disney's recent remakes, this is the one I'm most interested in. I grew up with The Lion King, and it remains one of my all-time-favorite Disney animated films. Will Favreau be able to top it? I don't know. I thought his Jungle Book was entertaining, but not great. He's working with a much better story here, though, so there's that.
Hans Zimmer, who scored the original film, is coming back to score the remake as well. Also back: Elton John, who is reworking his musical compositions from the original film. And since it would be silly to have Beyoncé in your movie and not have her involved with the music, she's also working with John on some of the music. John, Tim Rice and Beyoncé are also creating a new end credits song for the film.
The Lion King roars into theaters July 19, 2019.