Sony's 'Spider-Man: Into The Spider-Verse' And 'Searching' Get December China Releases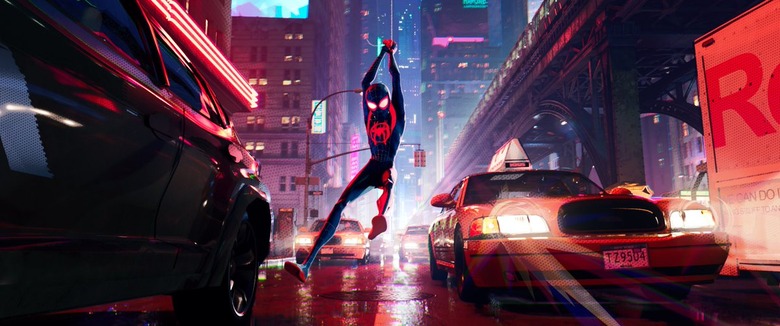 Sony is making more inroads into the Chinese movie market, with upcoming December releases for one of its most highly anticipated superhero movies and for its sleeper summer hit.
Spider-Man: Into the Spider-Verse and Searching both earned Sony China releases in December, with the latter indie hit gaining another Asian market after successfully premiering in star John Cho's home country of South Korea. Meanwhile, Spider-Man: Into the Spider-Verse is the latest Sony comic book movie to make a buzzy premiere in China, after Venom had a record-setting global box office run.Variety reports that Sony Pictures has gained theatrical slots for two of its key movies in the peak month of December, Spider-Man: Into the Spider-Verse for December 21, 2018, and Screen Gems' critically acclaimed Searching for December 14, 2018. With those two releases, Sony's number for theatrical imports in 2018 will exceed the quota of 34 by six (these two make 40).
Mid-to-late December is a tough month to crack in the Chinese market, as the season is considered a peak movie-going time for Chinese audiences and "is normally reserved for the release of Chinese-language titles." This could mean that Sony is making major inroads at the Chinese market after the its success with Venom, but Variety posits that it's possible that Chinese authorities are making up for weaker local releases:
That development is certain to be read in some quarters as a sign that Chinese authorities are propping up the box office by allowing more imports to compensate for a weaker crop of local movies. Other observers are likely to read the movie in political terms and suggest that China-U.S. film relations remain healthy despite the overall trade war and despite the stall in talks on renegotiating the quota since the middle of the year.
But still, this is a major win for Searching, which continues to be a major global hit long after it ended its August U.S. run. The fantastically gripping and surprisingly emotional indie thriller is a ground-breaking film not only the screenlife genre but also in its multifaceted portrayal of an Asian-American male lead, played by Cho.
Meanwhile, this is a great vote of confidence for Spider-Man: Into the Spider-Verse, which is quickly turning into one of my most anticipated movies of the year — animated and otherwise. Though it's been given less marketing attention than its live-action counterparts like Venom and Deadpool 2, it could very well go on to become one of this year's most acclaimed and best-performing superhero movies (I hope).
Spider-Man: Into the Spider-Verse hits U.S. theaters on December 14, 2018 .