'Creed II' Director And Star Explain How That Surprise [SPOILER] Came About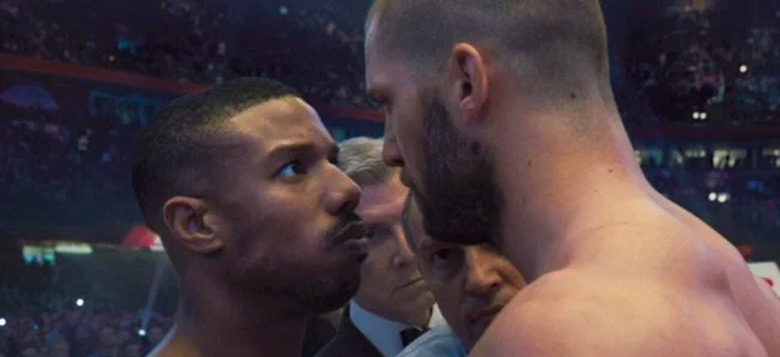 If you've seen Creed II, there's one surprise you'll definitely want to hear more about. But if you have not seen the latest installment in the Rocky/Creed saga yet, you'll definitely want to be as surprised by that as any first time viewer. This story is just for people who have already seen Creed II, so here's your spoiler warning.
Creed II picks up 33 years after Ivan Drago (Dolph Lundgren) fought Rocky Balboa (Sylvester Stallone). Ivan Drago is now training his son Viktor Drago (Florian Munteanu) to challenge Adonis Creed (Michael B. Jordan). As we learn, Ivan lost everything after he lost to Rocky. So it proves as surprising to viewers as it does to Ivan and Viktor when Ivan's wife Ludmilla (Brigitte Nielsen) shows up halfway through the film.
When /Film spoke to director Steven Caple Jr., he explained how they incorporated Nielsen into Creed II:
"It was sort of a last minute call before I flew out to film in Philadelphia. We were developing the script and the Dragos layers were coming about. It started to feel like it was missing something. It felt like there was another piece missing and it naturally became Brigitte, Ludmilla. When developing it, I asked Sly if it was okay to bring her back. He thought it would be cool because the fans love it, they had a nostalgia feeling and people wouldn't necessarily expect it. Yeah, we called her. It was just an emotional roller coaster. When I first had the phone conversation with her, she was pretty much excited and crying on the phone honestly because she was honored to be back in the franchise. We brought her out to Philly and had her on set."
Ludmilla was Ivan Drago's wife when he came to the U.S. in Rocky IV. As Ivan says earlier in Creed II, Ludmilla abandoned both him and their son. She comes back when things are starting to look up for Viktor. For Dolph Lundgren, reuniting with the woman who played his wife in his first starring role was also special:
"Whoa, that was surreal. I knew she was in the picture. They told me and when I read the script, I jumped when I read it. I was like, 'Oh, shit, who came up with this? That's pretty good.' Then I was in my trailer getting ready for a scene and somebody comes in and says, 'Brigitte wants to say hi to you.' So I said, 'Okay, send her in.' She comes in and she was taller than I remember and very, very sweet and nice toe everybody. It just brought back so many memories of the film, her marrying my boss, Mr. Stallone, and I think dramatically it's a big moment. It's sort of a turning point in the picture where as an audience you sort of can't help feeling some pain for Ivan and for his son. When she shows up you realize now she's married to some other guy and he's much richer, all of that. It was a big moment for me as an actor to try to play that, the mixed emotions of feeling betrayed but at the same time kind of wanting her back to some extent. I don't know what came across but there's something really interesting about that."
That Caple says Stallone signed off on her is a big deal, because Nielsen is Stallone's ex-wife. While they do not share any scenes together, they were on set together and it seems they've let bygones be bygones:
"Technically they're in a scene together but no, there's no one-on-one scene. It was strictly for the Dragos and their arc. We didn't want too many crossing and overlapping with their arc and what was going on in the Creed corner. We had it going on at the same time simultaneously so it was really for them. But altogether I guess you could say they're all in the same scene because they're all in the fight together, behind the scenes but on set as well. The last fight, they're all in the arena. Our first shoot was the fight scene so they all were there. It was just an emotional ride, everyone's on their feet yelling and screaming and cheering them on as Sly and Brigitte and Dolph enter the stage. It was just one of those moments. It just felt good and natural to the story."
Creed II is now playing.