'Star Wars: Episode 9' Handles Carrie Fisher's Death In A "Beautiful Way," Oscar Isaac Says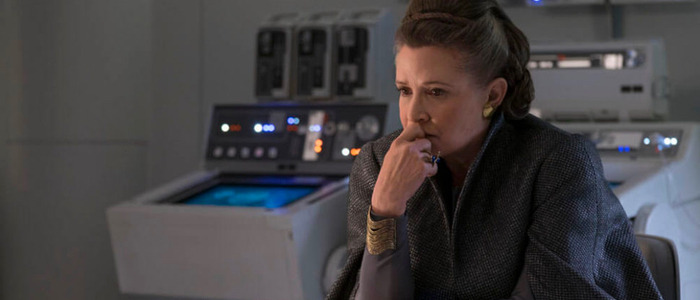 It's unclear how Star Wars: Episode 9 will handle Carrie Fisher's tragic passing, but we do know that  through the use of unused Star Wars: The Last Jedi footage, General Leia Organa will appear onscreen one last time. And star Oscar Isaac assures us that in the film, Leia's arc and Fisher's passing will be handled in "a really beautiful way."
In an interview with The Daily Beast while promoting At Eternity's Gate, Isaac spoke about Fisher's death, which sent reverberations among the Star Wars community and the rest of the world in 2016. It left the Star Wars: Episode 9 crew and director J.J. Abrams with a dilemma: how to do justice to Fisher's iconic character Leia Organa without the woman herself? But Isaac said that Star Wars: Episode 9 will pay a nuanced homage to Leia and the woman who played her:
"The story deals with that quite a bit. It's a strange thing to be on the set and to be speaking of Leia and having Carrie not be around. There's definitely some pain in that... It deals with the amazing character that Carrie created in a really beautiful way."
Fisher's brother Todd Fisher confirmed this summer that Leia would appear in Star Wars: Episode 9 through unused footage that was shot during the making of Star Wars: The Force Awakens and Star Wars: The Last Jedi.
"My sister and Princess Leia are the same thing," Fisher told ET Canada. "And the idea of that story stopping and her not carrying forward is very disturbing to me. It's just awesome that it worked out this way, and thanks to J.J. Abrams, it's just going to be, I'm sure, very magical and important to us all."
While it's still uncertain whether Leia will appear in a major capacity, Isaac seems to confirm that we will get closure with Fisher's character in Episode 9, at least.
We'll find out more when Star Wars: Episode 9 opens on December 20, 2019.