The Morning Watch: 'Starship Troopers' Book Comparison, 'Escape At Dannemora' Scene Breakdown & More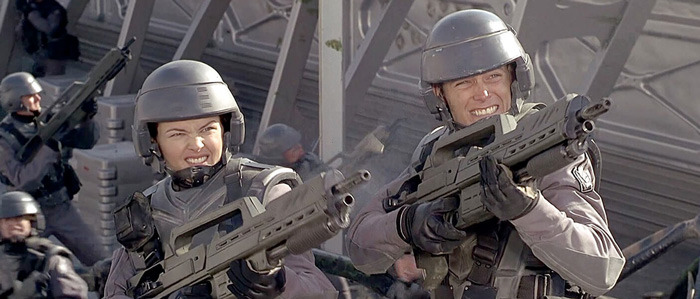 The Morning Watch is a recurring feature that highlights a handful of noteworthy videos from around the web. They could be video essays, fanmade productions, featurettes, short films, hilarious sketches, or just anything that has to do with our favorite movies and TV shows.
In this edition, see how the film adaptation of Starship Troopers compares to the original book by Robert Heinlein. Plus, director Ben Stiller breaks down a prison yard scene from the new Showtime series Escape at Dannemora, and Eddie Redmayne guides us through the most memorable performances of his career so far.
Starship Troopers didn't hit theaters in 1997, but it had been around decades before that as a novel written by author Robert Heinlein in 1954. When it comes to comparing the two, there's not much that's the same between them with the exception of the basic plot of a rich kid defying his parents wishes to go to college and opting to go fight bugs for the Federation instead. Find out much more in the latest edition of What's the Difference? from CineFix.
Next, Showtime has a new prison break series called Escape at Dannemora starring Paul Dano Benicio del Toro, and surprisingly, Ben Stiller is behind the camera for a project unlike anything he's directed before. For Vanity Fair, he breaks down a scene from the first episode, providing some insight into the two main characters, how and where they filmed it, and much more.
Finally, Fantastic Beasts franchise star Eddie Redmayne sits down with GQ to look back on the various roles he's taken over his relatively brief career in the spotlight so far. He reaches back to one of his earliest roles in The Good Shepherd as the son of Matt Damon and Angelina Jolie, but he also digs into his wild turn as the villain of Jupiter Ascending.