'Aquaman' Set To Make Waves At The Box Office As Early Ticket Sales Top 'Venom'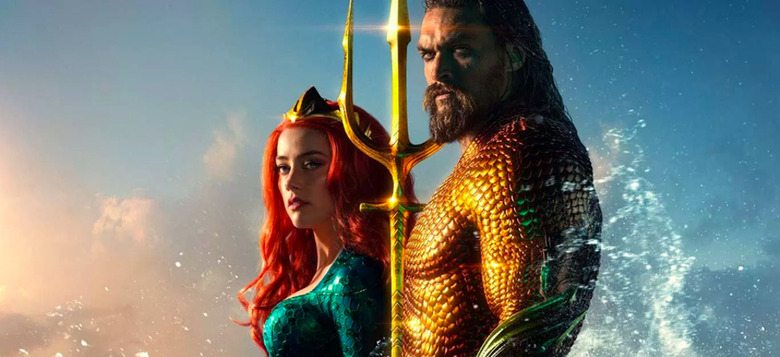 Aquaman is already making a big splash with audiences, as early ticket sales are breaking records. Fandango has revealed that early Aquaman ticket sales have already surpassed Venom's previous record. Atom Ticket's first day sales have also been very impressive. It looks like Aquaman is going to ride a wave of hype right to the deep end of the box office. 
It's official: people really want to see Aquaman. According to Fandango, Aquaman's first day of ticket pre-sales has surpassed both Venom (which had a $80.2M opening weekend) and Mission: Impossible –Fallout (which opened with $61.2M).
THIS JUST IN: The first day of ticket pre-sales for #Aquaman at @Fandango has topped the first day of pre-sales for #Venom. Additionally, the official embargo is now set. Expect social reactions on Monday, Nov. 26 at 2 pmPT and full reviews to drop on Tuesday, Dec. 11 at 11 AMPT pic.twitter.com/A1JgA7PS6m

— Erik Davis (@ErikDavis) November 20, 2018
Meanwhile, Atom Tickets says Aquaman is their top advance ticket seller ever in its first 24 hours, beating the previous 24-hour record holder Avengers: Infinity War. Unlike Fandango, Atom accounts for the tickets being purchased by Amazon Prime users – who can see Aquaman a week before everyone else.
Of course, it's worth noting that early ticket sales are not indicative of box office success. Early ticket sales for Solo: A Star Wars Story were very strong, and while that film wasn't quite the box office disaster some make it out to be, it didn't perform as well as everyone had hoped it would. Still, if Aquaman continues along this course, it might end up being an ocean-sized hit.
Aquaman has some hurdles to clear. The film is coming on the heels of Justice League, which was considered by many to be a disappointment. In fact, most DCEU films have been a let-down, save for Wonder Woman. If Aquaman can follow Wonder Woman's example, it might just be the shot in the arm the DCEU (or whatever we're calling it these days) needs. From here, the DC films will continue with Shazam! and Wonder Woman 1984 in 2019, along with the Joaquin Phoenix Joker movie, which exists outside of the DCEU continuity. Then there will be Birds of Prey (and the Fantabulous Emancipation of One Harley Quinn) in 2020.Aquaman stars Jason Momoa, and "reveals the origin story of half-human, half-Atlantean Arthur Curry and takes him on the journey of his lifetime—one that will not only force him to face who he really is, but to discover if he is worthy of who he was born to be...a king." The film also stars Amber Heard, Willem Dafoe, Patrick Wilson, Dolph Lundgren, Yahya Abdul-Mateen II, Nicole Kidman, Ludi Lin and Temuera Morrison.Aquaman swims into theaters December 21, 2018.