Full 'Birds Of Prey' Movie Title Revealed By Margot Robbie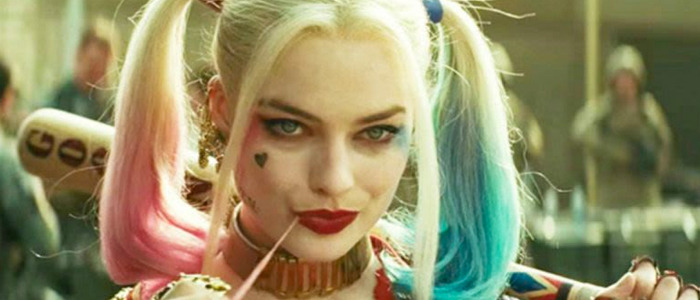 From the moment Margot Robbie's Harley Quinn appeared in the first trailer for 2016's Suicide Squad, it was clear Robbie was a perfect fit for the character. She's one of the few brights spots in that total mess of a movie, so it's no surprise Warner Bros. is bringing her back in Birds of Prey, a female-centric spin-off movie that sees Harley Quinn team up with characters like Black Canary and Huntress.
Now Robbie has taken to Instagram to reveal the full Birds of Prey movie title, and...well, it's a bit extra, as the kids say these days. Read on to discover the title in its full glory.
Yes, you're reading that correctly. The full Birds of Prey movie title is indeed Birds of Prey (and the Fantabulous Emancipation of One Harley Quinn). And in case you're thinking, "Oh, maybe Margot Robbie is just having some fun and scribbling on the cover of a draft of the script," The Hollywood Reporter's Aaron Couch says otherwise:
I've confirmed this is the real title and not just Robbie having fun with fans: Birds of Prey (And The Fantabulous Emancipation of One Harley Quinn) https://t.co/YwFKLztTCJ

— Aaron Couch (@AaronCouch) November 20, 2018
If this is an homage to Alejandro Gonzalez Inarritu's 2014 Best Picture winner Birdman or (The Unexpected Virtue of Ignorance), it's a really weird homage to make, because Inarritu's movie isn't shy about its hatred for superhero films. To me, this sort of reads as a way for WB/DC to make sure to fit the words "Harley Quinn" into the title so general audiences know what to expect. Let's face it: simply calling it Birds of Prey would make it sound too generic.
One thing's for sure, though: this full title makes it very clear that Harley is going to be set free from her abusive relationship with The Joker, as portrayed by Jared Leto. Here's hoping Leto's "damaged" take on the Clown Prince of Crime only shows up for five minutes in this film to get dumped, and then disappears forever. Harley Quinn began as a character on Batman: The Animated Series before becoming one of DC's most popular female stars, and THR points out that in 2016, Harley's emancipation from "Mr. J" happened in her own comic series during a dramatic confrontation:
"I hate ya for what ya bring out in me," [Harley] tells him as the two fight. "I'm not yet toy anymore. Unnerstand? You did mean somethin' ta me one time, but that time is over." The development came after the series established that the romance between the two was abusive, and removing the Joker from Harley's life was a long overdue moment. It certainly didn't hurt her, as the character continued to grow in popularity after that point.
Robbie will reprise her role as Quinn, and this time she'll be joined by Jurnee Smollett-Bell as Black Canary, a hero with an ultrasonic scream; Mary Elizabeth Winstead as Huntress, a vigilante who's the daughter of a slain mob boss; Rosie Perez as Gotham City's Detective Renee Montoya; Ella Jay Basco as future Batgirl Cassandra Cain; and Ewan McGregor as the villainous Black Mask. Cathy Yan is directing from a script by Christina Hodson.
Birds of Prey (The Fantabulous Emancipation of One Harley Quinn) arrives in theaters on February 7, 2020.