'My Best Friend's Exorcism' Movie Coming From 'Happy Death Day' Filmmaker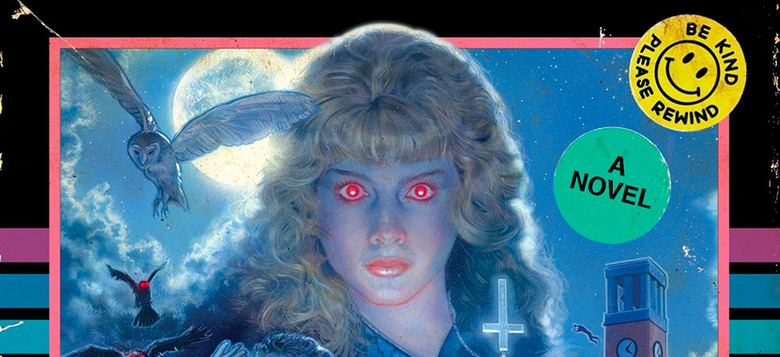 The power of Christ has compelled Endeavor Content to snap up the film rights to Grady Hendrix's novel My Best Friend's Exorcism. Christopher Landon, the writer-director of the Happy Death Day films, will produce and possibly direct. The story is set in 1988, and focuses on two teenage best friends, one of whom might be possessed. More on the My Best Friend's Exorcism movie below.
THR has the news regarding the My Best Friend's Exorcism movie. Jenna Lamia, a writer on Awkward, has been hired to write the script, with novel author Grady Hendrix serving as a creative consultant. Hendrix was a co-writer on the indie horror film Mohawk, and the upcoming Fangoria-produced Satanic Panic. His novel Horrorstor is currently being developed as a TV series by Josh Schwartz and Gail Berman.My Best Friend's Exorcism is described as "An unholy hybrid of Beaches and The Exorcist that blends teen angst, adolescent drama, unspeakable horrors, and a mix of '80s pop songs into a pulse-pounding supernatural thriller," and will no doubt appeal to genre fans. Here's the novel's synopsis:
The year is 1988. High school sophomores Abby and Gretchen have been best friends since fourth grade. But after an evening of skinny-dipping goes disastrously wrong, Gretchen begins to act...different. She's moody. She's irritable. And bizarre incidents keep happening whenever she's nearby. Abby's investigation leads her to some startling discoveries—and by the time their story reaches its terrifying conclusion, the fate of Abby and Gretchen will be determined by a single question: Is their friendship powerful enough to beat the devil?
Christopher Landon, who directed Happy Death Day and the upcoming Happy Death Day 2 U, will produce with Ellen Goldsmith-Vein. Landon is hoping to direct the film as well, but that's not official yet.
Endeavor Content, who are behind titles like Killing Eve and Colette, beat several other studios out for the rights to My Best Friend's Exorcism. The book comes from Quirk Books, the publisher behind Miss Peregrine's Home for Peculiar Children and Abraham Lincoln: Vampire Hunter. The Best Friend's Exorcism premise sounds very promising, although it also sounds a bit like Karyn Kusama's severely underrated horror-comedy Jennifer's Body. The '80s setting will no doubt differentiate the film enough to stand on its own, though.
Happy Death Day was surprisingly good, so I'm excited to see what director Christopher Landon does beyond the franchise. This might just turn out to be a must-see.