'True Blood' Musical Details Revealed By Series Creator Alan Ball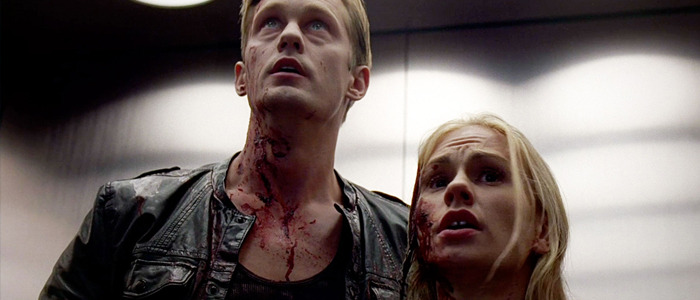 We've known about a possible musical based on the HBO vampire series True Blood for four years, but details about the project have been hard to come by. Now Alan Ball, the creator of the TV show, has revealed the premise of the new adaptation. Keep reading to learn the latest True Blood musical details.
In 2014, True Blood was heading into its seventh and final season premiere when series composer Nathan Barr explained that he had pitched Ball and HBO on adapting the sweaty, sexy vampire show into a full-fledged musical, and that it would revolve around telepathic waitress Sookie Stackhouse (Anna Paquin portrayed that character in the show). But it's been crickets since then...until this past weekend, when Ball showed up at a tenth anniversary screening of the pilot this past weekend in Los Angeles (via Deadline) and said he's heard the musical is "pretty good." Sounds like a ringing endorsement!
Here's his quote about the plot details:
"It tells the story of vampires coming out of the closet. Ultimately it really departs from the book, because people aren't ready, and they're too bigoted and they end up going back in to the closet."
Author Charlaine Harris's novels, short stories, and novellas, which primarily follow Stackhouse, took place in a world in which vampires had revealed themselves to the public as real beings instead of mythical creatures. In the books, several countries around the world accept vampires into their cultures, while others reject them; this divides the vampires into two camps: those who want to try to assimilate, and those who think it's impossible. (X-Men fans should pick up on the thematic similarities: the whole thing is a thinly-veiled metaphor about equal rights for the LGBTQIA community and other persecuted minorities.)
Could a True Blood musical work? Thanks to its godawful finale, the show was largely rejected by a big portion of its fan base – on this data-driven graph of the most disappointing finale ratings, True Blood nearly tops the list. Will fans of the show still flock to see a new musical with that bad taste left in their mouths? Has the passage of time softened the blow? Ball said the musical is still being workshopped, and while this whole thing seems like it could be a disaster in the making, there's also a part of me that wonders if that gaudy, supremely silly TV show may be the perfect source material for a musical.
During that same event, Ball also revealed that Benedict Cumberbatch auditioned for the part of Bill (Stephen Moyer ultimately got that role), Jessica Chastain auditioned for Sookie, and Jennifer Lawrence auditioned for the role of a were-panther in season 3 that ended up going to Lindsay Pulsipher. Now if you'll excuse me, I'll be over here pondering the ripple effects of those would-be casting choices for the rest of the day.