Now Scream This: The Best Horror Movies About Family To Stream This Thanksgiving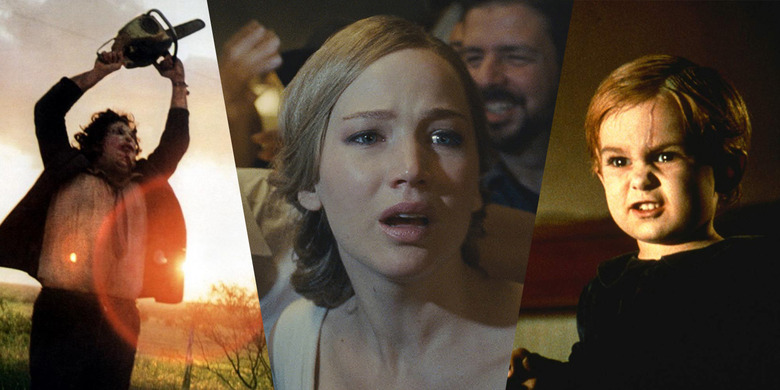 (Welcome to Now Scream This, a column where horror experts Chris Evangelista and Matt Donato tell you what scary, spooky, and spine-tingling movies are streaming and where you can watch them.)Matt: Thanksgiving – the nightmare that is cyclical forced family engagements. Another night spent dodging questions about how you're almost thirty and still not "settling down," forced to seek comfort inside a whiskey bottle while averting Aunt Sally's searing judgemental snark ("hypothetically"). This year, why not just skip all the in-person terrorization and stream an at-home "Horrors Of Family" marathon? There's no other choice regarding "Now Scream This" theme with Thanksgiving on the horizon, so Chris and I thought it fair to recommend some of our favorite horror flicks involving family units (you can watch right now). Child snatching demons, chainsaw massacres, and hairy Celtic rogues. Still somehow more normal than Thanksgiving dinner conversations.Chris: It's Thanksgiving week (unless you're Canadian – then you celebrate Thanksgiving in April or some such nonsense). The holiday rolls around every November to give us an excuse to act like gluttons while also forcing us to spend time with our families. What could be more horrifying than that? In honor of Thanksgiving, Matt and I have gathered together films that reflect the horrors of family – be it in the form of a family get-together, or otherwise. So this Thanksgiving week, after you've eaten too many carbs, why not kick-back and watch some of these horror movies? Or you could watch football like a weirdo, I guess.
Now Streaming on Shudder
Matt: I've been pimping Brandon Christensen's Still/Born around these parts with my extensive Shudder coverage, but hey, does another reminder hurt? As the title suggests, Christie Burke plays a mother (Mary) who gives birth to brothers – one healthy, one deceased. Her mental state isn't the most reliable after said tragedy, but baby Adam needs his mama. Mary persists, but when her husband leaves for a business trip, the isolation causes her mind to concoct a scenario where Mesopotamian demon Lamashtu wants to steal her child. Cue gangly banshee forms creeping down shadowy hallways, baby monitor scares, and vicious paranormal work that – admittedly – works better at times than the constructed story. No bother! Lamashtu's an unforgiving genre terror worth mean-and-mighty squeals. Love, grief, and instability in the name of underworld psychological thrills.Chris: Here I thought this might be the first week where I've seen everything on Matt's list. Incorrect! This has been sitting in my Shudder queue for a while now, and maybe I'll finally get around to watching it during the Thanksgiving weekend.
The Texas Chain Saw Massacre
Now Streaming on Shudder
Matt: The Texas Chain Saw Massacre. Horror royalty. Is there a franchise more synonymous with dysfunctional genre families? Chris snagged the 80s sequel where "The saw is family!" became an instantly recognizable quote, but I intend to honor where it all began. Monstrous, slaughterhouse slasher perversion that slices through subgenre convention and sits us at a table with bloodsucking grandparents and dolled-up Leatherface. Repugnant, butcher's block carving of corpses heated as to amplify the stench of rot by a blazing Southern sun. Horror films don't get much nastier or more deranged. Gunnar Hansen as a mongoloid murderer whos brutish berzerking barrels through scenes like a steamroller. Forever Tobe Hooper's crowning achievement, which ain't that bad a legacy to leave behind.Chris: Nothing says Thanksgiving like cannibal families and their bone furniture! Texas Chain Saw is one of those classics that exceeds its reputation. This movie feels cursed, like we're watching something we really should not be seeing.
Now Streaming on Netflix
Matt: Well here's a shocking surprise: Timo Tjahjanto's May The Devil Take You - his ode to Sam Raimi's popcorn-possession filmmaking – hit Netflix just last week! Only a short spell after Netflix released Tjahjanto's unforgiving action masterpiece The Night Comes For Us because some people strive to make us plebians feel like underachievers. In any case, this is excellent news because May The Devil Take You is a blast of family curses, demon transference, and *brutal* voodoo doll death sequences. Netflix is giving worldwide stages to films that so deserve such availability, but damn, not even with base-level marketing pushes? The fact that I had no idea May The Devil Take You hit streaming says a lot. I mean, you see the weirdness I recommend. May The Devil Take You deserves far better than a pump-and-dump.Chris: Another Matt pick I haven't seen. Way to make me look bad, Matt.
The Strangers: Prey At Night
Now Streaming on Amazon Prime
Matt: Johannes Roberts' The Strangers: Prey At Night is an expertly generic slasher heightened by John Carpenter influences from score to flaming car to stalking attacks. The story itself – family stays overnight at a ghost town trailer park, "The Strangers" hunt, parents empower their children to survive – fails to be anything more than seen-it-before Hallmark sentiments covering in blood. Roberts' deep desire to pay homage to Carpenter is the gravy that moistens this dry bird. Foggy marshland fields play an eerie setting as Big Daddy Stranger stands out of focus. A particular motel pool kill – electric blue waters and fluorescent neon signs – leaks a red cloud with such macabre beauty. As is, it's a solid three-star "home invasion on the run" flick. If only emotional beats between angsty teens and scorned mothers matched the viciousness of Roberts' gaze when death becomes inevitable.Chris: It felt like most people didn't care for this movie, and I don't get why: it's a lot of fun! And it has a killer soundtrack. Is it as good as the original? No, but that's okay.
Now Streaming on Amazon Prime
Matt: Unpopular opinion: Dog Soldiers is my favorite werewolf movie. How is it about family? You could make a connection to the brotherhood of military, but if you remember, the furry beasts Neil Marshall's special ops squad encounters are a Scottish Highlands clan. The likes of Sean Pertwee and Kevin McKidd have to defend a rustic farmhouse – the family's house – from mane-to-claw werewolves who mangle victims no matter their training. This movie is untamable levels of fun from start to finish, from unprepared grunts realizing how monumentally "boned" they are to Marshall's focus on spilled guts as frequently as possible. There's such a swagger and bravado about Dog Soldiers that's seldom captured by werewolf cinema, because those mean-mugging doggy costumes are next-level transformative. When it comes to a subgenre mishandled by so many, Dog Soldiers is the real deal.Chris: I prefer Marshall's The Descent to Dog Soldiers, but you'll have a howling good time watching this!!! I'm sorry.
Now Streaming on Max Go
Chris: With Get Out, Jordan Peele emerged as one of the most interesting genre filmmakers in years. The comedian turned director crafted a brilliant socio-political horror-drama focused on racism in America, and the results are stunning. While I love me some mindless, gory horror, nothing quite gets me as excited as horror that has something to say. In Get Out, African American  Chris (Daniel Kaluuya) accompanies his white girlfriend, Rose (Allison Williams), to visit her well-to-do family for a weekend getaway. While Rose's parents seem very friendly at first, it becomes apparent to Chris that something is very wrong here. Peele packs a pointed look at the history of American racism into this taught thriller, managing to balance both a message and incredibly engrossing storytelling at once. One year later, Get Out still lives up to the hype.  Matt: I've already discussed Get Out on "Now Scream This," so you know I'm all aboard Chris' praise here. No need to retread. *Opens box of Fruit Loops*
Now Streaming on Amazon Prime Video
Chris: The awkwardness of welcoming a new member to the family gets even more awkward (and bloody) in The Stepfather. Long before he was John Locke on Lost, Terry O'Quinn starred in this creepy thriller as the world's worst stepfather. At the start of the film, we see O'Quinn's character, Henry Morrison, in the aftermath of slaughtering his whole family (spoiler alert?). A year later, Henry has now assumed a new identity, and he's about to marry a widow. But the widow's 16-year-old daughter begins to suggest her new pop has a few screws loose. The Stepfather could've played up the mystery, and kept the audience in the dark about O'Quinn's character. But by letting us in right away, the movie is much more fun – primarily for O'Quinn's schizophrenic performance. There was a 2009 remake of this – please don't watch it.Matt: I've known I needed to watch The Stepfather for a long while, so maybe I'll actually get around to it based on Chris' recommendation (hahaha I totally won't because the concept of free time is something I do not understand but it's worth lying to myself).
Now Streaming on Hulu
Chris: I know lots of people hate Darren Aronofsky's mother! And I understand why – the movie is like distilled chaos, and it's definitely not for everyone. But I loved Aronofsky's allegorical nightmare in which a young woman (Jennifer Lawrence) wants nothing more than to spend some alone time with her much older husband (Javier Bardem). Unfortunately for her, some strangers (Ed Harris, Michelle Pfeiffer, and soon, many more) turn up and turn Lawrence's life into a living hell – just like guests arriving to spoil Thanksgiving dinner! mother! starts off seeming like a standard thriller before Aronofsky pulls the rug out and turns it into something far more strange. You'll either love it, or hate it. But you won't forget it.Matt: Here's the funny part – I'm the weirdo who's completely 50/50 on mother!. Aspects are beyond brilliant in a way that reminds of a Mexican boundary-pusher titled We Are The Flesh released only a year before, while other bits of Aronofsky's "ambition for the sake of art" play with more pretension than intended. A solid three-star watch, because – I don't know – my mind is broken or something.
The Texas Chainsaw Massacre 2
Now Streaming on Amazon Prime Video and Hulu
Chris: Everyone's favorite cannibal family is back in The Texas Chainsaw Massacre 2! Rather than make a straight sequel that attempted to be as horrific as the original film, Tobe Hooper instead went the Gremlins 2 route with Texas Chainsaw 2, turning into it a batshit crazy comedy in which Dennis Hopper wields a giant chainsaw, Bill Moseley screams his head off, and pure lunacy unfolds. Hopper plays the uncle of victims from the first film, out to get revenge. There's also a subplot about a radio DJ. But none of that really matters – Hopper just wants to go crazy and take us along for the ride. More satire than horror, Texas Chainsaw 2 confirms that the saw is family, and so is being unsubtle.Matt: "THE SAW IS FAMILY!" Bring on the goofiness and comedy and tonal deviation from grimy slasher muck. This film entertains in the same way Bride Of Chucky redefines a franchise through sequel rebranding.
Now Streaming on Amazon Prime Video
Chris: Pet Sematary is the ultimate Thanksgiving horror film. One of the key events – the burial of a family cat – unfolds on Thanksgiving. And the movie also features one of my all-time-favorite lines: "Today is Thanksgiving for cats...but only if they came back from the dead!" Stephen King's dread-inducing reflection on mortality is turned into this creepy, entertaining horror show from Mary Lambert. King wrote the screenplay adaptation of his own book, so a lot of the text carries over. But the film can't match the terror of King's novel. That doesn't mean it's not plenty scary. Here, a family moves to Maine, where a cursed burial ground that can raise the dead awaits them. They proceed to have the worst luck imaginable. The cast is a bit shaky, save for Fred Gwynne, who is phenomenal as a helpful neighbor. Pet Sematary still holds up, but I'm hoping the upcoming 2019 remake will take things even further. But I doubt it's going to feature that amazing "Thanksgiving for cats" line, sadly.Matt: Anddddddddd now I can't get The Ramones' "Pet Sematary" out of my head so thanks Chris.