Disney Files Patent For Most Realistic Lightsaber Yet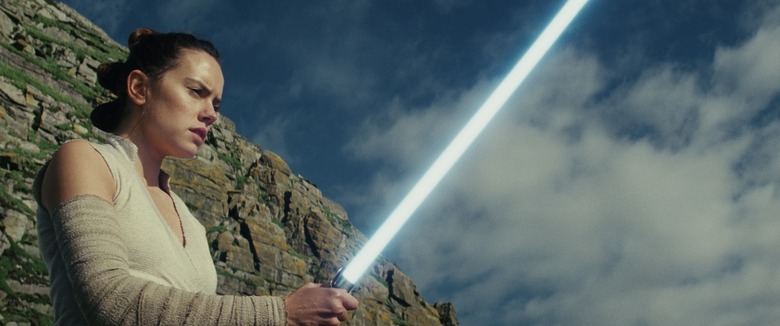 The Walt Disney Company has filed a patent for potentially the most realistic lightsaber yet. The lightsaber patent is for something called a "Sword Device with Retractable, Internally Illuminated Blade," and comes before the highly anticipated opening of Disney's upcoming theme park expansion Star Wars: Galaxy's Edge.
According to a report from WDW News Today, Disney has filed a patent for a new lightsaber toy model that looks to be its most realistic version available to date. Apart from the killing, of course.
Though not called a lightsaber by name in the patent application, it has all the makings of the iconic weapon introduced in Lucasfilm's Star Wars franchise. The toy sword contains a retractable "internally illuminated" blade lit by LED lighting, with built-in sound effects for the full geeky experience. WDW News describes:
The new technology exemplified in this patent application is used to build a lightsaber hilt that works like a motorized tape measure. At the press of a button, the tapes will extend to a total length several times that of the hilt itself. The tapes will also have some kind of LED lighting inside, such that the lightsaber can light up similar to the way they appear in the films.
The same mechanics that operate to eject the blade will be used in reverse to retract the blade. The LEDs will be affixed to a tape that retracts onto a spool as the lightsaber blade retracts.
The outlet also got a hold of the patent blueprints, which can be seen in the gallery below.
This fancy new lightsaber patent application comes ahead of the upcoming 2019 opening Star Wars: Galaxy's Edge, the immersive new Star Wars land being developed in Disneyland Park in Anaheim and Disney's Hollywood Studios in Florida's Walt Disney World. It's likely that Disney will debut this new and improved lightsaber at the park next year, for a "premium price" that will match its advanced technology. It's also possible that this version will be sold as a collector's item rather than as a kid's toy.
If either turn out to be the case, it wouldn't be unlike the line of Harry Potter wands that Universal has made a fortune with at their parks, including more expensive ones with chips in them that can allow the user to manipulate the environment in some areas. It's likely that Disney saw the success Universal had with those wands, and wants to get in on that same business.
If you want more details on Star Wars: Galaxy's Edge, check out the recently revealed blueprint that shows off the plans for the hotel resort.
Star Wars: Galaxy's Edge is set to open in Disneyland in summer 2019, followed by the Disney's Hollywood Studios version in fall 2019.