'Halloween' Blu-Ray Release Set For January – Watch One Deleted Scene Now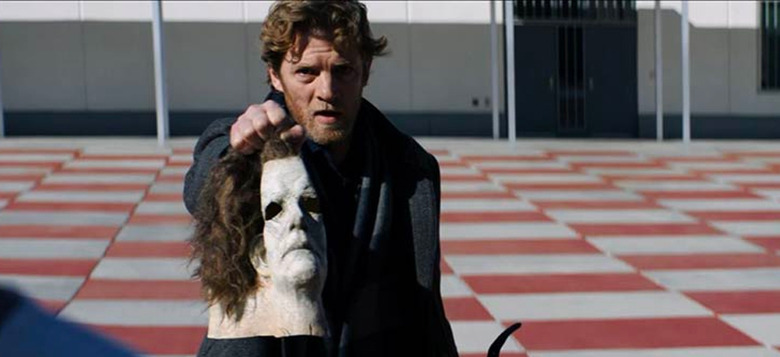 Halloween may be over, but Halloween is just getting started. The Blu-ray release of David Gordon Green's hit horror sequel/reboot to the classic franchise will arrive just after the start of the new year – with the digital release arriving a few days after Christmas. The home video release comes loaded with all treats, and no tricks. Specifically – a candy bag full of deleted and extended scenes will be included, along with several featurettes. Learn the Halloween Blu-ray release details below, and watch a deleted scene as well.
Halloween Deleted Scene
Halloween was well-received with critics and audiences, restoring some much-needed dignity to a franchise that had languished for a few years. David Gordon Green brought back original scream queen Jamie Lee Curtis as Laurie Strode, who sets out to reclaim her own narrative and stop Michael Myers once and for all. The results were very rewarding. Now, Halloween is set to hit home video. The horror sequel will hit digital (via Movies Anywhere) on December 28, 2018. Then, on January 15, 2019, it'll arrive on 4K Ultra HD, Blu-ray, DVD and On Demand.
I had a blast with the flick, calling it "a love-letter to horror fans – a brutal, scary and sometimes funny sequel that gives the long-running franchise the respect and adoration it deserves" in my review from TIFF. I can't wait to watch it again on Blu-ray.
The home video release features a plethora of deleted and extended scenes, which is exciting if you're hoping for even more Halloween. There are also several making-of featurettes. The full list of special features is below. Personally, I can't wait for more of the Banh Mi cops.
BONUS FEATURES on 4K ULTRA HD, BLU-RAYTM, DVD & DIGITAL:
Deleted/Extended Scenes
Extended Shooting Range
Shower Mask Visit
Jog to a Hanging Dog
Allyson and Friends at School
Cameron and Cops Don't Mix
Deluxe Banh Mi Cops
Sartain and Hawkins Ride Along
Back in Haddonfield: Making Halloween
The Original Scream Queen
The Sound of Fear
Journey of the Mask
The Legacy of Halloween
Forty years after the events of 1978's Halloween, Laurie Strode (Curtis) now lives in a heavily guarded home on the edge of Haddonfield, where she's spent decades preparing for Michael's potential return. After being locked up in an institution, Myers manages to escape when a bus transfer goes terribly wrong, leading to chaos in the same town he preyed on decades earlier. Laurie now faces a terrifying showdown when the deranged killer returns for her and her family – but this time, she's ready for him.