Arrowverse's 'Elseworlds' Teaser: First Look At Batwoman In Action, First Mention Of Batman By Name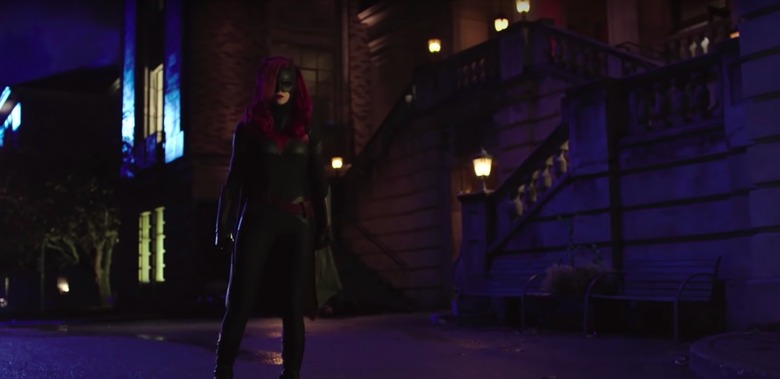 After years of skirting around Batman like it was a dirty word, the latest Arrowverse "Elseworlds" teaser finally drops his name a dozen times. And like Beetlejuice, apparently, the Caped Crusader shows up. But she's not exactly the one they expected.
Ruby Rose makes her debut as Batwoman in the fifth annual Arrowverse crossover event, "Elseworlds," which will span episodes of The CW's The Flash, Arrow, and Supergirl. And the latest "Elseworlds" teaser finally shows her in action.
Elseworlds Teaser: Meet Batwoman
The Dark Knight casts a large shadow on Greg Berlanti's CW Arrowverse, which has worked hard to establish itself as a TV superhero universe without the outsized presence of Batman. As a result, the shows have clumsily avoided saying his name like the plague, resulting in ridiculously opaque references like "Clark's friend" or "that crazy guy in Gotham." (Watch this 6-minute compilation of all the Batman "references" in the Arrowverse to get the full hilarious picture.) So it's a bit shocking when Barry Allen (Grant Gustin) and Cisco Ramon (Carlos Valdes) drop Batman's name about 50 times in the new "Elseworlds" teaser. That's not the only thing: the teaser is rife with Batman iconography, right down to the Bat signal, the imposing figure looking out at the Gotham skyline, and Arkham Asylum. But it's all one big tease down to the reveal of the female superhero vigilante that we all knew was coming: Batwoman.
Played by Ruby Rose, Kate Kane is making her debut on the Arrowverse crossover "Elseworlds," which will act as a soft pilot for her potential solo series. The latest teaser finally shows her in action, jumping off rooftops and manhandling inmates at Arkham Asylum. It's a pretty good introduction that I'm sure will play out even better when the 3-night crossover event begins December 9, 2018 on The CW.
The Batwoman teaser is the latest in a series of teasers spotlighting each lead superhero as they find themselves in an alternate reality. You can see the rest below.