'Death By Magic' Trailer Recreates Stunts That Killed Other Magicians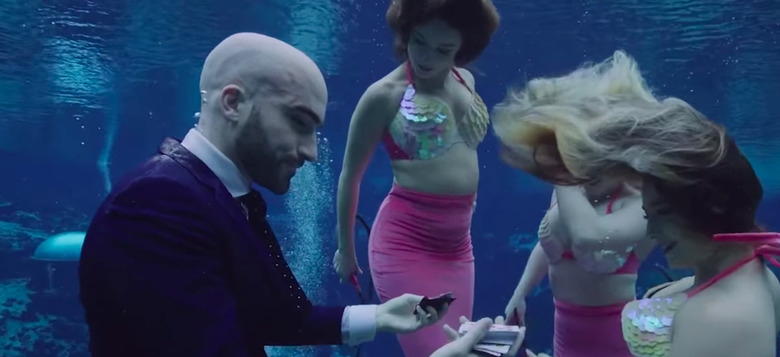 Do you like magic? What about death? In Death By Magic, the amazingly named Drummond Money-Coutts sets out to blend those two things together for your viewing entertainment. Mr. Money-Coutts is on a quest to recreate several infamous stunts that killed other magicians. Will these tricks kill him, too? Probably not! If so, Netflix wouldn't be releasing this. Still, it's a neat premise, and ramps up the tension much more than your standard magic show. Watch the Death By Magic trailer below.
Death By Magic Trailer
Drummond Money-Coutts is an "English magician and specialist card sharp" who seems to specialize in making people lose their s*** when he performs illusions before their eyes. At the start of this trailer, you can witness several people clutching their heads in disbelief, shouting, "Oh my god!", and reacting as if the magician, who goes by DMC, has somehow stopped the world from spinning on its axis.
But sleight of hand is small potatoes to DMC. He wants to look death in the eye and say, "Come at me, bro." That's where Death By Magic comes in. As the performer explains, he's out to recreate several acts that flat-out killed former magicians. "My advice would be don't do it!" one man tells him at one point. DMC's reaction is to chortle good naturedly, because death is the greatest illusion of all to this guy. Watch out!
Death By Magic "spans four continents and eight cities around the world." DMC took to Instagram to offer his insight into the series:
"After more than two decades of planning and 12 months of intense production – the worldwide release of DEATH BY MAGIC is now a little over one month away. It is of course a magic show – but beyond that it's also a tribute to those magicians who gave their lives in the pursuit of greatness. It is a eulogy and a celebration of the dream-chasers who pushed themselves to the absolute limits of what is possible within our craft. It has been the greatest privilege of my life to create this body of work alongside my heroes within the industry, to capture beautiful magic across four continents – and even to have the experience of staring death in the face on multiple occasions. To feel the paralysing rush of absolute fear, but then the fresh awakening of presence that comes each time the mind is able to transcend that fear. To be reminded of how fragile, ephemeral and special this winning lottery ticket of existence truly is. May the magic of the show entertain you, but also the stories and subject matter serve as a reminder of our own individual transience. A reminder that life is short, that we are each but fleeting streaks of light across the night sky of this life, and that each new dawn is a renewed chance to create something extraordinary. "
This all looks and sounds very cool, and I for one can't get enough of the name "Drummond Money-Coutts." Say it out loud! It's fun!
Death By Magic hits Netflix November 30, 2018.