'The Secret Life Of Pets 2' Trailer: Chloe The Cat Gets The Spotlight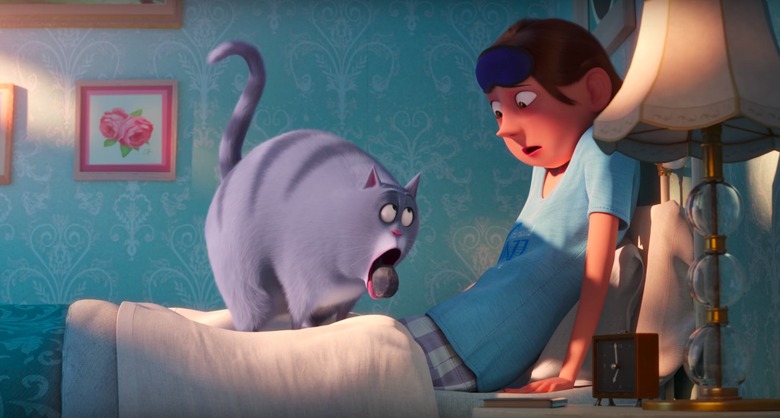 Illumination has released a new The Secret Life of Pets 2 trailer, the second of what seems to be a series of trailers spotlighting each individual pet. This week: Chloe the cat.
The Secret Life of Pets 2 Trailer
Voiced by Lake Bell, Chloe is a particularly cantankerous cat who tries her darndest to wake up her slumbering owner, trying everything from screams, to scratches, and finally vomiting furballs. The last one seems to do the trick, much to the chagrin of her owner.
This trailer is released on the heels of the first The Secret Life of Pets 2 trailer spotlighting Max, whose voice actor in the 2016 film Louis C.K. was replacted by Patton Oswalt in the sequel following C.K.'s sexual misconduct allegations. But that won't stop Illumination from following up a massive animation hit that pulled in over $875 million worldwide with a sequel that will likely hit all the predictable family-film markers again. It's almost unfair that The Secret Life of Pets 2 has such a good cast, with returning members Jenny Slate, Kevin Hart, and Eric Stonestreet and new additions like Tiffany Haddish, Nick Kroll, Pete Holmes, and Harrison Ford joining the fray.
Here is the synopsis for The Secret Life of Pets 2:
The Secret Life of Pets 2 will follow summer 2016's blockbuster about the lives our pets lead after we leave for work or school each day. Illumination founder and CEO Chris Meledandri and his longtime collaborator Janet Healy will produce the sequel to the comedy that had the best opening ever for an original film, animated or otherwise.
Chris Renaud returns to direct a script from writer Brian Lynch for The Secret Life of Pets 2, which is currently slated to hit theaters on June 7, 2019.