2019 Independent Spirit Awards Nominations: 'We The Animals', 'Eighth Grade' And 'First Reformed' Lead The Pack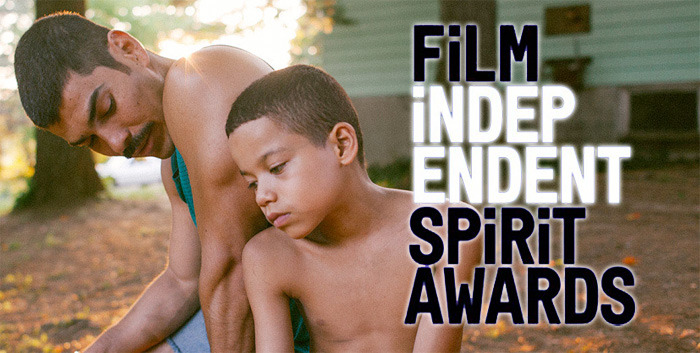 Awards season is officially in full swing as the folks at Film Independent have officially announced the nominations for the 2019 Independent Spirit Awards, honoring achievements in independent film for the year 2018.
Jeremiah Zagar's film We the Animals led the indie pack with five total nominations. But coming in close behind are two wildly different A24 films, Bo Burnham's coming of age comedy Eighth Grade and Paul Schrader's challenging drama First Reformed, each with four nominations. Other films landing nods include You Were Never Really Here, Hereditary, The Tale and more
Get the full list of the 2019 Independent Spirit Award nominations below.
BEST FEATUREEighth GradeFirst ReformedIf Beale Street Could TalkLeave No TraceYou Were Never Really Here
BEST FIRST FEATURE
HereditarySorry to Bother YouThe TaleWe the AnimalsWildlifeBEST FEMALE LEAD
Glenn Close, The Wife
Toni Collette, HereditaryElsie Fisher, Eighth GradeRegina Hall, Support the GirlsHelena Howard, Madeline's MadelineCarey Mulligan, WildlifeBEST MALE LEAD
John Cho, Searching
Daveed Diggs, BlindspottingEthan Hawke, First ReformedChristian Malheiros, SocratesJoaquin Phoenix, You Were Never Really HereBEST DIRECTOR
Debra Granik, Leave No Trace
Barry Jenkins, If Beale Street Could TalkTamara Jenkins, Private LifeLynne Ramsay, You Were Never Really HerePaul Schrader, First ReformedBEST DOCUMENTARYHale County This Morning, This EveningMinding the GapOf Fathers and SonsOn Her ShouldersShirkersWon't You Be My Neighbor?BEST SUPPORTING MALE
Raúl Castillo, We the Animals
Adam Driver, BlacKkKlansmanRichard E. Grant, Can You Ever Forgive Me?Josh Hamilton, Eighth GradeJohn David Washington, Monsters and Men BEST SCREENPLAY
Richard Glatzer (Writer/Story By), Rebecca Lenkiewicz & Wash Westmoreland, Colette
Nicole Holofcener & Jeff Whitty, Can You Ever Forgive Me?Tamara Jenkins, Private LifeBoots Riley, Sorry to Bother YouPaul Schrader, First ReformedBEST FIRST SCREENPLAY
Bo Burnham, Eighth Grade
Christina Choe, NancyCory Finley,  ThoroughbredsJennifer Fox, The TaleQuinn Shephard (Writer/Story By) and Laurie Shephard (Story By), Blame
BEST EDITING
Joe Bini, You Were Never Really Here
Keiko Deguchi, Brian A. Kates & Jeremiah Zagar, We the AnimalsLuke Dunkley, Nick Fenton, Chris Gill & Julian Hart, American AnimalsAnne Fabini, Alex Hall and Gary Levy, The TaleNick Houy, Mid90s
BONNIE AWARD
Debra Granik
Tamara Jenkins
Karyn Kusama
BEST INTERNATIONAL FILMBurning (South Korea)The Favourite  (United Kingdom)Happy as Lazzaro (Italy)Roma (Mexico)Shoplifters (Japan)
JOHN CASSAVETES AWARD
A Bread FactoryEn el Septimo DiaNever Goin' BackSocratesThunder Road
BEST SUPPORTING FEMALE
Kayli Carter, Private Life
Tyne Daly, A Bread Factory
Regina King, If Beale Street Could Talk
Thomasin Harcourt McKenzie, Leave No Trace
J. Smith-Cameron, Nancy
BEST CINEMATOGRAPHY
Ashley Connor, Madeline's Madeline
Diego Garcia, WildlifeBenjamin Loeb, Mandy
Sayombhu Mukdeeprom, Suspiria
Zak Mulligan, We the AnimalsPRODUCERS AWARD – The 22nd annual Producers Award honors emerging producers who, despite highly limited resources, demonstrate the creativity, tenacity and vision required to produce quality, independent films. The award includes a $25,000 unrestricted grant.
Jonathan Duffy and Kelly Williams
Gabrielle Nadig
Shrihari Sathe
SOMEONE TO WATCH AWARD – The 25th annual Someone to Watch Award recognizes a talented filmmaker of singular vision who has not yet received appropriate recognition. The award includes a $25,000 unrestricted grant.
Alex Moratto, Director of Sócrates
Ioana Uricaru, Director of LemonadeJeremiah Zagar, Director of We the AnimalsTRUER THAN FICTION AWARD – The 24th annual Truer Than Fiction Award is presented to an emerging director of non-fiction features who has not yet received significant recognition. The award includes a $25,000 unrestricted grant.
Alexandria Bombach, Director of On Her Shoulders
Bing Liu, Director of Minding the GapRaMell Ross, Director of Hale County This Morning, This EveningROBERT ALTMAN AWARDSuspiria
***
The 2019 Independent Spirit Awards will be held on February 23, 2019 and will be broadcast live on IFC