Listen To The 'Star Wars: Galaxy's Edge' Theme By John Williams, Find Out Attraction Names & More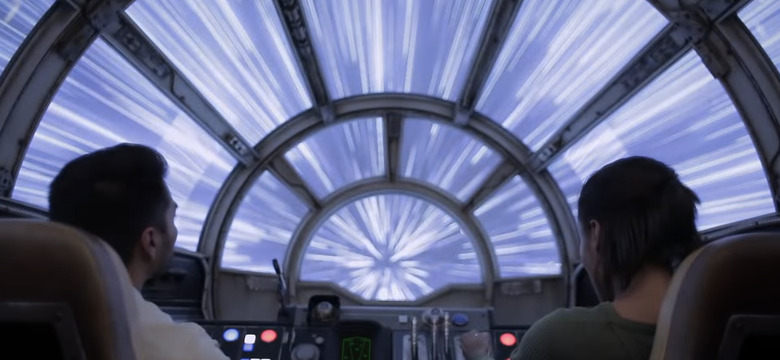 This morning, Disney Parks announced a slew of new updates from D23's Destination D Mickey Mouse Fan Celebration, but the best stuff is obviously for the upcoming Star Wars: Galaxy's Edge expansion that will be opening at Disneyland next summer and Disney World next fall. We already know this place is going to be decked out like a real planet in the Star Wars galaxy, but another incredible piece of the saga's history will be coming with it.
John Williams has composed new music for Star Wars: Galaxy's Edge, and the theme he created for the Disney attraction has been released online. You can hear the John Williams Star Wars Galaxy's Edge theme below, and find out a few new details about the various attractions coming to Disney Parks. This is going to be a hell of an experience.
John Williams Star Wars Galaxy's Edge Theme
You can just imagine yourself walking around the planet Batuu, decked out in your Star Wars gear, and feeling like a real hero. John Williams has captured the spirit of Star Wars again, and he's composed much more music for the Disney attraction too.
But even more cool is seeing the shots of the park under construction. The parts that are finished look incredible, and this will be a truly immersive experience for Star Wars fans. It will be as close as we can get to living in the Star Wars galaxy.
Part of that experience will be two attractions that we've previously heard about, and they now have official names. There's Millennium Falcon: Smugglers Run, which will allow guests to take the controls in one of three unique and critical roles aboard Han Solo's trusty ship.
That Millennium Falcon ride is like a dream come true. The sheer joy of sitting in those seats and controlling the Millennium Falcon is guaranteed to make anyone feel like a kid again.
Then there's Star Wars: Rise of the Resistance, where guests will join an epic battle between the First Order and the Resistance, which includes taking on Kylo Ren. Check out the teaser for that ride:
It looks like fans are going to take to space in a massive space battle. It's not clear exactly how the ride will play out and what fans will be doing during the ride to partake in the battle, but we can't wait to see more.
Adding to this immersive experience will be the Star Wars resort that's currently in development for the Walt Disney World Resort. Some new images from that much more expensive part of the Star Wars: Galaxy's Edge experience were revealed as well.
These images make it seem like this resort will make it seem like you're leaving the planet and going to a space station of some kind where your room is. The official announcement says, "This groundbreaking experience is unlike any resort experience you've ever seen. From the moment you board your launch pod, it's a fully-immersive, multi-day Star Wars adventure aboard a luxury starship complete with high-end dining, space-view cabins and all of the exciting action you would expect from an authentic Star Wars experience."
Those are all the updates about Star Wars: Galaxy's Edge from the D23's Destination D Mickey Mouse Fan Celebration for now, but there might be more details soon. We'll let you know about some of the other big Disney Parks announcements soon.