'The Saint' Remake On The Way, Chris Pratt In Talks To Play The Master Of Disguise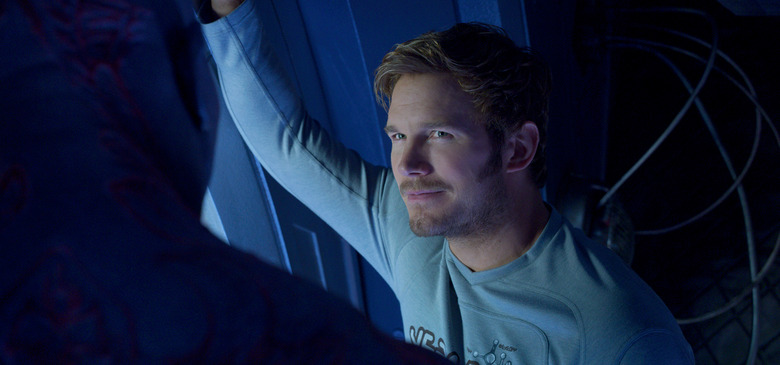 Before he became James Bond, Roger Moore graced the small screen as The Saint, aka Simon Templar, a thief and master of disguise who originated in a series of books in the 1920s and quickly expanded into the world of radio, comics, TV, and movies. Val Kilmer played the character in a film in 1997, and now, more than twenty years later, it looks like Guardians of the Galaxy star Chris Pratt will be the newest actor to get buried under loads of makeup and don a fake mustache as "the Robin Hood of modern crime."
Deadline reports that Pratt is in early talks to star in The Saint remake from Paramount Pictures. Paramount has been planning this for a little while, and they're always in need of a new successful film franchise – especially since their deal with Bad Robot and producer J.J. Abrams is going to expire soon. This has the potential to be a big deal for them.
The Saint originated in a series of books written by author Leslie Charteris, where he started as a British Robin Hood-type figure who specialized as a thief and a con man, eventually evolved into secret agent during World War II, and later became more of an all-purpose adventurer. The character's calling card is a stick figure with an angelic halo, which he'd leave at the scene of all of his "crimes" (he'd often rob corrupt politicians and evil rich people to help those less fortunate).
I'm not convinced Pratt is the right fit for this character. The Saint requires someone who can convincingly disappear into multiple personas, and so far, Pratt has mostly focused on two types throughout his career: the lovable doofus (example: Andy Dwyer from Parks and Recreation) or the Han Solo-style rogue (examples: Star-Lord from the Guardians of the Galaxy movies, Owen Grady from the Jurassic World franchise).
But hey, maybe he'll surprise me. Check out this trailer for the '97 movie starring Val Kilmer and try to picture Pratt pulling this off:
Lorenzo di Bonaventura is attached to produce the new movie, but no writer or director is on board yet. Cue the hiring of Paramount's go-to guy Akiva Goldsman to write this in 3, 2, 1...