'A Christmas Prince: The Royal Wedding' Trailer: Netflix's Cheesy Holiday Hit Is Back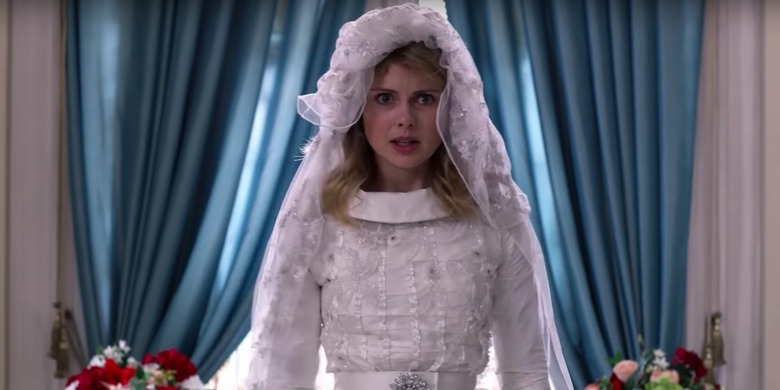 'Tis the season for stuffing us with as many sweet confections and cheesy Christmas movies as our bodies can handle. And Netflix is living up to the task of providing us with the latter, blessing us with a Christmas movie sequel we never knew we needed burned in our brains immediately.
Last year's cliche-ridden holiday mega-hit A Christmas Prince is getting a sequel, titled (what else) A Christmas Prince: The Royal Wedding. And naturally, in the aftermath of one of the biggest royal weddings of the century, it's a thinly-veiled Meghan Markle metaphor. See A Christmas Prince The Royal Wedding trailer below.
A Christmas Prince The Royal Wedding Trailer
Listen, I know A Christmas Prince isn't a good movie. It didn't stop me from getting wine drunk on Christmas Eve and watching it five times last year. So you can bet I'm going to be all over A Christmas Prince: The Royal Wedding, which follows horrible journalist but perfect quirky rom-com heroine Amber (Rose McIver) as she prepares to marry the love of her life, Prince Richard of Aldovia (Ben Lamb). However, her fairy tale wedding to this cardboard cutout of a man isn't all it's cracked up to be. "It's like Bridezilla in reverse," Amber bemoans to her sassy best friend, as she lists all the hoops she has to jump through to marry Prince Boring. She has to wear an ugly old-fashioned dress! She has to change her personality! She has to close her blog! The latter is very Meghan Markle, and the movie — which comes just six months after Meghan and Harry's spectacular wedding — is a pretty transparent Markle analogue.
Despite all the turmoil, can love save the day? There's no question. But that doesn't mean it isn't fun to watch this sweet confection of a sequel unfold while you stuff yourself with Christmas food.
Here is the official synopsis for A Christmas Prince: The Royal Wedding:
A year after Amber helped Richard secure the crown, the two are set to tie the knot in a royal Christmas wedding – but their plans are jeopardized when Amber finds herself second-guessing whether or not she's cut out to be queen.
A Christmas Prince: The Royal Wedding will march down the aisle onto Netflix on November 30, 2018.