J.K. Simmons Joins 'Veronica Mars' As The Hulu Revival Wraps Its First Table Read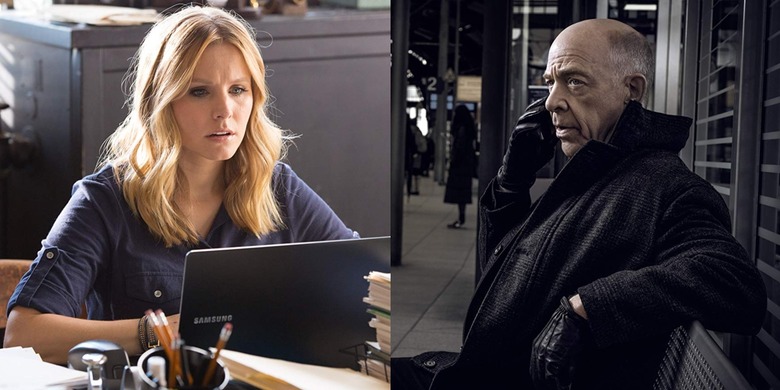 The Veronica Mars revival is starting to find its tempo. Hulu's eight-episode revival of the cult mystery drama series has added a formidable new antagonist to its cast, just as the team wraps up their very first table read. J.K. Simmons is the newest actor to join the Veronica Mars revival cast, taking on the role of an ex-con working for a corrupt real estate businessman who Veronica (Kristen Bell) helps expose in season 2.
JK Simmons Joins Veronica Mars Revival Cast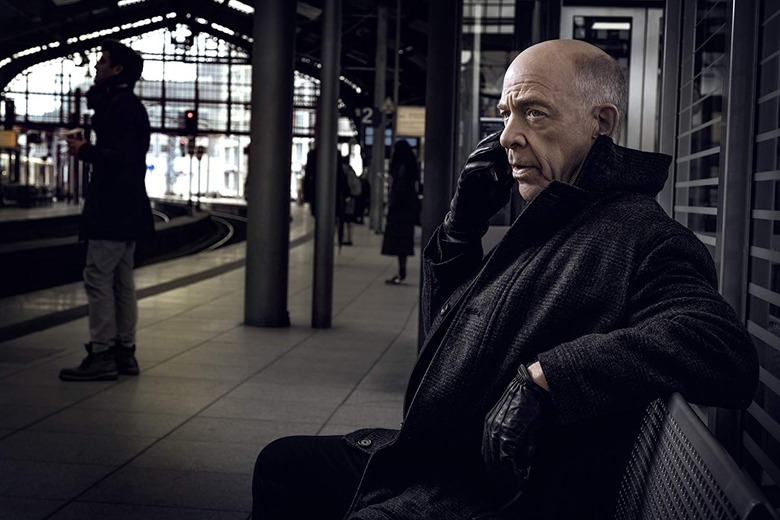 The Wrap reports that the Veronica Mars revival has tapped Simmons as the latest potential baddie to enter Neptune's orbit. According to the outlet, Simmons has been cast as Clyde Prickett, "an ex-con who served 10 years for racketeering, and was smart enough to be the first guy in Chino to offer protection to Neptune's richest real estate developer, Big Dick Casablancas (father to Hansen's young Dick Casablancas), on Big Dick's first day in prison."
The elder Richard Casablancas (played in the original series by David Starzyk), turned himself into the police and served a year in jail after Veronica exposed his corrupt business dealings in the second season of the first Veronica Mars series, which ran from 2004-2007 on UPN and the CW. But it seems like that year in jail earned Casablancas some dangerous new connections, as he brings with him Clyde as his "fixer." Could Clyde be Veronica Mars' new Big Bad? It certainly wouldn't be the first time that Veronica had run-ins with mobsters. It's yet to be seen, but for now, The Wrap describes him as "smarter and more dangerous of the pair and has a network of fellow ex-cons he can count on to keep his own hands clean."
From the #VeronicaMars table read. This is some indication of who is in episode 1. It doesn't mean your fave doesn't come in later. @IMKristenBell @PD3Official @golfstoomuch @jason_dohring @dawnn_lewis @pattonoswalt @ricocolantoni @IzabelaVidovic @ccollinsjr @dstarzyk pic.twitter.com/3dlrVlykqK

— Rob Thomas (@RobThomas) November 14, 2018
Veronica Mars Finishes Its First Table Read
Meanwhile, show creator Rob Thomas confirmed the cast appearing in the first episode of Veronica Mars in a photo from the first table read for the limited eight-episode revival series set to hit Hulu next year. The cast includes star Kristen Bell as well as returning fan-favorites Jason Dohring, Percy Daggs III, Enrico Colantoni, Daran Norris, David Starzyk, as well as series newcomers Patton Oswalt, Kirby Howell-Baptiste, Dawnn Lewis, Izabela Vidovic, and Clifton Collins.
"From the [Veronica Mars] table read," Thomas writes in his tweet. "This is some indication of who is in episode 1. It doesn't mean your fave doesn't come in later."
Here is the official logline of the revival series:
Spring breakers are getting murdered in Neptune, thereby decimating the seaside town's lifeblood tourist industry. After Mars Investigations is hired by the parents of one of the victims to find their son's killer, Veronica is drawn into an epic eight-episode mystery that pits the enclave's wealthy elites, who would rather put an end to the month-long bacchanalia, against a working class that relies on the cash influx that comes with being the West Coast's answer to Daytona Beach.
The Veronica Mars revival is set to premiere sometime in 2019.