'The Mercy' Trailer: Colin Firth Wants To Sail Around The World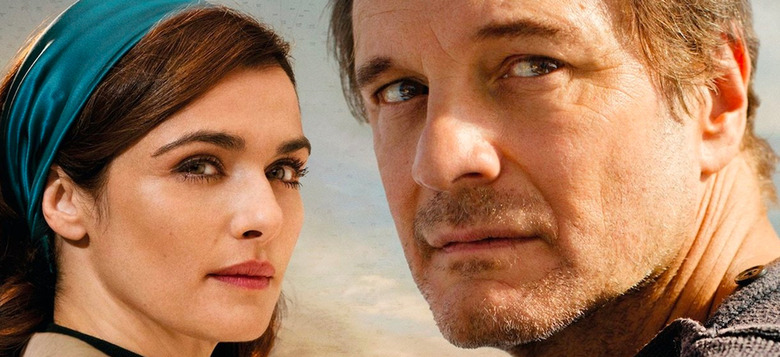 In The Mercy, Colin Firth plays real-life figure Donald Crowhurst, an amateur sailor who decided to sail around the globe without stopping. Meanwhile, Donald's wife (played by Rachel Weisz), gets to wait at home, worrying and comforting their children. The Mercy has already opened in the UK, and now it's sailing to U.S. shores.
But there's a catch – it will open in limited release in November, and only play nationwide in U.S. theaters for one night. Watch The Mercy trailer below, and then learn the details about the release dates.
The Mercy Trailer
The Mercy, aka "Wait Here, Wife", is based on the true story of Donald Crowhurst, and based on this trailer, the movie looks handsomely mounted. I just can't help but shrug at yet another movie about a heroic man off on an adventure while his wife waits around. I'm not saying Crowhurt's story isn't worth telling. I'm just saying there have to be other stories to tell, too. In any case, Colin Firth and Rachel Weisz are both excellent actors, and I'm sure they'll give this film their utmost best. Their performances alone will probably make this worth seeing.
The film also stars David Thewlis and Ken Stott, and is produced by Blueprint Pictures, providing audiences with the "story of Crowhurst's dangerous solo voyage and the struggles he confronted on the epic journey while his wife Clare and their family awaited his return", calling it "one of the most enduring mysteries of recent times." James Marsh, who helmed The Theory of Everything (another movie about an important man doing things while his wife stands on the sidelines) directs.
Much like The House that Jack Built, The Mercy is receiving a very limited nationwide theatrical engagement: one night only. On Thursday, December 6, 2018, to be precise. It will begin playing in select cities starting November 30, but the chance for everyone, everywhere, to check it out will be on December 6 only.
Following his Academy Award® nominated film The Theory of Everything, James Marsh directs the incredible true story of Donald Crowhurst (Colin Firth), an amateur sailor who competed in the 1968 Sunday Times Golden Globe Race in the hope of becoming the first person in history to single-handedly circumnavigate the globe without stopping. With an unfinished boat and his business and house on the line, Donald leaves his wife, Clare (Rachel Weisz) and their children behind, hesitantly embarking on an adventure on his boat the Teignmouth Electron.